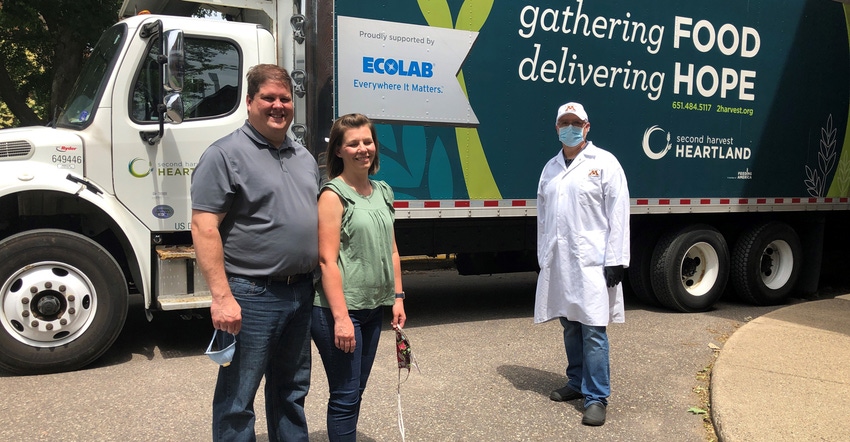 DONATIONS: Minnesota pig farmers Mike and Rebekah Patterson (left) drop off their fourth load of pigs June 15 to be processed into ground pork for Second Harvest Heartland. U-M professor Ryan Cox is one of several staff members donating their time to work in the campus meat lab.
Paula Mohr
An invaluable collaboration has risen from the challenges of the COVID-19 pandemic among Minnesota pig farmers, the University of Minnesota's Meat Science Laboratory and a Twin Cities-based food bank.
The Minnesota Pork Board and U-M's College of Food, Agricultural and Natural Resource Sciences' Meat Science Laboratory have worked together to provide more than 12,000 pounds of ground pork for Second Harvest Heartland. The food bank has been overwhelmed with requests for food donations across the state and in western Wisconsin.
MORE PORK: The U-M Meat Science Laboratory has processed about 100 donated pigs into more than 12,000 pounds of ground pork for distribution by Second Harvest Heartland.
Normally, the food bank assists a half-million clients. However, with the pandemic as well as the need for food in Minneapolis following the death of George Floyd, food donation requests have markedly increased.
The latest food donation happened June 15 when Second Harvest picked up a load of frozen 1-pound packages of ground pork.
U-M meat science associate professor Ryan Cox says faculty and staff have been volunteering their time to cut and process pigs donated by farmers. The lab and campus meat store have been closed to the public due to the pandemic.
"Those of us in animal science wanted to help," he says. "It's neat that the university is being a facilitator in this."
So far, the meat lab volunteers have processed around 100 pigs donated by farmers.
Just minutes prior to loading the Second Harvest truck, the next live pig donation arrived. Mike and Rebekah Patterson, Kenyon, brought 15 pigs — their fourth load since the pandemic hit — to the campus lab for processing. The pigs averaged around 380 pounds each, a bit heavier than their usual market weight of 280 to 290 pounds.
ON THE ROAD: Second Harvest truck driver Joseph Barela transports pallets of packaged frozen pork June 15 from the U-M Meat Science Laboratory.
The Pattersons ship pigs to Smithfield in Sioux Falls, S.D., and receive a discount when pigs hit 340 pounds and over. When the pandemic hit and they received an April 11 letter from Smithfield saying the processing plant would be shutting down indefinitely due to COVID-19, they had a barn full of pigs that were booked to sell April 15.
Mike says they started looking for ways to sell or donate what they had ready to go. They talked with local locker plants and eventually made connections through Minnesota Pork Producers with the campus meat lab. Eventually, they found places to process around 550 pigs for donations and local sales.
Minnesota Pork, U-M and Second Harvest will continue their partnership throughout the summer.
For more information, contact Minnesota Pork at 507 345-8814 or visit mnpork.com or contact U-M Meat Science Laboratory supervisor Dallas Dornink at 612-624-9260 or visit the laboratory's website.
Visit Second Harvest Heartland online to learn more.
About the Author(s) Paula Mohr has been editor of The Farmer since 2004. She enjoys covering a wide range of topics that are of interest to Minnesota producers.
Subscribe to receive top agriculture news
Be informed daily with these free e-newsletters
You May Also Like
---