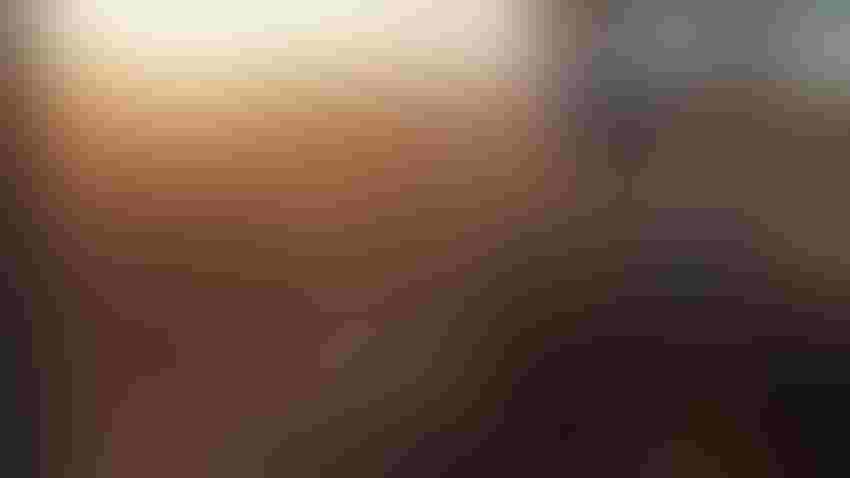 HARVESTTIME: The corn crop is ready to come out of the field, but is your equipment dialed in to glean the most from every stalk?
ArtistGNDphotography/Getty Images
This year, you may face harvesting a drought-damaged grain crop. Is your equipment up to the task?
Harvesting a drought-damaged crop will be more stressful for the operator because of higher field variability. Mark Hanna and Graeme Quick, ag engineers at Iowa State University, offer a few changes to make before harvesting corn and soybeans:
Adjust stripper plates. If corn ear diameter is smaller than normal, stripper plates will need to be moved closer together to avoid excessive shelling on the snapping rolls. This will break off more stalks, increasing the load on the processing unit. Stripper plate spacing on newer combines may be adjustable from the operator's station and can ease adjustment if sizable areas of a field have different ear sizes.
Warning: Beware of making numerous on-the-go adjustments or trying to evaluate shelling on the stalk rolls from the cab. At least one corn head has spring-loaded stripper plates to adjust spacing on the go.
Adjust threshing mechanism. For corn, if ears are of nonuniform size and shape, adjustment of the threshing mechanism will be a compromise between adequate separation from the cob and acceptable grain breakage level. Concave clearance should be narrow enough to thresh grain from ears. Adjustment for small ears will break larger cobs and overload the cleaning shoe. Chaffer, sieve and fan adjustment becomes more critical. Grain may be fragile and more susceptible to damage. Ideally, threshing should result in whole but battered cobs exiting the separator.
For soybeans, threshing needs to be just aggressive enough to remove beans from pods. Beans in drought-stressed fields may be smaller than usual. If beans are small, airflow may need to be reduced in the cleaning shoe, and the openings in chaffer and sieve screens reduced to maintain air speed yet allow beans to fall through. More pods will be close to the ground if the plant population has been reduced, so it is essential to keep the cutter bar low.
Check on feeder house. The front drum of the feeder should be low enough so that the chain just clears the floor of the feeder house. If plants are shorter, smaller clearances may be needed between reel, cutter bar, auger and feed conveyor chain to make sure stalks are feeding through the platform.
Spend more time checking grain loss. Traveling fast enough to keep the combine loaded will improve grain quality. However, a greater percentage of material other than grain moving through the combine may increase separation losses.
Paying attention to equipment will help you get the most grain out of your crop, no matter how dry the conditions are in the field.
Sources: Iowa State University, University of Missouri Extension
Subscribe to receive top agriculture news
Be informed daily with these free e-newsletters
You May Also Like
---