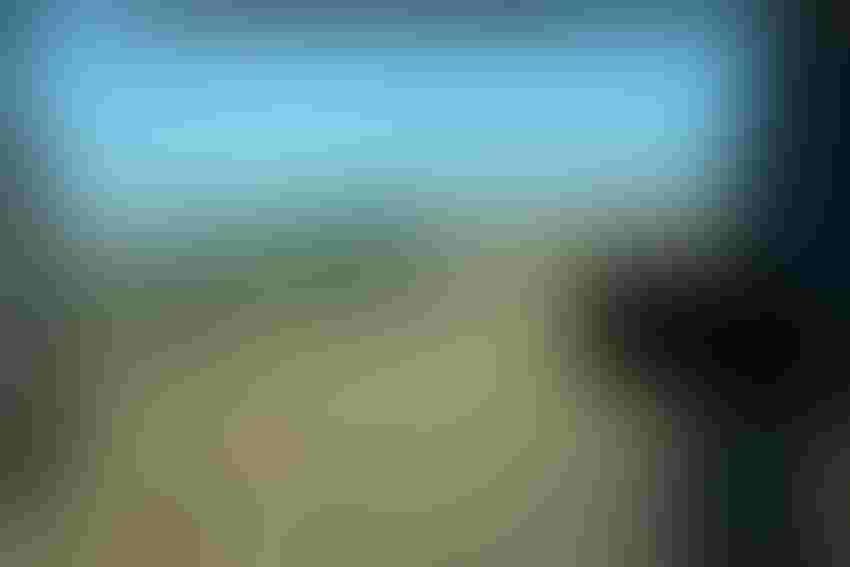 Corn harvest is finished in Northeast Texas but running behind in the High Plains.
The 2017 growing season in Texas has been full of weather setbacks, including natural disasters, but while the challenges have been great and many farmers have suffered as a result, harvest season is underway across most regions of the state with mixed results being reported.
Here's the good and the bad of our mid-October harvest update.
Heavy rains have returned to extreme South Texas. Rain tatt usually falls in August and September have been falling in October across the Lower Rio Grande Valley (RGV) and have helped citrus crops on the eve of peak harvest operations.
Early harvest of Valley oranges kicked off near the end of September, and the Valley's famous ruby red grapefruit harvest is set begin in the days ahead. The Valley citrus crop is smaller this year as a result of a late winter freeze and a lack of water through the drier summer months. Fruit size for oranges is slightly smaller compared to last year, but grapefruit are filling out with the recent rains and are expected to be sweeter as cooler weather arrives later this month and in November.
DELAYED PLANTING
Recent rains, while beneficial for citrus growers, have caused some delays in vegetable planting across the Valley. Spring onion planting is set to get underway this month, but could also be delayed if October rains continue to be heavier than normal as they were the first two weeks of the month.
Citrus growers in the Valley say the devastation of much of Florida's citrus crop following a pair of hurricanes recently that destroyed much of the crop may boost prices Early damage estimates for oranges in the citrus-rich southern region of Florida were estimated to run as high as 70 percent. The downturn in orange juice production may prove to be a major boost to local growers. USDA estimates the reduced production of oranges for juice production in Florida may stretch into subsequent years as growers struggle to replace lost trees and orchards.
Rains in the Rio Grande Valley have had a positive effect on overall soil moisture levels across the Valley, and for the Falcon reservoir watershed, up over 18 feet in elevation by the end of September and about 20 feet below conservation level. Since August, while not recovering as quickly as Falcon reservoir, Lake Amistad was up by about six feet in September, about 26 feet below conservation levels.
Overall, the Valley, in spite of recent rains, is behind the annual average rainfall, ranging from 3inches to 9 inches in various locations across the three-county region. But with more water in the reservoirs, there should adequate levels for irrigation in the spring to start the 2018 planting season off on solid ground.
THE TEXAS PLAINS
In other parts of the state, cotton harvest in the South Plains is underway, but off to a slow start following heavy rains and cooler weather. Farmers there say they need warmer, drier weather before harvest can ramp up to full production levels. Growers say heavy rains are generally good for their crops and report they are happy to get the moisture, but the timing has not been optimal this late in the season. Fields have been so wet that insurance adjusters have been unable to access some fields to determine the extent of damages caused by downpours in late September.  As a result, many growers are uncertain of the impact to quality of this year's crop.
In mid-October, a cold front is pushing across the Texas plains and nighttime lows will plunge into the low 40s and perhaps even lower in some areas. Producers say as field conditions dry in the days ahead they will begin defoliating, as they prepare for what may be a late but hopefully a productive harvest as November approaches. As that front sweeps across the region however, more rain is in the forecast.
GRAIN AIDED BY RAIN
 Also affected in the plains has been the grain crop, but with cooler weather and rain showers, producers are hopeful it may have helped with sugarcane aphid problems reported earlier in grain sorghum. Wheat planting continues in areas dry enough to allow access to fields and soil moisture is reported more than adequate to help wheat to get off to a good start.
Corn harvest in the plains is running slightly behind. Because of heavy rains across the region, corn harvest was estimated to be at about 20 percent complete at the close of last week (Oct. 13). Mycotoxins have been noted in some corn fields across West Texas and have raised concerns among growers, but crop consultants say they expect at least some of the new corn hybrids to weather the infection well, though more time is needed before a full assessment of damages can be made.
In the Upper Coastal Bend and Texas Winter Garden areas, cotton ginning is running at a quick pace to handle cotton harvest that may have been delayed by late season tropical weather but survived the storms of August and September. In contrast, much of the high quality cotton that was already harvested across the Upper Bend was lost before it was ginned and much of the cotton nearing maturity in the upper coast and Southeast Texas region was destroyed by wind and rain associated with Hurricane Harvey.
WEATHER FACTORS
Texas Department of Agriculture (TDA) officials say the jury is still out on the negative impact of weather on the state's 2017 cotton crop until harvest in the plains is complete. Some analysts say they expect moderate losses to what was expected to be a bumper cotton year, while others estimate the overall cotton harvest this year could be disappointing as a result of late season weather damages.
Producers of specialty crops, especially pumpkins, are reporting that heavy rains associated with Hurricane Harvey have been devastating while producers that were able to salvage their pumpkin crop say a late harvest will adversely affect their marketing efforts. The impact of storm damage on the pecan crop is unknown, but overall Texas pecans are expected to outpace last year's production levels.
In East Texas, farmers say unseasonably warm temperatures that lingered in the 90s most of this month have left farmers in need of rain. Pond levels have been receding and fire bans issued for large areas of East Texas, especially from mid- to upper reaches of the region. The lack of moisture in recent weeks may have kept some farmers and ranchers from planting supplemental grazing crops.
Subscribe to receive top agriculture news
Be informed daily with these free e-newsletters
You May Also Like
---