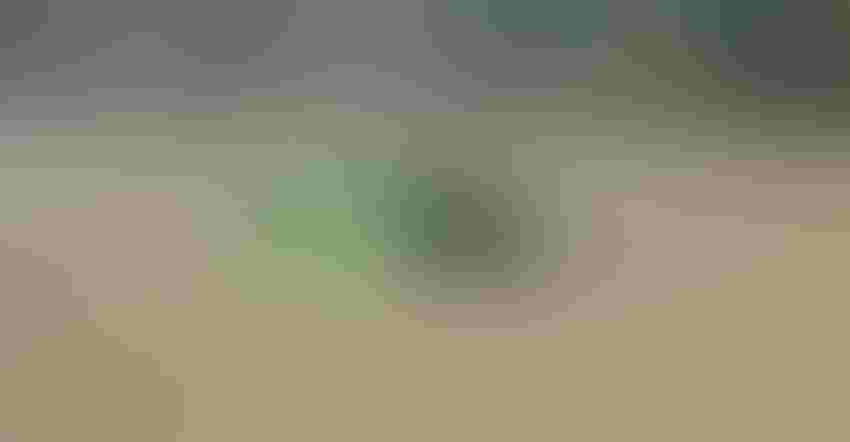 SLOW START: After cool, rainy weather in early October, harvest got off to a slow start in many parts of Nebraska. Extension educators warn that rushing into the field too soon after a rain may cause compaction problems next year.
Harvest is off to a slow start in many parts of Nebraska, thanks to a cool, rainy October.
Nathan Mueller, Nebraska Extension cropping systems educator in Dodge and Washington counties, notes only about 5% of the soybeans in the area have been harvested, while about 2% of the corn has been harvested. "Normally, we're at about 20% to 30% harvested by this time," Mueller says. "We're way behind. I know a few people started corn, just because soybeans weren't ready. I know they're getting anxious about getting behind."
Of course, the fields that have been harvested have saturated soils, and Mueller adds compaction will likely be a big issue for those fields in the future. "In Indiana, harvesting on wet soils wasn't as uncommon. The following year, we had a dry summer and you could see every tire track on the field," says Mueller, who worked in crop production in Indiana while working for the State Department of Ag, Division of Soil Conservation. "That's the concern I have now with growers getting anxious to get in the field. They might be able to get corn out, but that doesn't mean the soils are suitable to drive on."
Many of the soybean fields that have been harvested have yielded from the mid-60s to over 70 bushels per acre, which is slightly above average, considering the number of fields that were planted later than usual this spring after wet conditions.
Meanwhile, some fields have been affected by stalk rot issues, and Nebraska Extension encourages growers to check for stalk quality and lodging issues in fields by using the pinch test to prioritize which fields they harvest first.
"Without walking past the end rows, you don't want to be surprised by a lot of stalk lodging issues, so I would encourage growers to get out and scout their cornfields before they get started on beans again after it dries out," Mueller says.
In the southeast, around 70% of soybeans have been harvested as of mid-October, although almost no corn has been harvested.
Like many parts of Nebraska, there have been challenges with stalk rot in corn, as well as stem borer in soybeans in this part of the state.
"Soybean stem borer has been gradually moving north in Nebraska the past few years. I don't know how far north it is, but it's in York and Seward counties. It's been along the Kansas border, and we've seen it for the last ten years in Clay, Nuckolls, Fillmore, and Thayer counties," says Jenny Rees, Extension educator in York and Seward counties. "It doesn't really affect yield per se when that borer gets into the stem. How it affects yield is through lodging or plants snapping off at the base, making them harder to pick up at harvest."  
Meanwhile, southeast Nebraska has seen its share of soybean lodging this year due to a number of factors – including cases of heavy rain and irrigation early on combined with strong wind events.
Despite these setbacks, growers have reported average to above-average yields. "We've been hearing good yields in soybeans in general," says Rees "I'm hearing non-irrigated fields going over 60 and irrigated fields 80s to 90s in some cases."
It's hard to say what the cause for higher yields is, but Rees is hopeful those yields are due to growers planting soybeans earlier. "Many of the growers I've talked with planted earlier," she says. "I wasn't sure this would be as good of a year for yields as last year, but yields seem to be holding steady."
Further west, in Phelps, Holdrege, Gosper and Furnas counties, around half of the soybean acres have been harvested, while about 15% of the corn has been harvested, despite a slow start due to rain.
"Now people are getting concerned about winter setting in, and may be more willing to pay for the cost of drying at the elevator even though prices are down," says Todd Whitney, Nebraska Extension educator in the area.
While cases of stalk rot have been reported, they haven't been widespread. What's more problematic, Whitney says, is pollination issues earlier in the season, which may have stemmed from cold injury, although it's too early to say what the primary driver is.
"We've had some issues with abnormal ear development, similar to what we had last year," says Whitney, noting instances of barbell-shaped ears, short husks and multiple ears per node. "There's still research being done to find out what caused that to happen, whether there was some primary ear development impacted by weather effects. And it's seems to have some impact on different hybrids. Some of the hybrids that are racehorses seem to have some issues again this year."
There has also been an increased incidence of western bean cutworm in corn, as well as pockets of storm and hail damage.
Despite these challenges, corn and soybean yields so far have been average to above average. While dryland soybean yields have ranged from 50 to over 60 bushels per acre, irrigated fields have yielded 80 bushels or more. Meanwhile, irrigated corn in the south-central part of the state has yielded over 250 bushels per acre in some cases. "I don't know if we can say it's a better year than last year, but people have been pretty pleased with yields so far," says Whitney.
Subscribe to receive top agriculture news
Be informed daily with these free e-newsletters
You May Also Like
---