World's 'greenest' winery launches
World's 'greenest' winery launches
A newly completed winery, brewery and food-processing complex at the University of California, Davis, is set to begin operations as the most environmentally sophisticated complex of its kind in the world.The $20 million, 34,000-square-foot teaching-and-research complex is expected to be the first winery, brewery or food-processing facility to earn LEED Platinum certification.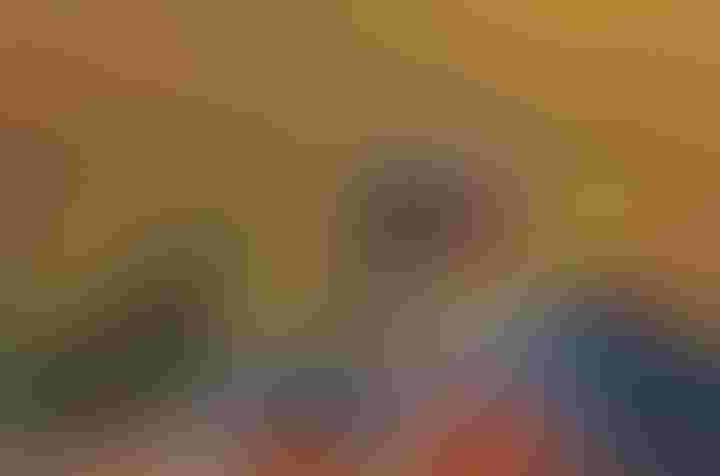 A newly completed winery, brewery and food-processing complex at the University of California, Davis, is set to begin operations as the most environmentally sophisticated complex of its kind in the world, one that promises to unravel scientific enigmas and solve practical problems related to foods, beverages and health.
The $20 million, 34,000-square-foot teaching-and-research complex is expected to be the first winery, brewery or food-processing facility to earn LEED Platinum certification, the highest environmental rating awarded by the U.S. Green Building Council. (LEED stands for Leadership in Energy and Environmental Design.) It is intended to become self-sustainable in energy and water use after all of its features come online.
"This new complex showcases UC Davis' commitment to environmental excellence," said Chancellor Linda Katehi. "It embodies our vision to serve as a catalyst for sustainable economic development and social progress in California and beyond."
Neal Van Alfen, dean of the College of Agricultural and Environmental Sciences at UC Davis, added, "The new facility raises the bar for environmental design and construction of laboratory and processing buildings within the University of California.
"It also will serve as a model for industries throughout the nation that are also committed both to environmental excellence and production efficiency," he said.
The south wing of the new one-story complex is home to the August A. Busch III Brewing and Food Science Laboratory, which includes, a brewery, general foods-processing plant and milk-processing laboratory. The complex's north wing houses a new teaching-and-research winery. Construction was completed in July, and wine grape crush and brewing have begun at the complex, with some equipment yet to be purchased or moved in.
The complex was designed and built to be UC Davis' second LEED Platinum building and only the third in the University of California system. The other two are UC Davis' Tahoe Center for the Environmental Sciences in Incline Village, Nev., and UC Santa Barbara's Bren Hall.
The new complex was funded entirely by private donations; no state or federal funds were used in its design or construction.
It was designed by a team of architects, engineers and builders including BNB Norcal of San Mateo, Flad Architects of San Francisco, F.M. Booth Mechanical, Red Top Electric, KPW Structural Engineers, Creegan + D'Angelo Civil Engineers and HLA Landscape Architects.
The complex is adjacent to a new 12-acre teaching-and-research vineyard and is located within the campus's Robert Mondavi Institute for Wine and Food Science.
The institute, which opened in 2008, comprises three academic buildings that house the Department of Food Science and Technology and the Department of Viticulture and Enology. (Design and construction of those academic buildings, which total 129,600 square feet, cost $73 million, paid for by a combination of state and private funds. The campus did not apply for LEED certification on the three academic buildings.)
LEED Platinum environmental design
The new winery, brewery and food-processing complex was designed to serve as a test bed for production processes and techniques that conserve water, energy and other vital resources.
Its environmentally friendly features include onsite solar power generation and a large-capacity system for capturing rainwater and conserving processing water. The stored rainwater will be used for landscaping and toilets, per LEED specifications.
UC Davis is raising funds to complete an auxiliary building to house equipment that will make it possible to capture, store and recycle rainwater, which will be used in an automated system to clean barrels, tanks and fermentors. The proposed system would reuse 90 percent of the captured rainwater volume.
"We want to demonstrate a self-sufficiency model that is applicable to any business with limited water," said Roger Boulton, a winery-engineering expert and the Stephen Sinclair Scott Endowed Chair in Enology at UC Davis. He noted that plans call for eventually operating the facility independent of the main campus water line.
Additionally, the winery has been designed to capture carbon dioxide, a natural byproduct of fermentation, from a port in each of the new fermentors. An innovative process will be used to remove the carbon dioxide from the winery, reducing the building's energy requirements for air quality and temperature control. Plans call for eventually capturing and storing the carbon dioxide produced by the winery, so that it will not contribute to global warming.
"The goal is for the facility to be not just carbon neutral, but carbon zero, in terms of its carbon emissions," Boulton said.
Other environmentally responsible features include maximum use of natural light, rooftop photovoltaic cells to provide all of the facility's power at peak load, new food-processing equipment that minimizes energy and water requirements, use of recycled glass in the flooring, interior paneling recycled from a 1928 wooden aqueduct, and use of lumber harvested from sustainably certified forest operations.
High-tech processing systems
A technological capstone for the facility will be the world's first wireless wine-fermentation system, a $1 million assembly of 152 wireless grape fermentors, designed, fabricated and donated by a team of research engineers led by T.J. Rodgers, founder, president and chief executive officer of San Jose, Calif.-based Cypress Semiconductor.
Each of the 200-liter, electro-polished, stainless steel fermentors is individually equipped for automated control of temperature and the "pump-over" process, controlling two of the most important factors in determining final wine characteristics and quality.
Additionally, newly designed fermentor sensors frequently and precisely extract and transmit sugar-concentration data from white and red fermentations across a wireless network. Data from the sensors can be generated every 15 minutes with a precision of 0.25 Brix, a measure of sugar content.
When completed, the winery is expected to contain one of the largest wireless networks in any fermentation facility in the world.
Meanwhile, the new brewery will provide a showcase for the latest in brewing technology, as well as a sophisticated laboratory for conducting research and training students in the science of brewing. It also is intended to provide commercial brewers and suppliers with a small-scale facility in which they can test new recipes or processes.
Good enough to eat
The general foods- and milk-processing laboratories have been designed and built to meet state and federal food- and dairy-grade standards, meaning that the products processed there are fit for human consumption during sensory and nutritional evaluations.
The food-processing pilot plant will facilitate research on a variety of topics including alternative food-processing methods and their nutritional effects; nutritional quality and shelf life of fresh-cut fruits and vegetables; nutritional enhancements from food-processing "waste" products; and improved food formulations.
The milk-processing laboratory will support research in a variety of areas including separation of milk components into functional ingredients, processing of milk that has been modified by the type of feed provided to the cows, and processing of milk from cows that were bred for specific characteristics.
Individual donors make vision a reality
Dozens of private donors contributed funds to make the new complex a reality, beginning with a $5 million contribution in 2001 from the late winemaker, Robert Mondavi, followed in 2002 by a $5 million pledge by the Anheuser-Busch Foundation.
Other major donations were made by Ronald and Diane Miller and by a group of winery partners led by Jess Jackson and his wife Barbara Banke of Kendall-Jackson Wines, and Jerry Lohr of J. Lohr Vineyards & Wines. That group of winery partners secured the funds necessary to design and construct the facility to LEED Platinum standards.
California tomato processors and growers also came together to contribute more than $2.5 million to the food-processing pilot plant, recognizing the important role that the Department of Food Science and Technology has played in the industry and the future potential for training students and conducting research at the new complex. The Woodland, Calif.-based Morning Star Packing Company provided a lead gift of $1 million for the food-processing plant.
In all, more than 150 individuals, alumni, corporations and foundations contributed funds to make the new winery, brewery and food-processing complex a reality. These included major contributions from the Department of Viticulture and Enology's Board of Visitors and Fellows.
Subscribe to receive top agriculture news
Be informed daily with these free e-newsletters
You May Also Like
---