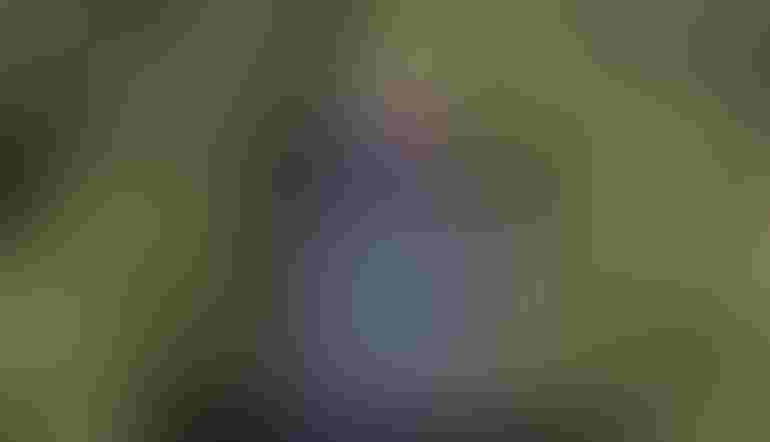 Wine grapes are harvested in California's Napa Valley.
UCANR
First, the initial information. Then, the final statistics, scheduled for a couple of weeks from now, as growers of grapes "weigh in" (pun intended) on grape crush numbers for crop year 2019.
For four decades now, the Pacific Regional Office of USDA's National Agricultural Statistics Service has conducted its annual grape crush survey in cooperation with the California Department of Food and Agriculture.
Operators who either crush or purchase grapes in the state supply the data for the report and fund its dissemination via a fee based on the amount of crop crushed. Using the 2018 final report as a benchmark — 925,000 acres of which 863,000 were bearing and 637,000 were wine-type grapes — this year's NASS report showed a crush total well below last year.
Preliminary 2019 crush totaled nearly 4 million, 86,000 tons, down a bit more than 9% over the 2018 crush of 4,506,000 tons. Average prices for all varieties was also down, by 5%, to $790. Red wine grapes priced out at $990, down 2.9%. White wine grapes were listed at $580, down 8.5%.  Raisin grapes were appraised at $245, down 19% while table grapes, at $262, were up 36.8%.
Regional reports quickly kicked in.
"California's grape crush report not reflective of the market, experts say," read the headline in the Napa Valley Register. "The average price of a ton of Napa Valley wine grapes rose almost 4% in 2019 according to the summary, but experts say the report may not reflect true market conditions," wrote the reporter.
"Ten of the state's 17 grape pricing districts were commanding higher prices per ton of grapes than they had in 2018," wrote reporter Sarah Klearmans, adding "Napa's average per ton price for wine grapes was $5,797, up from $5,572 per ton in 2018."
The Register's story noted: "Considering the state of the industry this year, still grappling with an oversupply from a historically large harvest in 2018 (with) a decline in consumer demand, that's a surprising number that doesn't seem to reflect those conditions."
Lighter harvest
The North Bay Business Journal summed up the value of the North Coast wine grape crop at nearly $1.7 billion resulting from a 17% lighter harvest in 2019 versus 2018 that brought crop value down 15.3%.
"Tonnage into wineries totaled almost 491,000 tons, the sixth largest for the region, but on par with a five-year average," according to reporter Jeff Quackenbush. "Sonoma County's crop was down 19% with tonnage crushed in Mendocino County down by 18%."
The Business Journal article quoted one San Rafael brokerage spokesperson as saying, "A lot of the market right now is about managing and controlling inventory. We're in for another challenging year in 2020."
Journalist Bill Swindell of The Press Democrat echoed the crop shrinkage percentage noting, "Farmworkers picked 490,922 tons of grapes from vineyards in Napa, Sonoma, Mendocino, and Lake counties. The preliminary state harvest report from USDA does not track the number of tons of grapes left on vines."
Wine News correspondent W. Blake Gray's headline read — "California Grape Glut Starts to Bite" with sub-heads alluding to "Leaving Grapes on the Vine" and "Prices Don't Reflect Reality".
Gray did note that while the 2019 preliminary crush figures were smaller than the previous year's record harvest (smallest overall since 2011), growers were still worried about oversupply.
The Final Crush Report, to be released on March 10, will include all grape tonnage crushed during the crop year season, including purchased tonnage and pricing information for grapes with final prices prior to January 10.
That data will also include crushed tonnage, degrees Brix, and weighted average prices reported by the 17 grape pricing districts by grape type and variety.
For more news on pests, disease management and other issues affecting vineyards, subscribe to the bi-monthly newsletter The Grape Line.
Subscribe to receive top agriculture news
Be informed daily with these free e-newsletters
You May Also Like
---