Wine grape crop coming in lighter for Sonoma County grower
Wine grape crop coming in lighter for Sonoma County grower
With temperatures favoring growth of powdery mildew spores earlier this season, pressure in his vineyards was higher than usual, requiring more preventive fungicide treatments than originally planned and budgeted.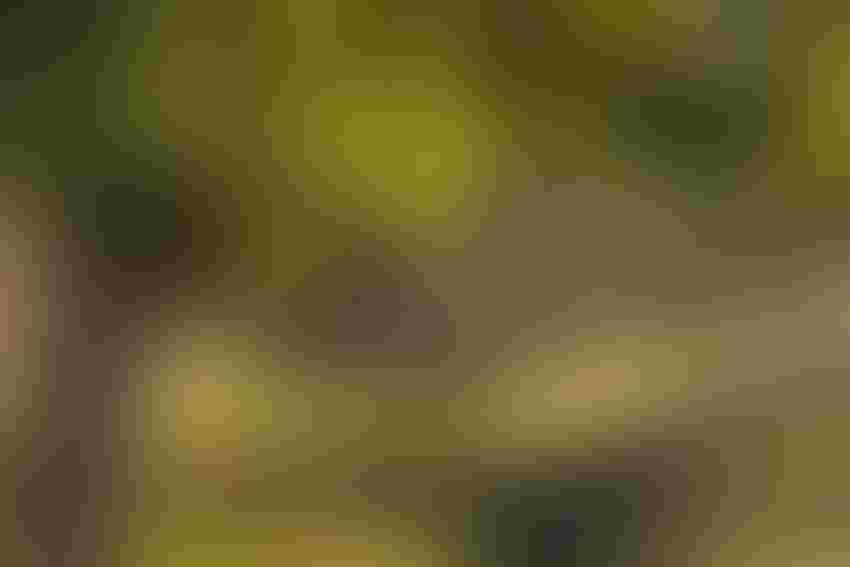 Having completed picking Pinot Noir and Sauvignon Blanc, his two earliest-maturing varieties, by mid-September, Sonoma County wine grape grower Duff Bevill's crews were about a quarter or more through this year's harvest.
Based at Healdsburg, Calif., his company, Bevill Vineyard Management LLC, manages vineyards in Alexander Valley, Dry Creek Valley, and Russian River Valley.
He started the season anticipating about an average size crop. "I think it got lighter as the season went along," says Bevill, who's been farming wine grapes here for more than 40 years. "Yields of both Pinot Noir and Sauvignon Blanc came in lighter than expected. Of the only two blocks of Chardonnay we've harvested up to now, tonnage of one was heavier than expected, while production in the other was quite a bit lighter than expected."
With the exception of one 2-acre block of Pinot Noir, he's been surprised by how few blocks suffered damage from the record-breaking heat wave that moved into the area just before, and continued through, the Labor Day weekend. "That block was on top of a hillside, where the temperature reached as high as 118 degrees for several days in a row, and never cooled below 80 or 90 degrees at night," Bevill says. "Even constant irrigation didn't save the fruit — it just burned up, and we walked away. But, that site was just a blip for us; we picked a lot of good quality Pinot Noir this year."
But Bevill was unable to arrange things logistically in time to pick grapes nearing maturity during the period of severe heat. Sugar levels in several blocks of Pinot Noir fruit, which measured 22 ºBrix when the heat wave hit, rose to 26 ºBrix less than a week later.
"As it turned out, these and some other blocks that were within about a week of picking at the start of the heat wave, ended up in good shape," he says. "Following the heat, we irrigated the vines to help hydrate the fruit. Also, sugar levels either stabilized or backed off a little and the flavor chemistries improved. In fact, some winemakers had us hold off harvesting for several days longer than originally planned to achieve more flavor ripeness."
Midway through September, Bevill says, he was pleased with the condition of his Chardonnay grapes, as well as Cabernet Sauvignon and other reds, except for blocks of non-irrigated, head-pruned Zinfandel. "They had a tough go of it this year, and didn't fare so well. These blocks required much more sorting at harvest in order to maintain fruit quality".
His crews began this year's harvest August 20, five days earlier than in 2016. Based on grape maturities and projected weather conditions at mid-September, they were expecting to wrap up this year's harvest in the first part of October. Typically, the Chardonnay blocks are ready to pick before the Cabernet Sauvignon.  But, not this year — crews started harvesting both varieties Sept. 18.
With temperatures favoring growth of powdery mildew spores earlier this season, pressure in his vineyards was higher than usual, requiring more preventive fungicide treatments than originally planned and budgeted. The early September spike in temperatures dried up patches of Botrytis bunch rot, which was just beginning to show up in some fields. But at mid-September, brief light showers and humid conditions threatened new outbreaks,
The market for his grapes remains strong, he says. "We've sold all our fruit. The market for some Zinfandel has slowed a bit, and the price of Merlot continues to be pretty static. On the other hand, prices for Cabernet Sauvignon, Pinot Noir, and Sauvignon Blanc are strong, and we could sell more of these grapes, if we had them."
Like just about every other Sonoma County grower, Bevill continues to face a shortage of willing and able workers to help with harvest. Although he picks about 60 percent of his tonnage with harvesting machines, the rest of the fruit has to be hand picked, either to meet the expectations of wineries or because of vineyards unsuited for mechanical harvesting equipment. "It's a daily challenge to find workers who have the knowledge, skills, and motivation to pick grapes properly," he says.
In addition to his own in-house crews, he hires crews from other labor contractors, as needed. This year, for the first time, Bevill has also brought in workers from Mexico under the H-2A visa program. It allows him to employ foreign nationals to fill temporary agricultural jobs, and may be renewed annually. These workers receive the same rights as American workers, including worker compensation insurance, fair pay, company-provided housing, and transportation.
Completing the hiring process takes time, he notes. "Our first H-2A workers arrived in June, more than six months after I began the application process. I provided a dormitory for them, and plan to build another to house more workers for next season."
At mid-September, he says, winemakers have been happy with the quality of the grapes his crews have been bringing in. "The fruit we've delivered has been really clean, with no powdery mildew or rot damage. However, I'm sure the recent dramatic swings in weather conditions will test the skills of the winemakers in bringing out the full, desired flavors of the grapes."
Subscribe to receive top agriculture news
Be informed daily with these free e-newsletters
You May Also Like
---