Viticulture specialists sound off on expanding grape production, efficiency
Viticulture specialists sound off on expanding grape production, efficiency
Mechanized pruning of a high cordon trellis can help cut costs and labor dependence. Cordon height would be at least 60 inches with hedging starting in year five.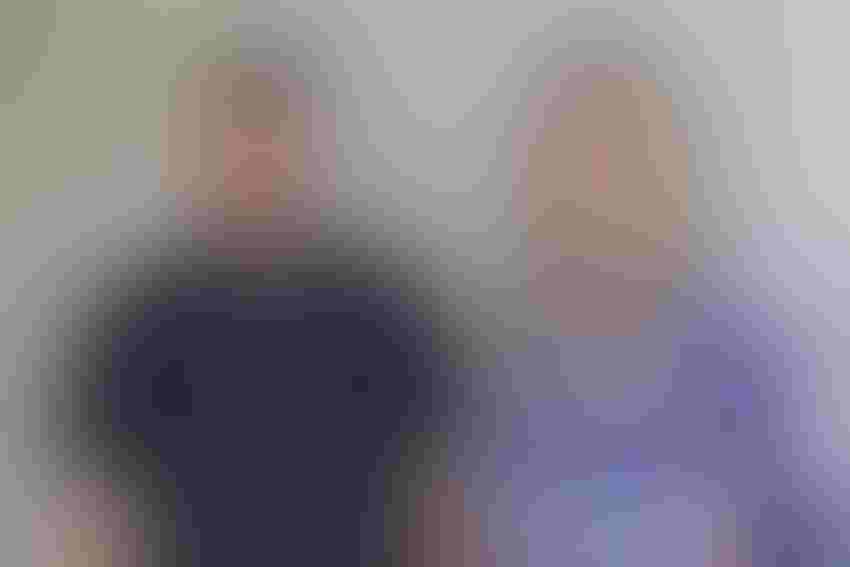 Speakers at the viticulture roadshow at Fresno include from left - Craig Ulrich with the Lawrence Berkley National Laboratory, and Lindsay Jordan of UCCE who will soon become a grower outreach educator with E&J Gallo.
Topics presented at an information-packed program in Fresno, Calif. on grape research included a look at a remotely piloted helicopter to apply pesticides, flooding as a way of recharging aquifers, and machine pruning to keep costs down.
That's not to mention discussion of vine trunk diseases, the value of rootstocks in combating nematodes, vine mealybug control, and vineyard management techniques.
Remote-piloted aircraft
The use of remotely piloted aircraft to apply pesticides is no pie-in-the-sky notion as detailed by Ken Giles, professor and vice chair of the Department of Biological and Agricultural Engineering at the University of California, Davis.
Giles has been sending the aircraft aloft and monitoring pesticide use in trials on grapes in Napa, nuts in Lost Hills, nut and field crops in the Sacramento Valley, and rice in Butte County.
He believes the use of the craft improves productivity and can be among the answers to a declining labor pool while being a tool in an arsenal that includes conventional crop dusting and ground applications.
Giles said unmanned aircraft use in visual, line-of-sight applications is not without its challenges which can include weather that can ground the vehicles. He added that the regulatory process for the aircraft "is still unsettled."
Among agencies that regulate the aircraft use include the Federal Aviation Administration, the U.S. Environmental Protection Agency, and the California Department of Pesticide Regulation.
There are still some wrinkles to be addressed, he notes, including a state regulation which calls for the craft to be operated by someone with a crop duster's license, and a need for language on pesticide labels that addresses the use of the aircraft for material application.
Water recharge
Craig Ulrich of the Lawrence Berkley National Laboratory discussed water recharge and orchard flooding for water table improvement. He pointed to declines in the groundwater table, due mainly to drought, and the costs to growers for new wells and electricity to power stronger pumps.
Ulrich has worked mostly with almond growers on recharge efforts, but would like to see those efforts expanded into other crops, including olives and grapes.
He said aquifer quality can be worsened by over-pumping that pulls contaminants deeper and towards wells. He would like to see a groundwater management plan and the use of "assisted recharge" including flooding acreage, the creation of recharge basins, and injection wells.
While there is a rating system for the best areas for recharge, he says there remains a need to refine models which he called "too coarse" to predict good or bad recharge sites. He said monitoring wells can use principles of geophysics to better visualize soil layers and pathways for water sent underground.
Mechanized pruning
Paul Verdegaal, University of California (UC) Cooperative Extension farm advisor at San Joaquin County, discussed mechanized pruning of a high cordon trellis and said it can help cut costs and labor dependence. The cordon height would be a minimum of 60 inches, and machine hedging would begin in year five.
While he considers mechanization for that trellis height viable, he said some varieties may not be adaptable to it and it could mean more input of water and nutrients to achieve higher yields.
Trunk disease management
Albre Brown, a graduate researcher who works with Kendra Baumgartner at the U.S. Department of Agriculture in Davis, talked about trunk disease management, including Eutypa dieback, Esca, Phomopsis dieback, and Botryosphaeria dieback.
In this wet year, she said rain induces spore release and dispersal, and cold temperatures delay wound healing. Preventive practices to combat this issue can include delayed pruning until March, double pruning with a first pass in December and a second pass in March, and protectants including Topsin, Rally, B-Lock, and Vitiseal.
Once infection occurs, Brown recommends retraining cordons and trunks, cutting out infected spurs and cordons, and replanting rows or sections of vineyards. 
SJV Pinot Gris
George Zhuang, a UC farm advisor at Fresno County, discussed crop load management for Pinot Gris grapes in the San Joaquin Valley. The variety is a money maker for growers in the valley, accounting for 83 percent of the state's acreage, which increased by 21 percent in Fresno from 2015 to 2016.
Valley yields range from 8 to 12 tons per acre with growers receiving from $400 to $500 per ton.
Zhuang is studying how to grow more with less and growers can maintain their competitive advantage. He's evaluating 10 Pinot Gris varieties and nine rootstocks, plus studying mechanical pruning and trellis types.
Vine mealybug control
Valeria Hochman-Adler, postdoctoral researcher at Kearney Agricultural Research and Extension Center at Parlier, is investigating improved vine mealybug winter and spring controls and how insecticides move within a vine.
Among the materials used to combat the pest are Spirotetramet (Movento), Buprofezin (Applaud), Clothianidin (Belay) and Acetamiprid (Assail). While some concern exists that the pest is building a resistance to these products, Hochman-Adler believes there could be other explanations for a rise in pest populations, including delayed spraying.
Cane-pruned vines
Matthew Fidelibus, Extension specialist in the UC Department of Viticulture and Enology at UC Davis, discussed factors which affect fruitfulness and bud break of cane-pruned vines. He said sunlight promotes cluster initiation and development, and bud survival.
Fidelibus recommends a zinc application two weeks prior to bloom.
He also believes too many nodes are often left on canes. Other causes of "blind buds," which do not break, can include insufficient winter chill, over cropping, excessive water deficit stress, and excessive shading the previous season.
Pests, rootstocks
Lindsay Jordan, who is leaving her position with UCCE to become a grower outreach educator with E&J Gallo, discussed understanding vineyard soil pests and evaluating rootstocks for wine grape production.
Those culprits can include Phylloxera and nematodes. She said there are products registered for Phylloxera treatment but they are not a substitute for rootstocks.
Jordan says rootstocks with nematode resistance include a GRN series, RS 3 and 9 and Minotaur, Matador, and Kingfisher. She cautioned that sites can impact rootstock performance.
Still, she said, "They're worth it. You should use them."
Subscribe to receive top agriculture news
Be informed daily with these free e-newsletters
You May Also Like
---