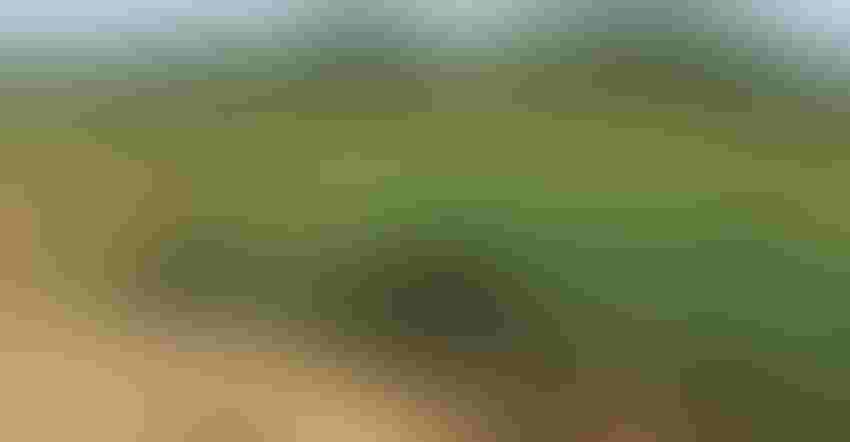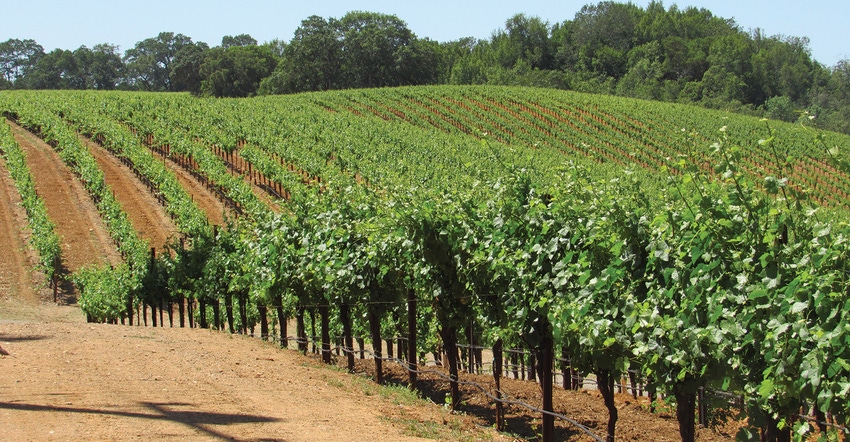 Vineyards in Sebastopol, Calif., are among about 17,000 acres grown by the company in the state.
Tim Hearden
First ponder. Then dare. Think it through.  \Then do it.
That's been the philosophy of the family-owned Vino Farms LLC, begun by grandpa, expanded by dad and uncle and now run by the third generation involving a sister, two cousins, and Craig Ledbetter, officially known as Vice President of Sales.
It's been a wild ride.
"We're spread throughout the state, as far south as Los Alamos and as far north as Mendocino County and all the coastal regions…and the Lodi Delta area," says Craig.  In all, Vino Farms, an industry leader, farms some 17,000 acres in California with a year-round full-time payroll of 350 workers.  Dun and Bradstreet labels it an $82 million-a-year operation.
Ledbetter calls it a nonstop merry-go-round.  "We're a turn-key operation from helping find property to developing it into a working production vineyard to helping market the fruit."
Having been involved in all aspects of the business for over half a century, Grape Line asked how the 2022 grow year might wind up?
"It depends a bit on the region," he replied.  "Like the coastal regions and a down pinot market that is recovering with Monterey and Sonoma counties returning to normal pricing.
"Probably the biggest effect in our industry this year has been frost where the Lodi, Delta, and lower Sierra Foothills took some pretty significant damage.  Once you get out of this region and into Napa/Sonoma, frost damage was more limited (although Mendocino and Lake counties also received some substantial frost too).
"All-in-all, the market looks fairly strong, especially in the $15 a bottle area and above.  In fact, in the Paso and Monterey areas, the market's doing very well as is the North Coast.  It's still a fluctuating scene as we came out of a really weird time with COVID and what that did to the wine industry."
Virus changes behavior
He explained that the virus changed behavior patterns with lots of folks staying home.  "It impacted the wine industry by helping to reduce the glut we were getting ready to be sitting on.  People started to drink wine and it corrected a lot of things."
In our conversation, we referenced a Wine Enthusiast article that asked, "Who Will Pick America's Wine Grapes?" where the writer noted: "The dilemma of replacing humans with machines loses relevance when workers aren't available."
"As we try to figure this one out, our current farm labor comes from contractors and we've had good success with the H2A program that works for us because we have the ability to offer worker housing.  It's probably not feasible to be in that program if you're in the valley and have to pay higher wages and pick up the tab for rental housing."
With the current work force aging out and younger laborers choosing other vocational fields, upwards of 80% of California's grapes are picked by machines — smart mechanicals that can worker longer and harder and cheaper.
"There's a ton of work going on involving autonomous equipment and for growers, this could be the answer to the labor shortage.  I can have one operator overseeing four or five or six tractors and can afford to pay the operator overtime because I've replaced several human pickers in the process.  Our industry associations are currently working to help Cal OSHA understand our need for this type of technology."
As the industry changes and growers react to those changes, researchers are continuing to work to breed varieties that produce with less attention, less water, and under less regulatory oversight, and Ledbetter and family will be ready — "As long as growers are allowed to make strategic decisions and react accordingly, as long as they know the playing field, they'll figure out a game plan.  The field changes and rules change and it's hard to play the game, but we'll adapt and figure out how to play it successfully."
Subscribe to receive top agriculture news
Be informed daily with these free e-newsletters
You May Also Like
---