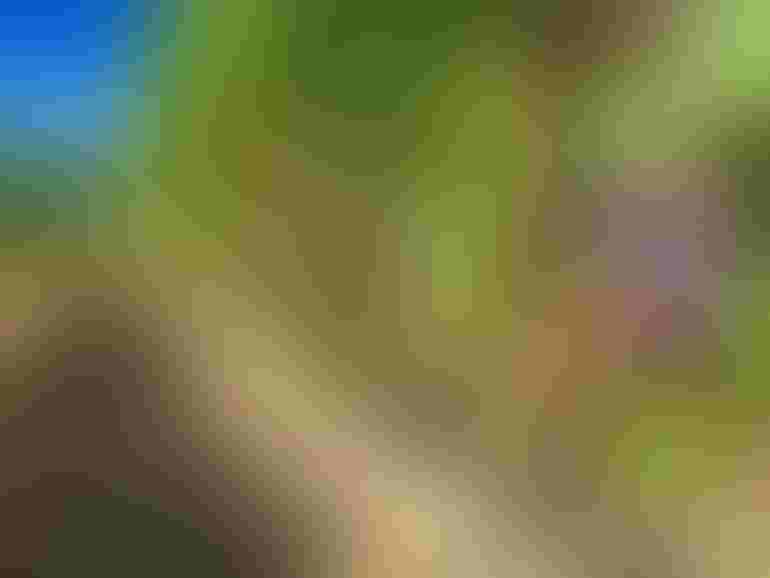 Veraison appears on Pinot Noir at Goldeneye Winery in Anderson Valley, Calif.
PJ Alviso/Duckhorn Vineyards
There's the annual running of the bulls in Pamplona, Spain, the return of swallows to California's Mission San Juan Capistrano, and the yearly turning of the colors in Golden Gate state vineyards — the latter event, a benchmark in the grape growing season — now underway depending on where your vines are located and how cooperative Mother Nature has been.
"The transformation happens anywhere from July through August, depending on your region," says Mark Battany, University of California Cooperative Extension for San Luis Obispo and Santa Barbara Counties.
Veraison, literally "maturation" or the onset of ripening, marks the transition from the growing of the grape to its actual ripening where it increases in both weight and volume and signals that harvest time is predictably on the foreseeable horizon, anywhere from six to eight weeks away.
According to the Grapes From California webpage: "This is the point in the growing season when ripening grapes begin to soften and colored varieties gradually change from green to either red or black, while green varieties become translucent.  Sugars start to accumulate in the berries which are harvested fully ripe because after they're picked, they don't become any sweeter — so timing is everything."
Isn't that true with most anything in life?  This onset of ripening is one of the most important moments in the annual lifecycle of a grapevine, very much the tipping point of that cycle as the vine moves from energy creation through photosynthesis to energy consumption aimed at making grapes sweeter.
Quoting from a Wine Folly webpage report: "Following the veraison onset, the ripening process takes anywhere from 30 to 70 days for full maturation."
Arrived early in 2018
The turning occurred in mid-July 2018 in Napa Valley, slightly behind the start of the previous year, as the number of clusters and the sizing of the berries awaited warmer temperatures.  A press release on the event noted, "Because Napa has distinct micro-climates, veraison lasts over a long period."
That turning point has, in general, been running a bit behind this year due to the state's more-weird-than-normal weather.  "It's a tale of many facets, but this year is not the norm, running a bit later than average in all growing regions," says Phillip (PJ) Alviso, Vice President for Central Coast wine growing for Duckhorn Vineyards in Napa Valley.
"It's all jumbled up with every area seemingly on its own, maturation-wise, due to weather events.  Cold, damp, wet, windy weather in some areas extended bud break to 60 days beyond the norm of 45 days.  Then in early June, we had a few 100-degree days until things settled down a bit and became more temperate – 70 degrees on the coast, 80s in Paso (Robles) and Lodi.  Things just haven't had a chance to speed up or catch up yet."
Interviewed in late July, Alviso predicted: "We've started to see some veraison in Santa Barbara County.  Heading north into San Luis Obispo County, these guys think they're about a month behind last year and falling further by the day, so they're probably three to four weeks behind schedule.  Early varieties and younger blocks could color up soon, but 'later' is the best guess.
"In Paso Robles, we're past lag phase in some blocks with veraison expected in early August due to recent warm weather.  Monterey County doesn't look to be terribly late.  Veraison has been spotty, but they're through lag phase and hardening.
"I think harvest, especially cabernet, will trend later.  In general, we're running two to four weeks behind 2018 and about one to three weeks behind average norms depending on geographic location.  Harvest shouldn't be catastrophically later than usual and growers and wineries seem to be on top of understanding where the crop loads are and are planning to pull harvest dates forward if need be."
For more news on pests, disease management and other issues affecting vineyards, subscribe to the bi-monthly newsletter The Grape Line.
About the Author(s)
Subscribe to receive top agriculture news
Be informed daily with these free e-newsletters
You May Also Like
---