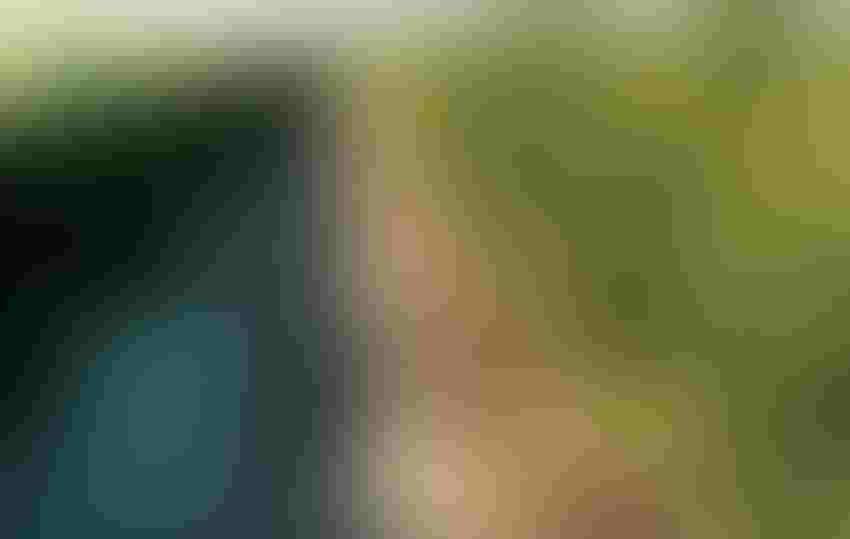 What had been a tough year for California's raisin growers took a turn for the better in mid-October. That's when their hopes for selling this year's crop for more than the disappointing $1,100 per ton price they got in 2016 were realized, as the Raisin Bargaining Association and major packers agreed to a 2017 price of $1,800 per ton (90 cents per pound) for natural seedless raisins.
The price of California raisins is negotiated annually by growers, represented by the Raisin Bargaining Association and 12 signatory packers, who process most of California's raisin crop.
Early in the season, an unusually low bunch count, averaging 27 clusters of grapes per vine, pointed to the possibility of a lighter-than-usual Thompson Seedless harvest. That followed the small 2016 crop when the early season bunch count averaged 31. The long-term average for Thompson Seedless is around 39 bunches per vine.
As the season progressed, California's raisin packers took advantage of strengthening demand to whittle away at their stocks of unsold 2016 raisins. By the start of the current marketing year, Aug. 1, 2017, they had reduced inventories from 158,000 tons a year earlier (about four to five months more supply than needed to meet demand) to just 121,000 tons (about two to three months in excess of needs). 
Grower prospects for selling new crop raisins at a higher price than last year appeared promising. Those prospects were bolstered when growers began picking the first of this year's Thompson Seedless grapes — those destined for wine and concentrate markets. Yields were down 32 percent from the typical 9½ green tons or more per acre to just 6½ tons.
"Packers were paying $1,500 per ton in advance for completed deliveries — $400 more than growers got for their raisins last year," says industry veteran Kalem Barserian, CEO and general manager of the Raisin Bargaining Association. "Right off the bat at harvest, growers were confident that raisin prices this year would be higher."
As the harvest of Thompson Seedless grapes for raisins got under way in early September, the quality of the crop appeared to be relatively good, considering widespread damage from unusually intense heat in July and over the Labor Day weekend.
Then, with roughly a quarter of the crop boxed and safely out of the fields, the rest — drying on trays or on vines in overhead trellis systems or still waiting to be picked —  were hit with two rain events. The first, Sept. 11, dropped anywhere from about a tenth-inch to a quarter-inch of rain, while the second event Sept. 21 was much less.
The rain splashed sand onto the trays of drying raisins, which could require extra processing or reconditioning at the packing plant to clean them. Wet conditions also encouraged growth of mold as raisins continued to dry. Growers suffered millions of dollars of losses from the two rain events, Barserian says.
"The heat waves — and, for whatever the reason, more bunch rot — had weakened grapes and left them more vulnerable to damage from the rains. We don't yet know how much of the crop needs to be reconditioned, but we probably lost about 10 percent of the already-small crop to the rains. We're estimating the final size of the raisin crop at 230,000 tons, plus or minus 15,000 tons. That's really short."
Last year's raisin crop totaled 281,000 tons. This year's estimate puts the crop within range of California's two smallest crops in the last 35 years: The rain-free harvest of 240,000 tons in 1998, and the 205,000-ton crop in 1982, when production suffered from rain during harvest.
In the mid-1960s, California growers accounted for about half the world's production of raisins. That share has dropped to just 20 percent today, as they compete with growers in Iran and Turkey, as well as China, Argentina, and South Africa.
The currently adequate world supply of raisins adds to the challenge of negotiating a price for this year's California crop, Barserian says. "Despite the 2017 raisin price being the second highest in history, everyone's in a predicament. It's a no-win situation. Production losses for individual growers this year range from about one-fourth to three-fourths of their normal crop size.
"With low yields like this, and labor and other production costs continuing to rise, growers need a certain price to remain whole. In fact, still more growers bulldozed their raisin grape vineyards right after harvest this year, and are likely to replant that land to more-profitable crops, like almonds or citrus.
"Finding that right price that will allow growers and the packers to pass on their increased costs to buyers, is the hard part," Barserian says. "But, it's the key to keeping our industry alive."
Subscribe to receive top agriculture news
Be informed daily with these free e-newsletters
You May Also Like
---