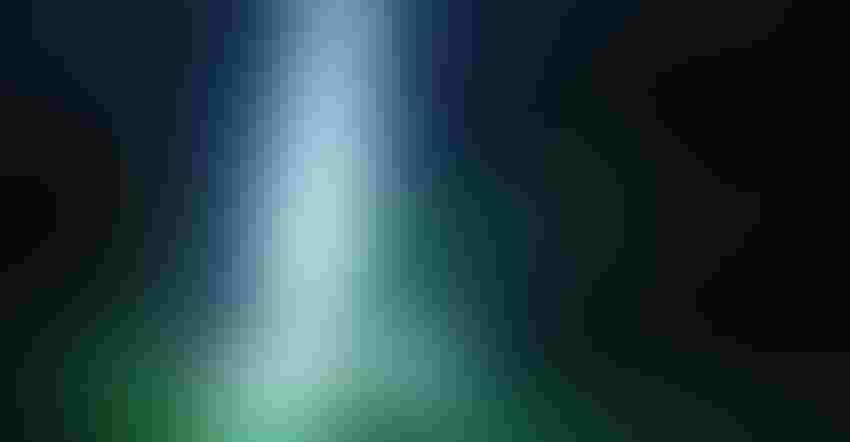 Researchers at Cornell University have been testing the use of ultraviolet light at night to attack grape powdery mildew.
David Gadoury/Cornell University
A simple statement pretty much tells the story: Powdery mildew is ubiquitous in grape-growing regions.
All green tissues of the grapevine are susceptible to the infection which appears as a whitish-gray powdery coating on leaves or fruit until late in the season when small black round structures appear on the white lesions.
On shoots, the infected areas show brown/black diffuse patches while those patches on dormant canes are reddish brown. Berries that are covered with fungus turn dark, shrivel and either split or not ripen properly leading to spoilage microorganism infection.
The ongoing fight with grape mildew has taken several shapes over the last three decades, specifically in the form of early tractor-pulled lamp units evolving into today's robots fitted with ultraviolet light lamps.  Regardless of the sophistication of the unit, its mission is to kill off powdery mildew, one of the most destructive of plant pathogens.
In recent years, the Cornell University Light and Plant Health Project team has refined that science and applied technology behind using UV light to kill the fungi in question, opening the door for the technology's use to control other plant pathogens.
A report in the Cornell Chronicle noted: "UV light applications work as well as or better than available fungicides, killing 95 percent of powdery mildew in field strawberries, with similar results in trials involving both field and greenhouse grapes," said pathologist and project leader David Gadoury.
Now those East Coast experiments are branching out to the Pacific Northwest with Cornell researchers sharing discoveries with Washington State University's Michelle Moyer in wine grape field trial evaluations in Washington vineyards.
"We're continuing studies started last year on the timing and treatment intervals of UVC therapy, similar to work being done with Cornell and Oregon State University to determine region-specific guidelines," said Moyer.
Fungicide resistance
At a Powdery Mildew Webinar in Seattle, she and Gadoury discussed recent fungicide-resistant powdery mildew populations and grower tools to track that resistance.
"This is a big project and my job is to be the chief cat herder for a team of scientists spread across several institutions, countries, and corporations," said Gadoury.
"Putting the work in perspective --- microbial pathogens have been attacking plants for an evolutionary scale of time and have a huge head start on humans and studies of how those pathogens deal with ultraviolet light, a natural part of the solar spectrum --- but one that can cause damage to a pathogen's DNA," he added.
"That DNA-damage can be repaired, but the repair mechanism doesn't operate during darkness and that's the key to using UV to suppress pathogens.  Once we discovered that applying UV light at night was effective in disease reduction at a dose far below what would cause damage to the plant, we had a path to pursue.
"Simply put, pathogens like powdery mildew, on the outside of the plant where they are especially vulnerable to UV, really just don't like UV light at night and we can kill them with a fraction of the dose required during daylight — unlike our early experiments that defoliated grapevines and made the grapes look like small russet potatoes," he remembered.
Today's custom-built, fully autonomous, UV robot (named Thorvald), features a hemi-cylindrical lamp array and is adaptable to a variety of crops like grapes, strawberries, and apples.
"From our grapevine work, we learned the UV treatment actually controlled sour rot better than anything else we were using.  The UV treatments also reduced the severity of downy mildew in vineyards at a suppression level comparable to that provided by a standard fungicide.  And we found that low-level nighttime doses of UV effectively destroyed the eggs of various mite species.
"I don't think UV treatments will be the solution to every problem, but we're at the stage where discoveries are occurring at an accelerated pace and UV performance is improving to the point where it equals or often exceeds the efficacy of a number of standard fungicides."
Subscribe to receive top agriculture news
Be informed daily with these free e-newsletters
You May Also Like
---