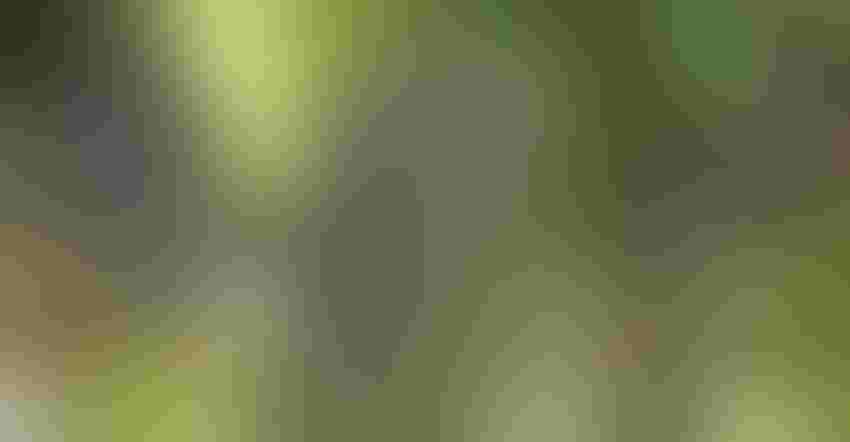 Wine grapes in Washington state show an advanced infection of powdery mildew.
Michelle Moyer/WSU
Just because there is little in the way of new and revolutionary discoveries involving grapevine powdery mildew doesn't mean we're not learning a lot more about the challenges it presents to growers.
"The strategy for the war on powdery mildew was fleshed out some 20 years ago and at this stage of the game, it's more the understanding and application of basic management principles to specific vineyard sites than it is breaking new discovery ground," said Michelle Moyer at Washington State University.
"It involves some basic underlying middle management principles and how to best apply them to individual production settings."
And yet new discoveries are being made as research continues in fungicide resistance where the extension specialist has functioned as lead investigator for FRAME (Fungicide Resistance, Assessment, Mitigation, and Extension network) involving growers in Washington, Oregon, and California.
While fungicide application has proven the most reliable and sustainable management tool to fight the formidable foe, its effectiveness is in question as mildew learns to adapt and resist certain classes of fungicides.
"Resistance is a naturally-occurring phenomenon," she said.  "Pathogens adapt and resist the chemicals we use to control them, making long-standing treatments to prevent infection less effective."
Without specifically blaming vineyard managers, Moyers added: "As an industry, in general, we're good at identifying the things we need to do to manage fungicide resistance, but there's sometimes a disconnect in actually getting that done.  We can articulate what we think we should be doing, but we don't always translate that into actual practice.  And while that might seem trivial, it's actually an important step in understanding the problem and getting it fixed."
Emphasis on management
After surveying growers and discovering that knowledge-implementation disconnect, she noted: "We're advocating an emphasis on fungicide resistance management that really focuses on proper spray program design and application of the principles that we've learned do work.  It's a shift in how we talk about approaching pest management rather than just saying, 'here's a new chemical'.  It's a more refined approach to the basics we've advocated for years.
"It may not be new, but it's cool science in the area of genetics, sequencing the genome, identifying point mutations for various fungicide resistance, practical take-home stuff in the form of simple molecular diagnostic tools that can do rapid testing — like we do for COVID — to identify fungicide resistance and grape powdery mildew."
Of particular interest is the development of testing for a group of 11 primary fungicides.  "It's a quick sampling technique where a worker with gloves walks into the vineyard and touches the vine with a cotton swab that is tested for mildew DNA as well as the resistance gene for fungicides.  As a rapid and powerful way to determine the extent of mildew and resistance, it's a cool way to collect samples and run tests.  We've collected thousands and thousands of samples in the last couple of years and the quick-and-dirty glove testing procedure works.
 "Now that we can test for powdery mildew and fungicide resistance, we can develop refinements to our existing spray programs to minimize field-level failures through increased efficiency."
With the FRAME project wrapping up this year, the hope is to develop tools that can be applied to other specialty crops facing fungicide resistance challenges that will determine where resistance is and predict where and when it might arise elsewhere.
About the Author(s)
Subscribe to receive top agriculture news
Be informed daily with these free e-newsletters
You May Also Like
---