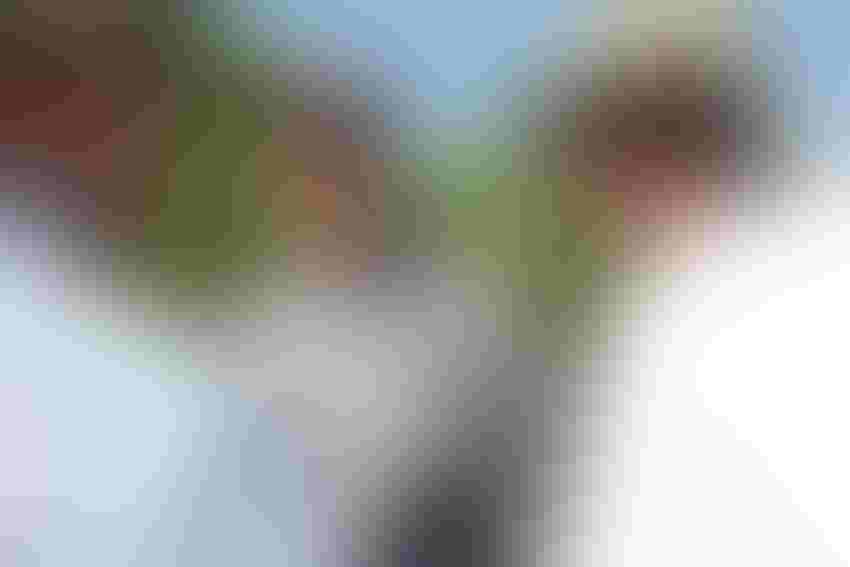 At center - David Ramming, retired, USDA's Agricultural Research Service at Parlier, Calif., developed the Sunpreme raisin grape.
University of California Cooperative Extension associate specialist Matthew Fidelibus had a few words of caution before cutting participants loose at a field day to rummage into Sunpreme grapevines at the Kearney Agricultural Center at Parlier.
"The clusters are fragile, and we're measuring yield," he said. "So be careful not to cause them to drop."
This very trait for the new raisin variety – it dries naturally on the vine – is what makes Sunpreme appealing. It's far from a liability.
And the vines at Kearney were brimming with grapes rapidly drying – and some falling naturally.
While it's not expected commercial plantings of Sunpreme will occur before 2018, there's quite a buzz about the grape developed by David Ramming, now retired from USDA's Agricultural Research Center at Parlier.
Dry naturally
Among its virtues, Fidelibus said, is that grapes dry naturally on the vine, and there is no need to cut the cane.
"It's fruitful on the basal nodes, and there's no need to cane prune," he said. "It can be spur pruned. That means less labor for pruning and harvesting."
The new raisin variety was among a variety of topics presented at the University of California Grape Day. Other topics included nematodes in grapes, drone use to create a "virtual vineyard," the effect of plant growth regulators on Autumn King grapes, grapevine mineral nutrition, and mealybug pest control issues faced by Central Valley growers.
Sunpreme rootstock
Kearney researchers want to determine how Sunpreme performs on its own roots versus grafted onto either of two popular rootstocks, Freedom and 1103P. They are also looking at how the variety performs on two different trellis systems, spur-pruned vines with quadrilateral cordons, as well as head-trained cane-prune vines.
In addition, they are studying how pruning severity affects crop load and young vine development and are seeking to determine how efficiently Sunpreme can be mechanically harvested on both trellis systems.
Researchers have arranged to work with a commercial harvest machine company to harvest this year's raisin crop. When a date is set for that, a notice will be sent to the California Raisin Marketing Board and growers will be invited to observe the process.
Arms race
As a tram took field day participants across the research center, retired Kearney superintendent Chuck Boldwyn pointed out rootstock trials underway.
"It's like an arms race," he said. "There are many rootstocks in the pipeline."
Parasitic nematode control
Some rootstocks are valued for their resistance to nematodes, a subject addressed by Andreas Westphal, University of California, Riverside nematologist.
Westphal said grape plantings are under continuous threat of infestations from plant parasitic nematodes. These soil-dwelling parasites, well out of sight, occur in soil depths at least five feet deep.
At Kearney, he explained that the fumigant Telone is used before planting, and Movento is used afterward. Westphal said there are other pesticides available, but restrictions on Telone use can be problematical, given that only so much can be used in a given region.
Westphal said strategies for management include knowing the field history and sampling soils and-or roots in a standing orchard. Commercial laboratories can identify the type of nematode, which may be in the root, outside it, or in the soil. Pin nematodes are a particular challenge, and the parasites can linger for at least eight years on roots left in a vineyard.
Virtual vineyard
Ali Pourreza, assistant UC Cooperative Extension advisor for agricultural application engineering, discussed the "virtual vineyard," a three-dimensional reconstruction of a vineyard using a photogrammetry technique using a series of aerial images of vineyards acquired from different angles and heights.
He said it helps generate maps used in precision agriculture for orchard monitoring and management, yield forecasting, blossom mapping, robotic pruning and thinning, detecting and counting berries, variable pesticide applications, robotic harvesting, plus water and nutrient management.
Plant growth regulators
Ashraf El-Kareamy, UC farm advisor at Kern County, talked of the Autumn King variety and plant growth regulators aimed at boosting production of the white seedless table grape. He said the greatest cluster and berry weight, size, and Brix were obtained when using 1 ppm of Gibberellic acid at bloom followed by Gibberellic acid at 10 ppm or Forchlorfenuron (CPPU), another plant growth regulator, at either two or six parts per million.
None of the treatment combinations caused excessive cluster compactness or pre-harvest bunch rots. Nor did these treatments alter fruit quality after postharvest storage.
Nitrogen pool
Larry Williams with the Department of Viticulture and Enology at UC Davis, discussed efforts to quantify the amount of nitrogen remobilized or taken up from the soil and added to the nitrogen reserve pool within the trunk and root system of grapevines.
He said there is significant nitrogen in leaves that fall from vines in the winter which can be reincorporated back into the vine.
Williams favors petiole sampling of mature leaves or those from opposite the cluster at bloom to assess nitrogen levels. Petioles of mature leaves at veraison can also be sampled, plus leaf blades, fruit at harvest, or canes during dormancy.
"A bloom-time petiole NO3N value less than 100 ppm one year may significantly reduce fruitfulness the next," he said.
Appropriate time
Williams said it's important to know when nitrogen is utilized by the vine to choose the appropriate time to apply the fertilizer. He recommends two applications - one a month after bud break and a second just after berry set.
He cautioned against applying nitrogen in winter or early spring due to a risk of leaching. He said an application of nitrogen fertilizer just prior to or at bloom may increase the amount of berries that fail to set.
"A post-harvest application of a nitrogen fertilizer is probably not as efficient as some thought," Williams said. "For one to consider this time as appropriate one needs to assess vine health, the length of season remaining, and the soil type."
Vine mealybug
Kent Daane, UCCE specialist, discussed vine mealybug control. The species, compared to other mealybugs, causes the most damage, has more eggs and generations, feeds on leaves, and has the most honeydew extraction.
Daane is encouraged by successes with Movento in addressing pest populations and the use of a sprayable formula for mating disruption developed by Suterra. He also pointed to use of Spirotetramat, an acid derivative that releases "enol" that kills various stages of the pest. Its residual effect is still being studied.
Subscribe to receive top agriculture news
Be informed daily with these free e-newsletters
You May Also Like
---