New SJV blending wine grapes in development
New SJV blending wine grapes in development
Grape Day at Kearney Ag Center covers wide range of topics.Bar codes for phone reader provides info on new grape varieties.Using a solar-powered device called the "Paso Panel" to measure areas shaded by the canopy of a grapevine in order to estimate irrigation crop coefficients.USDA-ARS  releases three improved nematode resistant rootstocks (Matador, Minotaur, Kingfisher) for San Joaqun Valley.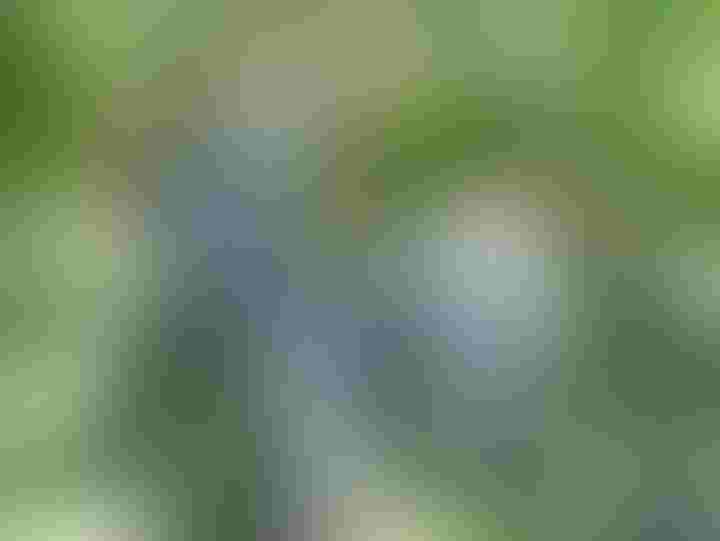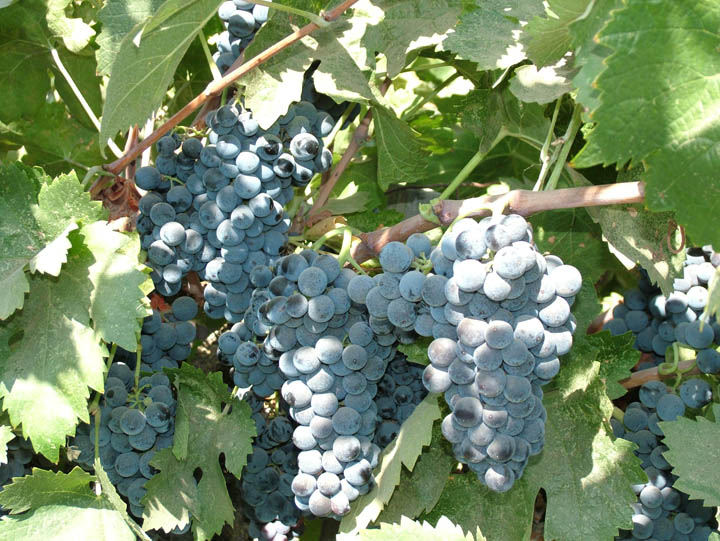 Grape varieties you've never heard of could be a key to boosting already robust sales of wine grapes out of the central San Joaquin Valley.
Those grapes – 55 different varieties from places like Italy, France, Portugal, Spain and Croatia – could be blended into more familiar wines to improve color, taste and other characteristics.
Research into those varieties at the Kearney Agricultural Center at Parlier, Calif., was among topics at Grape Day 2011 that also included looks at the effect of the canopy on shading and water use, development of new grape rootstocks resistant to nematodes, an inside-the-vine look at water use, trapping and baiting for gopher control in vineyards, the importance of weed free periods in vineyard development, and the fruitfulness of dried-on-the-vine raisin grapes.
"These are probably not going to be stand-alone varieties," said Jim Wolpert, viticulture Extension specialist with the University of California, Davis, referring to varieties with names like Schioppettino from Italy, Prieto Picudo from Spain and Viozinho from Portugal.
In short, he said, they're not about to displace such mainstays as Cabernet Sauvignon, Merlot and Zinfandel.
"The public drinks major varieties," Wolpert said. "Let's respect that."
But many varieties being tested at Kearney could be important in adding nuances of color, flavor, tannin, varietal character, structure and other qualities.
"This is not a horse race," Wolpert said. "It's not about winners and everybody else is a loser. Everybody can be a winner."
Only plant material that has passed through a virus screening and identification process at Foundation Plant Services at UC Davis is being evaluated.
During the workshop, participants were introduced to new technology aimed at providing more information. They were able to use smart phones to read 'quick response' codes affixed to various vines and elsewhere. The barcode-like symbols then gave them more information, Web links for additional data or contact information.
Other topics presented included:
Using a solar-powered device called the 'Paso Panel' to measure areas shaded by the canopy of a grapevine in order to estimate irrigation crop coefficients.
Mark Battany, viticulture and soils farm adviser with UC in San Luis Obispo and Santa Barbara counties, said the panels should also be combined with soil moisture and plant based measurements to get a picture of watering needs.
He explained that the devices, which can be made for less than $500, measure shade in the vineyard at midday by showing if there is a lessening of electrical current. Then the data acquired can be plugged into a formula to calculate the irrigation crop coefficient. He said the information acquired is more precise than if generic information were used for a given crop rather than site-specific information if climate based irrigation scheduling is used.
Battany cautioned that measurements must be taken on a clear day. Passing clouds can cause problems, given that a reference reading is taken with no clouds present.
He said the devices are a good way to assess vine growth and health as well as how to manage irrigation.
The devices need to be held uniformly level and the solar pane surface needs to be kept free of dust and debris. Multiple readings should be taken quickly within the vineyard.
Battany said that as he works alone he uses a digital voice recorder with a clip on microphone to record all readings verbally. After finishing the field measurements, he plays back the recordings while seated at a computer and types the values directly into a spreadsheet that will do the calculations.
New SJV rootstocks released
Research on San Joaquin Valley rootstock is aimed at finding new root-knot nematode resistant rootstocks that are superior to some Valley standbys that include Freedom and Harmony.
Last year, USDA released three improved nematode resistant rootstocks: Matador, Minotaur and Kingfisher. The releases came after vineyard performance evaluation at Kearney and virus testing by Foundation Plant Services, said Peter Cousins, a grape rootstock breeder and geneticist with USDA's Agricultural Research Service at Cornell University.
All three of the new releases showed improved efficiency compared to Freedom with higher fruit to pruning ratios. Cuttings of the rootstocks are available from Foundation Plant Services.
Cousins said there are 60 species of grapes worldwide and some have a natural resistance to nematodes.
A presentation on understanding water use of grapevines and what goes on inside the vines bore something of a resemblance to the 1987 science fiction comedy in which humans take a fantastic journey through a rabbit.
Andrew McElrone, with USDA-ARS in Davis, showed 3-D and motion film images of the xylem tissue in vines that maintain a continuous supply of water to the leaf surface.
He explained that during a drought plants face xylem tensions great enough to trigger what is known as cavitation and formation of air bubbles that can block the conduit that carries water. The damage is akin to an embolism in the human body, and some of the devices used to track what is happening in the xylem are also used for humans.
They include High Resolution Computed Topography and Nuclear Magnetic Resonance imaging similar to medical diagnostic CAT scans and MRIs.
Researchers have also developed a custom software packaged called PHAST (Physiologically-based High-speed Automated Software Technique) that automatically extracts vessel dimensions and distribution of intervessel connections.
The research takes on added importance due to water limitation issues in some years. In some instances, McElrone said, plants can repair themselves after an embolism.
Gopher control
It's best to trap and bait for gophers in the winter and early spring when populations are lower and the digging easier, said Roger Baldwin, integrated pest management adviser with UC Kearney in his presentation on determining and demonstrating the importance of training and experience in trapping and baiting programs for controlling pocket gophers.
Trapping is most effective, he said, because there's a confirmation you've gotten the target animal, it can be used in organic crops, it's economical and there are no toxic chemicals.
Baldwin said the most effective trap is something called the Gophinator from Trapline, a pincers type device.
He said populations need to be reduced by 70 percent to 90 percent in order to be effective.
Baldwin cited research that showed individuals who receive thorough training on bait application were 3.6 times more likely to attain greater efficacy from baiting programs than were individuals who received only limited training.
Other research showed novice trappers become proficient in just three days with novice trappers capturing gophers at 92 percent of the efficacy value obtained by the expert trapper.
Baldwin recommends using both forms of control – trapping and baiting.
Weed control
Weeds consume valuable resources that include water, they reduce harvest efficiency and they harbor insects, pathogens and vertebrates, said Kurt Hembree, UC weed specialist for Fresno County.
And their presence can be critical during certain times in establishment of a vineyard.
Hembree looked at pruning weights, trunk growth and bunch counts in plots where weeds were permitted to grow for various lengths of time compared to weed-free plots.
"The longer the weeds were let go, the greater the effect on recovery of the vine and rodent damage," Hembree said. "Even at three to six months, there was damage in terms of reduced growth. If weeds were there more than nine months, we had critters move in that chewed the bark. A weedy period of only three months reduced pruning weight and trunk growth for two years."
Long canes not good
Matthew Fidelibus, a UC researcher on table, wine and raisin grapes, cautioned that allowing canes to grow too long can cut down on fruitfulness in some raisin varieties and can lead to too much shade.
He added that soluble solids (brix) in clusters can decline closer to the tip of the cane. His studies are looking at 15 and 20 node canes.
Fidelibus said some growers have canes with 40 to 45 nodes and "are over-cropping the cane, much less the vine."
Internode length varied among varieties studied, including DOVine, Thompson Seedless, Fiesta and Selma Pete.
About the Author(s)
Subscribe to receive top agriculture news
Be informed daily with these free e-newsletters
You May Also Like
---