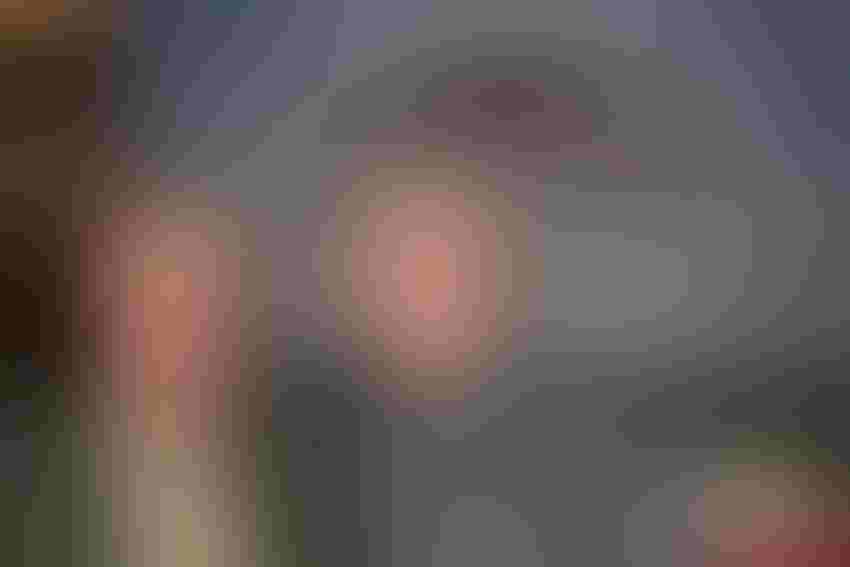 Fresno County wine grape grower Frank Saviez, left, and winemaker-former NFL Coach Dick Vermeil at the Wine and Grape Industry Forum.
Some lively exchanges punctuated a Fresno, Calif. meeting of wine industry leaders that opened with a look at the challenges posed by drought and the prospects for on-farm water recharge and closed with a pep talk from a sports legend.
In between, attendees heard from outspoken industry leader Fred Franzia, chief executive officer of Bronco Wine, and Nat DiBuduo, president and chief executive officer of Allied Grape Growers who announced Allied this year signed its first contract with Bronco since 1982.
After a presentation on water stresses, DiBuduo bristled at talk that as much as 500,000 acres of land would have to be idled if water availability continues to be curtailed and over-drafting continues.
"It's easy to say idle land, but who do we stop feeding?" DiBuduo said. "Who are we going to put clothes on? We're talking about idling the most productive land in the country and most of the world in order to protect who? I'm really sensitive about that."
His questions were posed to Alvar Escriva-Bou, a research fellow with the Public Policy Institute of California, who had made the case that because of water stresses "we have to recharge more or use less water; that's the only way to do it."
DiBuduo made it clear he agreed with much of what Escriva-Bou said, including a need to address nitrates in drinking water.
SJV water imbalance
Escriva-Bou said the San Joaquin Valley faces a long-term water imbalance with a reliance on groundwater overdraft and that drought and declining water imports have accelerated the overdraft.
"Problems can't be solved farm-by-farm," he said, "and urban-rural partnerships will be key."
Earlier at the Wine and Grape Industry Forum presented by the San Joaquin Valley Winegrape Association, the challenges of managing agricultural water under extreme climate conditions were outlined by Josue Medellin-Azuara, associate professor of civil and environmental engineering at the University of California, Merced.
Extremely dry and extremely wet years pose concerns, Medellin-Azuara said. "We're in a land of extremes and we need to manage for both extremes."
Like Escriva-Bou, Medellin-Azuara also pointed to overdrafting of groundwater.
"Groundwater needs tight management and irrigated area reductions are unavoidable," Medellin-Azuara said.
Groundwater recharge
Two speakers pointed to the use of groundwater recharge by capturing water during wet years, saying grapes are a crop that could greatly benefit from this.
They pointed to pioneering efforts to park Kings River floodwaters on parts of Terranova Ranch, a diversified farming operation in Helm. Joseph Choperena, project manager with Sustainable Conservation, explained that the water was used to flood grapes, pistachios, olives, walnuts, and open ground, and the project meant adding an infrastructure that included a mile-long canal, pumping stations, and pipelines.
"We have to make the most of water when we can get it," Choperena said, explaining that overdrafting has been needed for years at Terranova, and the on-farm collection of water is a way of recharging the underground aquifer.
Craig Ulrich of Lawrence Berkeley National Laboratories said studies are underway to determine the best soils for on-farm recharge.
Choperena said grapevines are extremely tolerant to prolonged moisture. Since grapes have a low nitrogen demand, there is less risk of residual nitrogen levels. But concerns remain over potential crop health and yield declines, along with the loss of fertilizer.
Deliveries through the Madera Irrigation District have been used to examine the viability of on-farm recharge at several sites.
Choperena said financial incentives or pumping credits can be developed to encourage the recharging effort and it's a way of responding to the Sustainable Groundwater Management Act or SGMA.
Franzia wants wine industry changes
Fred Franzia discussed the California wine industry, blasting unions and the state's labor policies and criticizing the expenditure of money for control of the glassy winged sharpshooter, saying "glossy reports" were "a waste of money," while championing efforts to control the vine mealybug, which DiBuduo also backs.
Franzia urged continued transition from flood to drip irrigation, and said the separating of grape growing regions into American Viticultural Areas is divisive and "not good for our industry."
He said vintners should not be importing bulk wine into California at a level of the equivalent to 150,000 acres of grapes. "Why?" he asked. "There's no reason to be bringing it in."
Franzia said, "Imported wines are losing ground this year for the first time in 18 years."
Forecast: Flat global wine production
DiBuduo said world wine grape production is mostly flat and California production is forecasted to be flat in the near future.
Demand for wine under $7 a bottle, predominantly produced in the Valley, has declined, and DiBuduo said improving wine quality is a key to moving into higher priced categories. The central and southern interior continues to produce and sell more than half of California's wine.
While DiBuduo has been taken to task for his stance that some vines should be taken out of production in the interest of sustainability, he reiterated his belief that there are certain criteria for doing so.
They include any red grape that struggles to achieve uniform color or high sugar; some acreage of unpopular consumer varieties including Zinfandel, Merlot and Syrah; Ruby Cabernet that is export market dependent and low producing; and economically unsustainable vineyards. Particularly hard hit last year were vines that produced white concentrate.
Grapes or nuts?
Despite those challenges, DiBuduo remains bullish.
"I'm San Joaquin Valley born, San Joaquin Valley raised, and I'll be a San Joaquin Valley Grape grower to the end of my days," DiBuduo said. "This is Allied Grape Growers, not Allied Nut Growers."
Yet Ben Slaughter, senior appraiser with Correia-Xavier Inc., made the case that almonds and other nuts still dominate almost every market in the Central Valley. Even with a market "correction," he said they are still among the most profitable crops.
As for vineyards, he said traditional Thompson Seedless vineyards are now essentially priced at vacant land, "simply a placeholder for a more profitable crop."
"Good vineyards are probably worth more than dirt," Slaughter said. Newer dried-on-the-vine vineyards hold more promise if yields are strong.
NorCal fires
He believes fire damage to grapes grown to the north was not catastrophic, "no worse than a frost event."
As to the loss of homes and lives on the North Coast, Franzia, DiBuduo, and others have expressed their compassion for those who sustained losses.
Other wine issues
Jeff O'Neill, with O'Neill Vintners and Distillers, discussed building a California wine brand and bringing it to market, and challenges that include shrinkage to fewer than 500 wholesalers.
John Ciatti, partner with The Ciatti Co., talked of the global wine market and shrinkage of wine acreage in Europe. He said China is a growing wine consumer.
'Wine tougher business than NFL'
Football coach Dick Vermeil closed the program by emphasizing a need to be positive in motivating those around you, detailing how he motivated the Saint Louis Rams to move from being a National Football League loser to a Super Bowl Champion.
Vermeil is a winemaker now, and says that is no easy task.
"Your business is tougher than the NFL," he said. "There are over 500 winemakers in the Napa Valley. We can't stay in business making good wines. We're trying to make great wines."
Subscribe to receive top agriculture news
Be informed daily with these free e-newsletters
You May Also Like
---