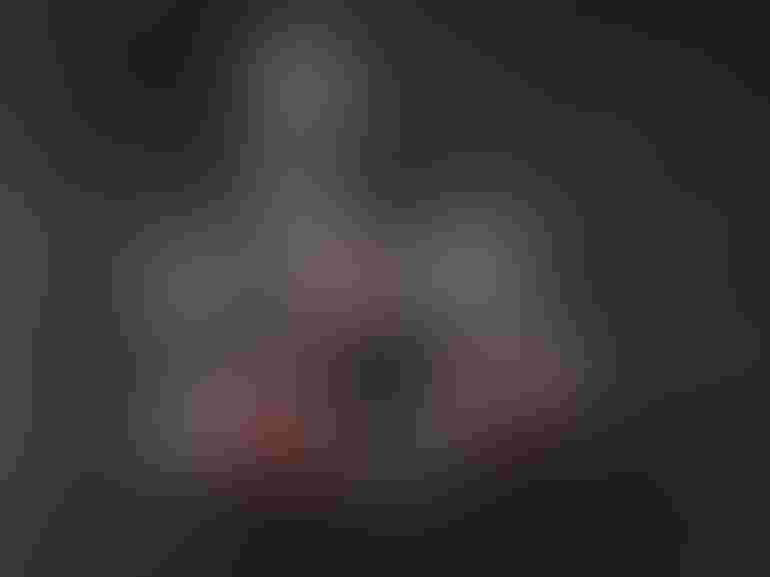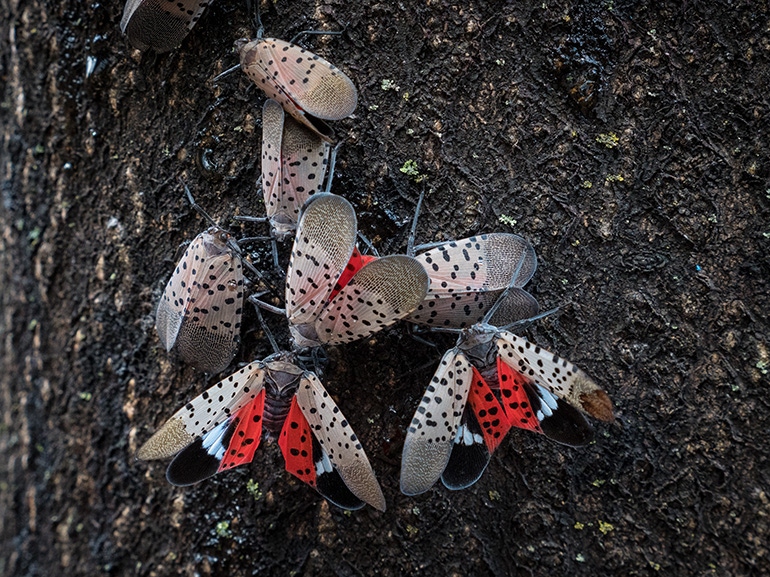 Spotted lantern flies are a threat to several high-value crops, including grapes.
Lance Cheung/USDA
California grape growers and other farmers are proactively responding to what experts say is the inevitable arrival of the latest in a long line of pests, the spotted lantern fly (SLF).
Already a scourge abroad and in eastern states such as Pennsylvania, where it was discovered in 2014, the pest - Lycorma delicatula - is known to spread rapidly. It moved from Pennsylvania to nearby states like New York and Delaware in 2017, expanding its range into New Jersey, Maryland, and Virginia in 2018.
With a wingspan of only 1 ½ inches, its flying talents are limited to a few hundred feet, but it's learned how to be a great hitchhiker and that's how it's expected to travel across the country.
"It's inevitable, but manageable," says Mark Hoddle of the University of California, Riverside, who is working with Kent Daane of UC, Berkeley on a newly-funded project, "Proactive Biological Control of Spotted Lantern Fly."
"California's wine, table, and raisin grape industries take invasive pests like these very seriously and have a long track record of supporting integrated pest management and bio-control," says Daane. "The difficulty here is the wide host range of SLF that increases avenues for invasion into western vineyards."
The project will piggyback on work already being conducted in the eastern U.S. and overseas.
"This project, supported by a $544,000 grant from the California Food and Agriculture Department, will be a fantastic opportunity to get ahead of such an invasion," Daane says.
"We hope that statewide quarantine measures in place will deter or prevent the pest's arrival and if small numbers are found, the state will act quickly in an eradication attempt as was done for the European grapevine moth."
The mission of the Proactive Integrated Pest Management Solutions grant program is to anticipate which exotic pests are likely to arrive in California and to identify and test strategies that can be implemented rapidly if pests become established.
Threat to crops
SLF is worrisome on a lot of fronts, particularly for several of the state's high-value crops like grapes, avocados, walnuts, and pistachios.
The lantern fly causes damage by secreting what Hoddle, director of UC, Riverside's Center for Invasive Species Research, calls "copious amounts of honeydew, a juicy waste product that attracts undesirable foraging insects like ants, wasps, and hornets that start eating the fruit which then encourages sooty mold and fungal pathogens to move in - all the while damaging a plants ability to grow."
The researchers are worried the impact could hit California and extend well beyond - bad news for a state cited as the 4th largest wine producer in the world as well as for neighboring states like Washington and Oregon.
"About 44 percent of invasive insects that come to California - the brown marmorated stink bug, Asian citrus psyllid and the palm weevil, for example - have established somewhere else in the U.S. before they arrive here," says Hoddle.
"One of the things we've learned from invasion biology is that if something appears on a crop somewhere else," he says. "It's likely to be a pest for you if you grow the same crop, and the spotted lantern fly likes grapes."
Hoddle says he will jump start his biological program by borrowing on work already done by the USDA on the East Coast, setting up a proactive rather that reactive system ready to intervene when the unwanted visitors finally arrive.
"It takes several years for programs like this to start up and gain momentum and we're hoping to eliminate that lag time to be ready when needed," he says.
For more news on pests, disease management and other issues affecting vineyards, subscribe to the bi-monthly newsletter The Grape Line.
About the Author(s)
Subscribe to receive top agriculture news
Be informed daily with these free e-newsletters
You May Also Like
---