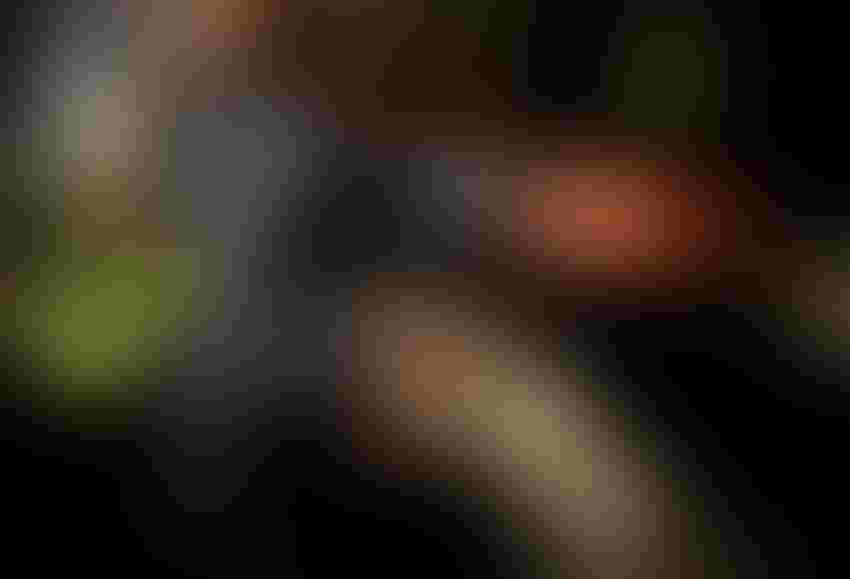 Justin Sullivan/Getty Images
"It was almost like the vineyards had been microwaved," says Vineyard Consultant Prudy Foxx of the record-breaking Labor Day weekend heat wave that saw temperatures soaring as high as 117 degrees and sent the wine world into emotional overload.
Foxx, who has been growing wine grapes in the Santa Cruz Mountains for more than three decades, ranks this year's harvest as one of the most stressful she's experienced. 
That stress began a week-and-a-half after she started picking the first Pinot Noir grapes of the season. With triple digit temperatures, "any moisture that was in the fruit either evaporated out through the skins or was taken back into the roots to sustain the vines," she says. One winemaker measured the temperature of the juice inside the berries at 103 degrees.
"It was impossible to protect against such intense heat," Foxx says. "Many winemakers experienced a gut reaction of fear, especially with sensitive varieties like Chardonnay and Pinot Noir. The concern was that the fruit would just shrivel up, and some vintners responded by trying to pick no matter what."
To prevent further damage, growers with just-ripened fruit in highly exposed sites had no choice but to pick immediately. Others either decided to ride it out or were forced to do so because fermentation tanks were overflowing with the sudden influx of fruit, temporarily preventing wineries from taking more.
Based in Santa Cruz, Calif., Foxx Viticulture works with growers on both the east and west sides of the Santa Cruz AVA. The most severe heat damage occurred where vines were dry-farmed inappropriately or had no access to an adequate supply of water, she says. Those grapes suffered extreme amounts of shriveling. So did fruit where excessive leaf removal, intended to reduce the threat of powdery mildew earlier in the season, left berries overexposed.
"Deficit irrigation is a powerful tool for growing premium wine," she says. "However, there is a huge amount of misinformation and impractical application of this practice.  Growers whose vines were already water-stressed and/or nutrient stressed suffered the most."
The intense heat wave followed what had been a season free of any extreme weather events, Foxx says. But, vigorous vine growth due to abundant winter rainfall produced large canopies, which hindered good spray coverage and led to more powdery mildew pressure than usual. Even with good disease control, the exposure set up thin-skinned varieties like Chardonnay and Pinot Noir for more heat damage.
In some cases, even in vineyards with normal exposure of fruit, several berries on each Chardonnay cluster would turn pink before collapsing or shriveling into raisins and falling off. "There seemed to be clonal preference for susceptibility," she says, "and the most sensitive thin- skinned clones fell victim first to the environmental pressure."
As it turned out, the heat's toll on the crop was not as much as growers had initially feared, except in some smaller vineyards. "In those cases, where management was not consistent or fruit exposure was high, losses ranged as high as 80 percent to 100 percent of the crop. In most commercial vineyards, where vine care tends to be more consistent, any losses from shriveled fruit were limited to around 15 percent of the crop.  In many cases, the fruit recovered completely."
Sugar levels, which shot up artificially high during the heat spell due to dehydration, dropped once temperatures subsided. In fact, sugar accumulation slowed throughout September, reaching relatively low readings of 20, 21 and 22 ºBrix around the first of October. Meanwhile, pH levels rose to about 3.3 to 3.4, and total acidity fell.
"The vines seemed a bit shocked," Foxx says. "Brix levels stayed in one place for two to three weeks. Then, with a little heat, numbers suddenly climbed two to three units in just a few days.  It has been a rollercoaster. Correct timing of the harvest has been everything this year. Still, because pH wasn't spiraling out of control, we were able to pick grapes with much more balanced numbers. The fruit was gorgeous, with amazing flavors and lower alcohol, much like European wines."
Overall, yields in her vineyards this year were about normal, although cluster weights were up, particularly in Chardonnay and Pinot Noir. That contrasts with normal size, or even smaller berries, in Cabernet Sauvignon.
The impact of the Labor Day weekend heat wave highlighted the importance of proper and consistent care of vines throughout the year, beginning from the very first season, Foxx says. "Healthy vines have a better chance of surviving extreme weather events. At the same time, I've also seen too many vineyards that were heavily stressed in their early years. Severe heat is hard on these vines, because they lack the fully-developed root systems needed to keep water and nutrients translocating properly."
This year's heat has also caused her to examine more closely the concept of deficit irrigation and how it relates to age and long-term health of the vines. "I disagree with those who think that with global warming, California growers should abandon Burgundy varieties and grow thicker-skinned varietals. That is just one of many options. 
"The idea that vines don't necessarily need supplemental water, and can find it on their own, isn't always true. We don't have to waste water or artificially fatten our vines, canopy and fruit by over-irrigating. But, we should be paying attention to our soils and their water-holding capacities in order to make informed decisions about how we use water, and for that matter, supplemental nutrients, to address the needs of the vines and keep them as balanced as possible. It's important to sustain the integrity of the canopy, leaf tissue, and fruit without encouraging excessive growth."
Subscribe to receive top agriculture news
Be informed daily with these free e-newsletters
You May Also Like
---