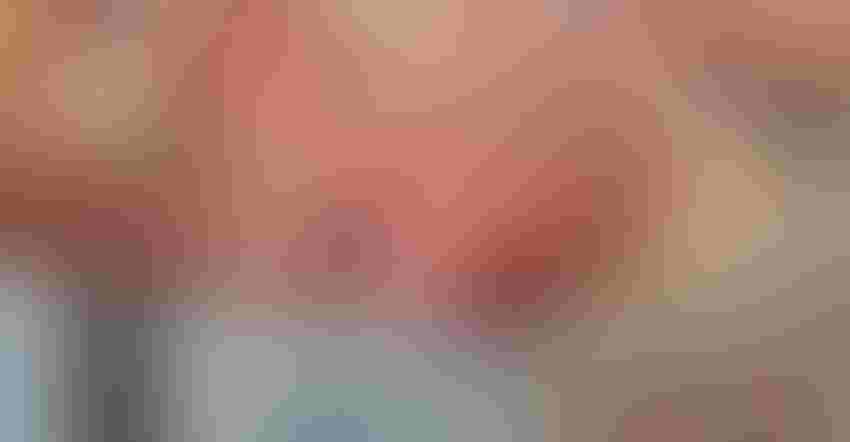 MISSOURI GROWN: Missouri peach orchards are more of a tradition in the state, with many being in families for generations. A few are still open through October, so make a point to find these hidden treasures.
Olivia Loges
Nestled in the river bluffs of Lafayette County, Mo., is the rich history and generations of hardworking families who make up the long-standing, independently owned and operated orchards and markets alongside scenic State Highway 24.
Mouthwatering, hand-picked produce is at your convenience at the many different orchards within the span of a few miles. Apples, pears, berries and peaches grow in the area, but the most unique fruit is peaches. Many local residents contend that "peaches from the area are not to be equaled anyplace in the world."
Orchard stands test of time
Missouri's largest family-owned apple orchard has a few surprises for customers when they walk in their market. They are greeted with the sweet, floral scent of fresh peaches that line the boxes.
Hermann Peters owned a mercantile dry good and grocery business in Waverly, Mo. In 1906, Hermann bought 70 acres and planted his own orchard. Now those acres have grown to seven different orchard locations for the business, offering a variety of apples and peaches for local retail and wholesale.
Paul Peters, Hermann's great-grandson and co-operator of the orchard, says one of his favorite things about running the orchard is "the beauty of the springtime and seeing the flowers bloom, and the excitement of looking forward to a new season."
In the early 2000s, the family business passed down to the next generation. Learning the way of the land and growing up in the industry, the Peters family — Sam Peters and cousins Scott, Caroline and Kristina Campbell — has been able to evolve the orchard while also maintaining the great legacy left behind by their ancestors. The family not only sells fresh peaches, but also fruit byproducts.
Peters Orchards and Markets opens its doors in July and runs through October. You can find its locally grown produce at 32615 U.S. 65, Waverly, Mo.
Family offers variety of peaches
Also no stranger to the family affair of orchards are Norman, Edgar and Robert Jr. Rasa, along with their wives, Susan, Ruby and Bernice. Together, they run Rasa Orchards in Lexington, Mo.
The orchard has been around since 1922 and was started by their grandfather. Like many others in the area, it started out as an apple orchard, but the Rasa family decided to sprinkle in a few peach trees many years ago to add diversity to their crop.
Even though apples are their main source of retail income, they still grow 12 different varieties of peaches, which you can find on their market shelves through September.
Being his own boss and getting to operate the business alongside his brothers and grandchildren and are a few of Norman's favorite things about running Rasa's Orchard. Having "locally grown and tree-ripened fruit" is something they pride themselves on when marketing to customers, as well as wholesalers.
Rasa Orchards is open from July to November. You can find their locally grown produce at 19510 Garr Road, Lexington, Mo.
Summer orchard tradition
Known for being the "oldest roadside stand," Schreiman Orchards has been in northwestern Missouri since 1919.
It was first owned by stepbrothers Ed Kappelman and Herman Willer. In 1955, the orchard sold to Helen and Ben Schreiman, who renamed it Schreiman Orchards. In 1983, Helen and Ben's daughter, Judy, and her husband, Jim Marshall, moved back home to take over the business from her parents.
Today, John and Tim Christopherson operate the orchard with their families. The two have been operating the business for 12 years and have learned a lot along the way. Rebuilding and rebranding while using social media has put the brothers in a place where they are able to maintain their business and hopefully pass it down to their younger generation.
Mainly growing peaches, they operate their roadside market with other fresh produce. They added a new venture — ice cream. It soon became a customer favorite, Tim says. He says customers, even as far as Minnesota, keep coming back because they like to keep it personal. "We create a relationship with them and we try to do that with everybody," he says.
Their market offers a variety of locally grown jams, jellies, other produce — and even Wagyu beef from Red Wagyu KC. Schreiman Orchards normally wraps up its sales season at the end of August. Still, put their address on your calendar to visit next year. They open in June. You can find their locally grown produce at 29032 Highway 24, Waverly, Mo.
Subscribe to receive top agriculture news
Be informed daily with these free e-newsletters
You May Also Like
---