Yesterday, Penn State researchers reminded fruit and berry producers that the Spotted Wing Drosophila vinegar fly has been confirmed in Pennsylvania and New Jersey. It appears to be invading from adjacent states to the south and possibly from Michigan.
Since SWD doesn't fly far, it's likely being transported on fruit moving into the region. It's a small vinegar fly with the potential to damage many fruit crops, reports David Biddinger, entomologist at Penn State's Fruit Research and Extension Center at Biglerville. "The greatest potential for damage is probably to berry crops."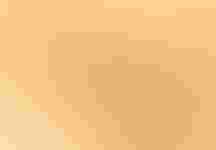 TINY FRUIT SPOILERS: The Spotted Wing Drosophila flies are extremely small red-eyed vinegar flies. Males have spots on their wings. Egg-laying females don't.
The host range includes a wide range of crops, adds Bryan Butler Sr., Extension regional fruit educator for University of Maryland. Berry crops such as grapes, raspberries, blackberries, blueberries and strawberries are at risk. So are tree fruits such apples, cherries, nectarines, peaches, pears, and plums. Cherries are a preferred early season host. Grapes are a preferred late season host.
Larvae are similar to larvae of other drosophila vinegar flies. Larvae feed beneath the skin of the fruit, causing a collapse of tissue near the site, followed by invasion of molds.
Fruit losses range from 33% to 100% since they attack during final ripening. That's often after growers think they've ended their spray season. Fortunately, this insect is not as difficult to kill as our other important invasive pest. But you have to detect them in time.
Apple cider vinegar traps can be used to determine presence of the fly. Other drosophila species may look very similar and care is needed to make a proper identification.

"Unlike other vinegar flies that target damaged or overripe fruit, SWD females will attack any soft-skinned healthy fruit to lay its eggs," Biddinger explains. Identification of the adults is difficult because of their small size and several similar characteristics of other vinegar flies.
The SWD is approximately two to three millimeters long (tiny) with yellow-brown bodies and red eyes. Adult males have two distinctive dots on the wings and brown bands on the abdomen. The females look similar, but don't have the wing dots or bands. But they do have large, saw-like ovipositor for inserting eggs into fruit.
SWD larvae are white, without a distinctive head and easier to detect against darker fruit, such as cherries. Adults thrive at cool temperatures in the spring and fall, but growth and reproduction are greatly slowed during hot summer weather.
During egg-laying, rot and fungal diseases can also affect the fruit, further contaminating the fruit at harvest. Infected fruit are difficult for growers to detect, since the only symptoms at first seem to be a small pin-prick from egg-laying, turning into small scars and indented soft spots and bruises before the fruit eventually collapses from the internal feeding of the larvae or disease.
Greg Krawczyk, Penn State Extension Tree Fruit Entomologist and Kathy Demchak, Penn State Senior Extension Associate in Horticulture, suggest growers use integrated pest management (IPM) methods of monitoring using baits and traps suggested at http://extension.psu.edu/ipm/agriculture/fruits/spotted-wing-drosophila.
Control methods are crop specific. Check the recommendations in Penn State's "Fruit Times Newsletter"  http://extension.psu.edu/fruit-times  and "Vegetable and Small Fruit Gazette" http://extension.psu.edu/vegetable-fruit/newsletter.
For more information on SWD, visit http://sites.google.com/site/spottedwingdrosophila/. Growers can also contact their local horticultural extension agent or entomologist for further information.
Subscribe to receive top agriculture news
Be informed daily with these free e-newsletters
You May Also Like
---