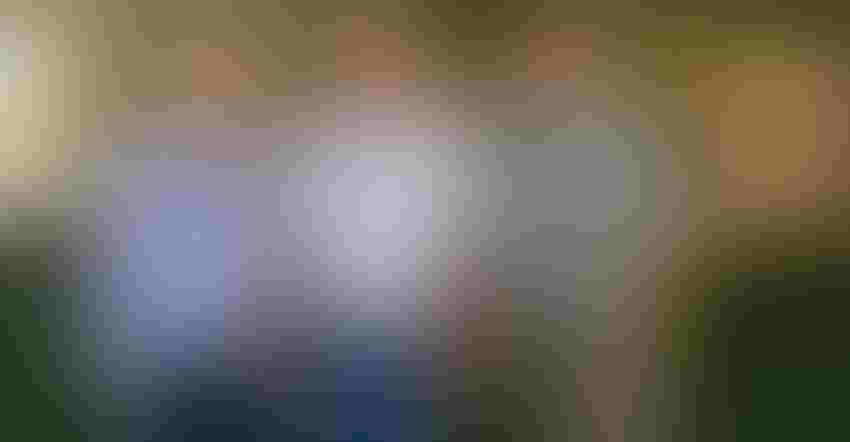 From left, Citrus Research Board member Jim Gorden, current CRB Chairman Dan Dreyer, and CRB President Gary Schulz.
As milestone anniversaries go, 50 years is significant. For the California citrus industry and its reliance upon the Citrus Research Board (CRB) for critical research advancements the continued grower support suggests the marketing order is on the right track.
Careful scientific study and the results from them take time, money and effort. Organizations like CRB spend much of each addressing issues that in the end are designed to improve the sustainability of an industry worth over $7 billion to the California economy.
Citrus handlers and processors pay the assessment that funds the marketing order. The rate for the 2017-18 season is just over five cents per 40-pound field box, or equivalent. This funds everything from general production research to variety improvement, quality assurance studies on agricultural chemical residues, pest and disease control functions, and other pertinent activities of the state's citrus industry.
The board in turn funds other programs, including much of the work of the California Citrus Quality Council (CCQC). According to CRB President Gary Schulz, it's the CCQC's job to work with packinghouses and overseas trade offices on non-tariff trade barriers, such as maximum residue levels created by trading partners. Because it is a marketing order, the CRB cannot lobby politically.
"The industry is pretty unified behind the need to develop tools and solutions to the problems that face us," says Jim Gorden, a current CRB board member and past board chairman.
Critical Research
CRB Chairman Dan Dreyer says the implications of the research performed or funded by CRB is legion and not a day goes by that he doesn't learn something new that he can employ in groves he manages through his own farm management company or through Limoneira, where he serves as ranch manager for Central Valley operations.
Current topics of research include, but are not limited to, early detection methods for HLB that may be able to give growers a hint at which trees are diseased well ahead of when current lab testing methods can render qualified proof.
Much of CRB's focus is centered on the one issue of critical importance to California citrus growers: Huanglongbing (HLB), or citrus greening disease. This is the bacterial disease that got its U.S. roots in Florida and eventually found its way to Texas and California after the introduction of an invasive insect called the Asian citrus psyllid (ACP). While the disease has been confirmed in over 850 urban citrus trees in the greater Los Angeles area, its discovery has not been confirmed in commercial groves in any of the main growing regions of the state.
A regulatory HLB quarantine now exists in two zones across the southern California region while quarantines for the ACP exist throughout the state.
Cure-related research and studies to find useful and easily-deployed early detection methods for HLB are ongoing as scientists continue to learn about the disease and the bug that vectors it. For instance, the latency period between when a tree is infected by feeding ACP and when the tree elicits a sufficient response to the disease can be a year or more.
The only approved method to determine if a citrus tree has HLB is through PCR testing. Known fully as the "polymerase chain reaction," this is a lab-based, scientific method used to amplify small segments of DNA for detection of bacteria, viruses and many other uses. While it is effective at diagnosing diseased trees, the industry has learned that it is critical to know which part of a tree to collect samples as the bacteria that causes HLB can be present in one part of a tree, and not in other segments of the tree.
Disease-centric focus
Gorden is a citrus grower with groves along the eastern edge of the San Joaquin Valley near Lemon Cove, Exeter and Strathmore. He was CRB chairman when the industry wanted a state-run citrus program to address the ACP and HLB. He now chairs the state Citrus Pest and Disease Prevention Program Committee, an organization that partners with CRB and the industry to address HLB.
In addition to the new state program, CRB worked with the industry to fund insect-proof screenhouses and greenhouses to protect the state's citrus clonal protection program. Duplicate systems are in place to protect citrus materials in Riverside and the Lindcove Research and Extension Center. An experimental packing line was also added to the Lindcove Research and Extension Center as part of the industry's studies into ACP spread.
"Where our focus used to be water, water, water, and it still is to a large degree, now with California citrus our focus is HLB, HLB, HLB," said Schulz. "If we don't resolve it or figure out a way to manage it – and this is a risky position to take – it could be very detrimental to us."
California citrus industry leaders have closely watched the Florida citrus industry since HLB was found in south Florida in 2005. This was seven years after the first ACP was discovered in Miami. Since then both the bug and the disease have spread across the state and citrus production is down about 70 percent. California is trying to prevent that from happening to its high-value, fresh fruit market.
Gorden thinks California's mix of fresh-market varieties might bode well in the fight against HLB as some varieties might be less susceptible to the disease. He also believes fighting hard against the ACP in the main citrus production regions of the Central Valley and Central Coast can be helpful as the mountains between southern California and the San Joaquin Valley provide a natural barrier to the pest. The only known way for the pest to migrate into the San Joaquin Valley is by hitchhiking on loads of citrus coming north from southern California, or by homeowners transporting infested fruit or plant materials throughout the state. Quarantine rules are in place to prevent the movement of ACP into the San Joaquin Valley and elsewhere.
Early Detection
There are currently no recognized early detection methods that growers can easily employ for HLB. Dogs are currently being tested in California and have been tested elsewhere, but some in the industry are not ready to trust a method that relies on dogs detecting an odor or some other sensory signal.
Dogs were recently studied at the University of California, Riverside campus where they alerted on several trees in the research grove. Those trees have since been covered and are being watched to see if they may be infected with HLB.
"The hypothesis is the dog potentially has the ability to detect HLB sooner than the PCR," says Dreyer. "While a PCR test must find a specific location in the tree that has been infected, the dogs can potentially smell the entire tree. We just don't know what the dogs are detecting at this point."
Other early detection methods include molecular tests. Some promising work seems to have been made related to specific proteins elicited as a response to the disease. These proteins are only present with the disease and seem to be detectible sooner than the disease. Creating such a tool for growers to use that is easy and cost-effective may still be years away.
According to Schulz, CRB retains a business developer and attorney specializing in intellectual property rights to help both the industry and a potential inventor when a new early detection tool is developed.
Funded-projects
Dr. Melinda Klein is the chief research scientist for CRB. Her job includes overseeing five major research areas. These include production efficiency, new variety development, vectored diseases, post-harvest diseases and technology, and pest management. CRB also supports the citrus clonal protection program, which was established over 50 years ago as a mechanism to introduce citrus varieties from throughout the world into California for research, variety improvement or use by the commercial citrus industry.
When it comes to HLB studies, Klein says California still must rely on Florida research for outdoor field work because California law requires diseased residential trees be removed and destroyed. There are no known commercial trees with the disease.
UC Davis has a quarantine lab to study diseased plant materials and a level three biosafety lab is near completion in Riverside to study HLB.
The CRB will commemorate its half-century of service to the citrus industry during the 2018 California Citrus Conference, Oct. 10, at the Wyndham Visalia, 9000 Airport Drive, Visalia, Calif. Registration opens at 6:30 a.m. To register online visit https://tinyurl.com/ya4tmmh3.
Subscribe to receive top agriculture news
Be informed daily with these free e-newsletters
You May Also Like
---