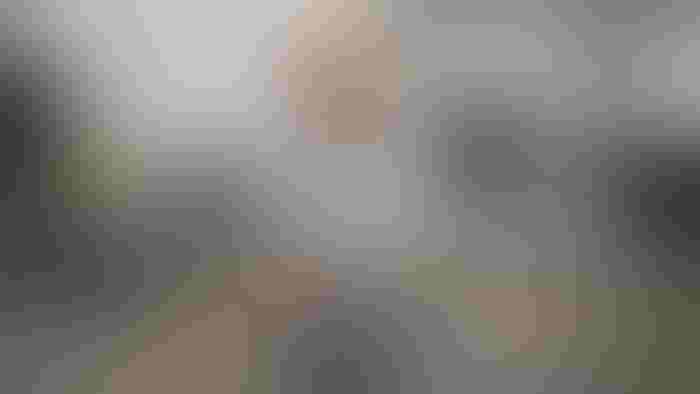 Photos by Chris Torres
Like much of the region, Hammonton, N.J., known as the "Blueberry Capital of the World," has been drier than normal.
In fact, much of southern New Jersey is either "abnormally dry" or in "moderate drought." But the blueberry crop, which the region is most known for, is growing strong, and growers expect a good crop.
"In general, we're looking really good. The harvest is well underway," says Gary Pavlis, agriculture and natural resources county agent for Rutgers Cooperative Extension Atlantic County.
It is projected that more than 42 million pounds of blueberries will be picked this season in the Garden State. Labor has been plentiful, and pricing for blueberries has held steady, he says.
Although it has been dry, the weather has held off potentially devastating diseases and rots across most farms. In fact, too much rain during pollination is a bad thing because it prevents bees from flying in the first place.
But irrigation costs will be up significantly, Pavlis says, as growers put the finishing touches on perfecting this year's crop.  
Paul Galleta, a second-generation grower at Atlantic Blueberry Co. in Hammonton — which at one time was the largest blueberry farm in the world — says picking started early on his farm. "The quality is very good. The crop is average to good. We're doing OK," he says, adding that he grows about 1,000 acres of cultivated blueberries.
At Macrie Brothers Blueberry Farm, just a few miles down the road from Atlantic, Paul Macrie says his workers started picking about a week earlier than usual.
"Crop is not as big as we originally anticipated because of cold weather in March," he says. But the dry weather has been good for preventing diseases and rots.
All his 750 acres of blueberries have automated irrigation, mostly drip, which he says leads to water and fuel savings. The farm grows five varieties of blueberries and has been transitioning to newer varieties that are larger and firmer with better flavor.
One of those varieties, Envoy, is grown exclusively by Michigan-based MBG Marketing cooperative, of which Macrie Brothers farm is a member. It was developed through the cooperative's blueberry breeding program, Berry Blue LLC. Blueberries grown and marketed through the cooperative, the largest grower-owned cooperative of highbush blueberries in the world, are sold under the Naturipe label.
"If you're not keeping up with the new varieties now, you're in trouble," Macrie says. "That's what the stores want. Consumers want big, they want firm, they want sweet."
Growing since 1953
Macrie and his family have been growing blueberries for decades. His father started with only 26 acres in 1953.
He went to college and returned to the family business in the 1970s, but he insisted the business grow and modernize to support he and his brother's families, the next generation to take over.
"We worked hard, the three of us, clearing ground, planting, all that stuff," Macrie says.
The business is currently run by him and his two brothers — Nick and Mike — along with his son, Matthew, a nephew who takes care of the books, and other family members.
Finding farmland in the Pine Barrens, where the business is located, has been tricky. Much of the Pine Barrens — 1.1 million acres — is federally preserved, and there are strict rules to developing land.
At the same time, its naturally acidic soils — under 6.5 pH — make it an ideal place to grow blueberries and cranberries.
"It was hard to accumulate all the ground, but over time, we did it," Macrie says.
Focused on fresh market
More than 500 people, mostly migratory workers, pick and pack the blueberries at Macrie Brothers.
These workers stay through July, then go to more northern areas such as Michigan to pick blueberries there.
Macrie Brothers produces 5 million pounds of blueberries a year, about 7,500 pounds to the acre, he says. And some of the bushes have been producing fruit for decades.
"Some of the Bluecrop blueberries have been producing for 60 years," Macrie says, adding that the optimum production time for blueberry bushes is between seven and 20 years.
Although picking machines have been popping up on some New Jersey blueberry farms, Macrie says handpicking is still the preferred method for fresh-market berries, which is what his farm grows exclusively.
Never a dull moment
When the blueberries are finished, sometime in early August, the work will shift to getting ready for next season.
Irrigation lines will be checked and fixed, weeds will be cultivated, and plants that are diseased will be removed. Flower buds for next year's crop will start to form in September and October.
Trimming these bushes starts in September and goes through the end of the year.
"It's constant work. There's no real down time," Macrie says. "If you want to keep your yield up as high as possible, which is where your money is made, on yield, every plant has to be the best it can be."
Getting soil pH right is critical. Macrie says the ideal soil pH for blueberries is between 4.5 and 5.0, although some of the newer varieties grow best when the pH is slightly higher.
It's hard to maintain an acidic soil, he says. Lime is usually applied to bring that pH level up.
Wood chips and ground-up trees are added to increase soil organic matter. Macrie says that he tries to always maintain a soil organic matter of between 1% and 3%. He also does leaf and soil sampling to see if the plants are low in minor elements.
Future innovations
Macrie, who is the New Jersey representative for the U.S. Highbush Blueberry Council, and heads its technology committee, says precision agriculture is being adopted by many farms — including his own — where he plans to have all his fields mapped out for future technology.
Machines with the ability to apply fertilizer at more precise amounts are being trialed, he says, and technology to better estimate crop production is also being looked at by the council. The latter is done by a machine outfitted with cameras that goes through the bushes at three different times — bud break, flowering and fruiting — to estimate crop loads for the season. Macrie says this is important because if growers can more accurately estimate their crop loads, it can provide for more fairer pricing.
The council has also sponsored research projects focused on bee health. Macrie says he brings in 1,500 hives each spring to pollinate the bushes.
One project that Macrie says will be wrapped up this season focuses on the use of portable solar-powered sheds with air conditioning that can be deployed on farms. The air-conditioned units are designed to keep the bees in a controlled environment with doors that can be opened for the bees to pollinate and closed when a grower needs to do spraying.
"We're putting money into this because we're concerned about bee health, too," he says. "If we don't have bees, we don't have product."
Subscribe to receive top agriculture news
Be informed daily with these free e-newsletters
You May Also Like
---