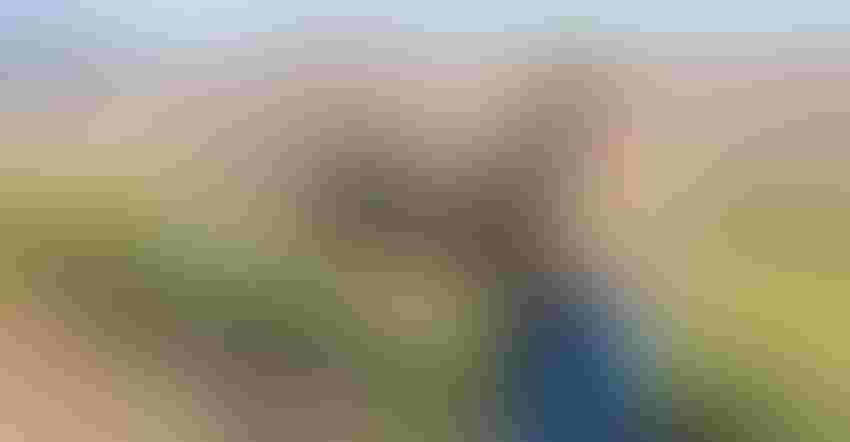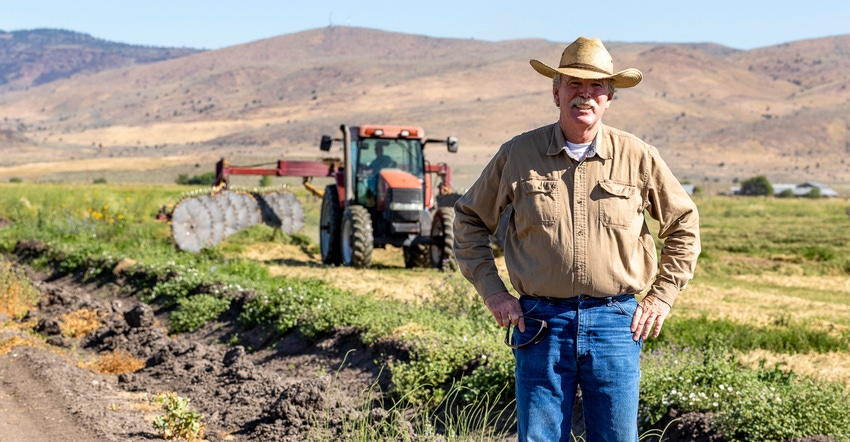 Jay Dow farms alfalfa in the high desert of northeastern California. The high-elevation climate there is advantageous for producing dairy quality hay throughout the growing season.
Todd Fitchette
Soil and climate combine across a large region of northern California to create near-ideal growing conditions for high-quality alfalfa and other forages where it's common to consistently produce dairy-quality hay.
Tom Getts, a farm advisor with the University of California, says the high elevation climate with its cooler nights tends to slow the growth of alfalfa in the region, giving it a higher leave-to-stem ratio. This produces lower lignin hay, which is coveted by dairy farmers for its digestibility.
Jay Dow grows alfalfa in Lassen County, Calif., a region at the western edge of the Great Basin, where the rain shadow formed by the northern Sierra Nevada quickly changes the landscape from timber to juniper and sage brush. This high-desert region at over 4,000 feet elevation may provide a shorter growing season than Central Valley or Imperial County hay growers enjoy, but it's not without its benefits.
Dow's three-to-four annual cuttings of alfalfa can all reach dairy quality levels, though it's sometimes a challenge with the second cutting because by then the hay is growing so fast that it simply does not have the nutrient levels dairy farmers want for their lactating cows.
"Oftentimes our second cutting isn't considered premium hay, but if we cut on a real short schedule, especially in our heavier soils, we can make a decent test for the dairy market," he said.
He maintains two dairy accounts in the Central Valley and sells the rest of his hay in smaller bales through retail markets.
The first cutting of alfalfa in this region can happen near the end of May, as daytime temperatures are beginning to warm and nighttime lows tend not to dip below freezing. His last cutting tends to be near the end of September, as the seasons abruptly change, and freezing weather is knocking on the door.
"It's more of an art form than an exact science," Dow says of growing alfalfa.
This explains why Dow's harvest practice isn't solely reliant on the calendar, but a combination of things, including plant maturity and water scheduling.
An untimely rain or heavy dew can alter production or simply push cutting and baling activities to later in the morning.
Dow also grows cereal grains and alfalfa seed under contract. In addition to the hay, he operates a cow-calf operation that is affiliated with Harris Ranch.
"That's about as much diversity as we can get out here," he said. "I think it's important to have some diversity to support the whole operation.
"Especially in the Honey Lake Valley, we have limited options in our cropping here because of the limited growing season," he continues.
Technology
Dow uses auto steer, a system guided by GPS to ensure precision in cutting and fertilizer applications.
Most of his fields are laser-leveled to promote efficient use of flood irrigation. His water comes from adjudicated rights to the Susan River and from deep wells. He also has two fields under pivot irrigation and one that is irrigated with wheel lines.
The precision farming technology allows him to cut hay faster – between 10-15 mph.
"We're between graded borders, so it has to be precise," he said.
Subscribe to receive top agriculture news
Be informed daily with these free e-newsletters
You May Also Like
---