Alfalfa hay humidity alarm a tool in desert production
Alfalfa hay humidity alarm a tool in desert production
The relative humidity in the windrow is affected by many factors, including air movement, soil moisture, humidity of the air outside the windrow, and the water status-irrigation activities of adjacent fields.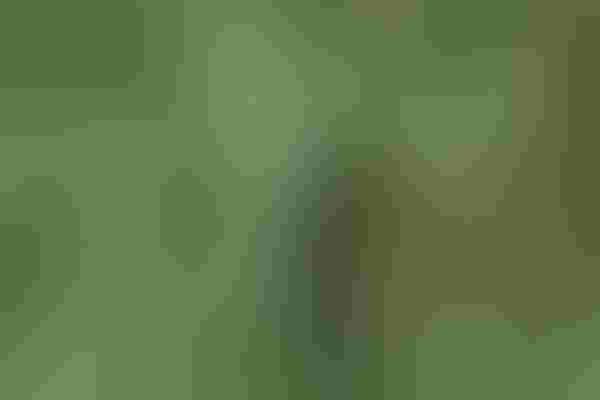 Alfalfa hay grown in the desert is "over-dried" in the windrow and then baled when there is sufficient humidity to prevent leaf loss.
Humidity is typically too low during the day to bale, but increases through the night to a point where the leaves become hydrated and soft, and baling can occur without excessive leaf loss.
The hay should be checked constantly during the night before baling begins to eliminate wasted manpower and worker sleep deprivation.
Relative humidity sensors near the windrow coupled with a cell phone alarm system which activates when the target humidity is reached can be used to reduce the amount of time spent checking the moisture status of the hay.
The target relative humidity where baling can occur without excessive leaf loss is about 70 percent windrow height which translates to about 50 percent at the standard height for meteorological measurements which is 5-6 feet  above the surface.
The relative humidity in the windrow is affected by many factors, including air movement, soil moisture, humidity of the air outside the windrow, and the water status-irrigation activities of adjacent fields.
Examples of alfalfa hay humidity alarms include Watchdog Hay Cellular Alert by Spectrum Technologies, Sens-Alert by ML Designs, Vantage Connect by Davis, and Weather Trac by AgSense.
This is not a complete list nor have these products been tested or endorsed by the University of Arizona.
Expect the best results from these devices when the humidity sensor is installed at windrow height.
Subscribe to receive top agriculture news
Be informed daily with these free e-newsletters
You May Also Like
---