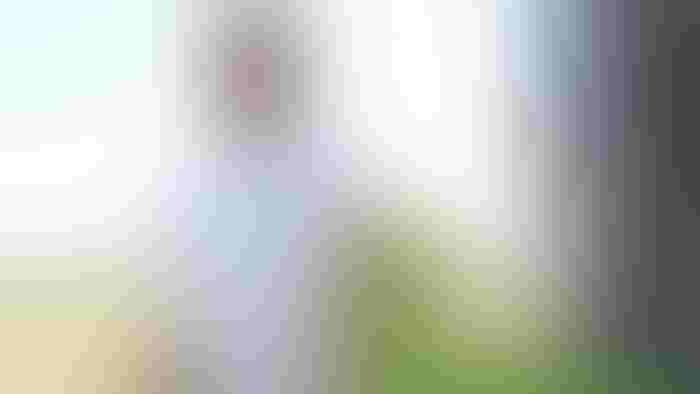 Dusty Cope spends most of his days in the swine barn. He's not tending to pigs, but rather racks of green barley. It is the latest venture at Cope Grass Farm — growing microgreens to feed livestock.
The family started raising microgreens, or fodder, last year after a visit to HydroGreen in South Dakota. This startup manufactures automated growing systems geared toward grass-fed commercial dairies that want to produce forage year-round.
In Missouri, the Copes found the idea a great fit for the farm.
"We now feed it to our cattle, sheep and recently pigs as a supplement in lieu of hay or other more expensive alternatives," says Sabrina Cope, Dusty's sister. "And this fodder has a high sugar content. So, it tastes a little sweet."
If leftovers are any indication of palatability, she adds, the animals eat the entire mat.
The fodder-raising process
It takes just six days from seed to feed. Dusty leads this enterprise for the family farm.
The process is one that some may find redundant, but Dusty thrives.
Dusty is neurodiverse. "He's autistic," Harry Cope explains. "He likes structure — tasks happen the same time, the same way, every day. And he's really good at it."
His dad knew raising microgreens was the right fit for his son. "This is all Dusty. I don't have the patience for this type of work. … He does. I realize that every Sunday when he takes off, and I have to do it."
It all starts inside the remodeled barn with a rack system — four levels high, each containing two trays.
The first rack is full of new seed. But there are five other racks, one for each day of growth. The last rack contains Day 6 growth — about an inch of root mass and 3 inches of the barley plant.
Dusty harvests the fodder and rearranges the racks according to growth stage. Then he sets out to start the process again.
With a rudimentary coffee can, he pours barley seed onto a white plastic tray. Then with what resembles a handled drywall trowel, he gently spreads the barley out into a level layer.
Next, Dusty places the tray on the open "Day 1" rack under the grow lights inside the old hog house.
Sprinklers between each layer add moisture to the seed to spur growth. They are on timers along the wall, which Dusty checks regularly. They turn on for three minutes every hour.
He has a clear system running like clockwork, and it brings value to the farm.
Microgreen feed value
Testing of the Copes' microgreens shows its nutritional value.
"Our best has been 254 RFV [relative feed value]," Harry explains. It's 20% protein and 90% water.
Here are few other benefits they family finds:
Sugar content. The microgreens production process turns all of the starches to sugar. Harry adds that it reduces the cow's energy typically used in forage conversion process on pasture.
Entire plant value. With a pasture system, cattle eat the plant aboveground. With this fodder system, they eat all of the plant, from stems to roots. "They are getting the benefit of the entire plant," Sabrina adds.
Yield potential. The Copes' system produces 400 pounds of fodder per day in 60 square feet. Their highest yield has been 8 pounds per square foot.
But Harry admits it is still a learning process.
Growth opportunities with microgreens
The family continues to lean into this fodder source to get the most out of it for their animals and operation.
They plan to research feeding different types of microgreens — currently, the Copes solely use barley. They direct-market meat from cattle, hogs and sheep.
Sabrina, who manages the direct-marketing enterprise for Cope Grass Farm, looks at fodder as a way to add value to their product and for the customers.
"We know we can change the flavor profile of the meat with what we feed," she says. "It will be interesting to see if introducing different microgreens will pull through the meat and enhance the customer experience."
The system makes sense in terms of a grass-fed livestock operation, Harry notes. He sees it as a way to extend grazing opportunities.
"It's a way to supplement land grazing," he explains. "We think we can get the most out of the ground and most performance out of the animal by adding this to taller grass stands."
The goal is to produce enough microgreens to feed up to 70 head of cattle — about 1,000 pounds per day.
For Dusty, spending time in the old swine barn surrounded by green plants is soothing. It provides diversification and his own stake in the family farming operation. Eventually, he would like to fill the entire barn with microgreens.
Challenges of microgreens
Raising fodder is an exciting venture for the Cope family, but they admit it is not for every operation. Still, they share a few things to consider before jumping into the business:
Mold. With water comes mold. To combat this, Dusty sprays each tray with an antifungal.
Clean seed. Your microgreen seed source must be viable because it starts growing the first day.
Finding labor. Fodder production is a labor-intensive process. However, Harry says that paying someone for a smaller operation is more cost-effective than bringing in a large automated system. And not everyone wants this type of job.
Building design. Microgreens require about 65% humidity and 70 degrees F. So, it needs to be warm in winter. It also needs a good water source and electric system.
Subscribe to receive top agriculture news
Be informed daily with these free e-newsletters
You May Also Like
---