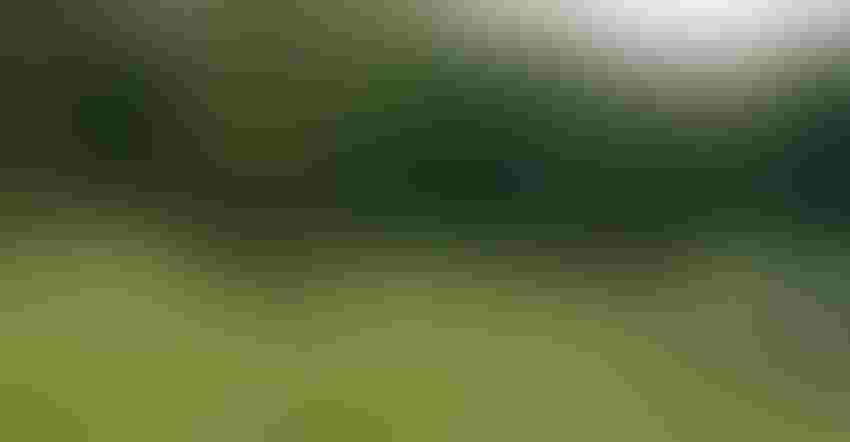 OUT TO PASTURE: Fall grazing season is underway. Be sure to not overgraze pasture and take a soil test before applying additional nutrients.
Chris Torres
Cool-season perennial forages dominate pastures and hayfields in the Mid-Atlantic and Northeast.
The optimum temperature for a popular cool-season grass such as orchardgrass is between 60 and 80 degrees F. Temperatures above this cause a dramatic reduction in cool-season perennial forage growth.  
It is critical to avoid grazing too low during late summer and early fall when temperatures during the day can exceed the optimal temperature for cool-season forage growth. Grazing shorter than 3 or 4 inches leads to higher surface soil temperature and exposes tillers to temperatures as high as 95 degrees. These high temperatures can cause new tillers to die.
Further, reserves for regrowth, stored in the stem just above the soil surface, won't be available if pasture is grazed too short. If the stubble height is lower than ideal, less leaf area will be available for photosynthesis, causing a reduction in that plant's ability to regrow.
Here are three steps for managing pastures in early fall:
1. Don't overgraze. During fall, cool-season perennials are developing new shoots and the roots are being regenerated. Carbohydrates are stored during this period of root regeneration, and they are an essential part of the root rebuilding process and for proper over-wintering. These carbohydrates are stored within the crown and roots of the plant, which are generally in the lower 3 to 4 inches of the plant.
It is critical that pastures are never grazed below a 3- to 4-inch stubble height. It is recommended to leave a higher stubble height of 4 to 5 inches to give pastures a chance to store these carbohydrates that will give them a "jump start" the following spring.
2. Implement strip grazing. Overgrazing during fall inhibits regeneration of the root system and the development of new shoots for next season. Implementing a rotational or strip grazing system can help manage grazing height by reducing paddock size and increasing the ability to monitor plant residue height.
3. Apply nutrients. Early fall is a great time to apply nutrients such as lime, potassium and phosphorus, as this aids in root regeneration and regrowth.
Soil tests should be done. If pH is below the recommended level for the targeted forage species within that pasture, liming at the recommended rate will help with forage growth and competitiveness with weeds.
If moisture is available, pastures will respond to a fall nitrogen application. Lower rates of fall-applied nitrogen will not negatively affect legume population within pastures; however, a plant's response to nitrogen is directly correlated with the amount of moisture available, fertilizer application date and rate of application.
It is generally recommended that for cool-season mixed species, no more than 40 pounds of nitrogen per acre should be applied in fall.
High rates of nitrogen application could lead to winter-kill. If a fall nitrogen application is desired, no later than a mid-September application date is generally recommended.
Source: Penn State Cooperative Extension, which is solely responsible for the information provided and is wholly owned by the source. Informa Business Media and all its subsidiaries are not responsible for any of the content contained in this information asset.
Subscribe to receive top agriculture news
Be informed daily with these free e-newsletters
You May Also Like
---