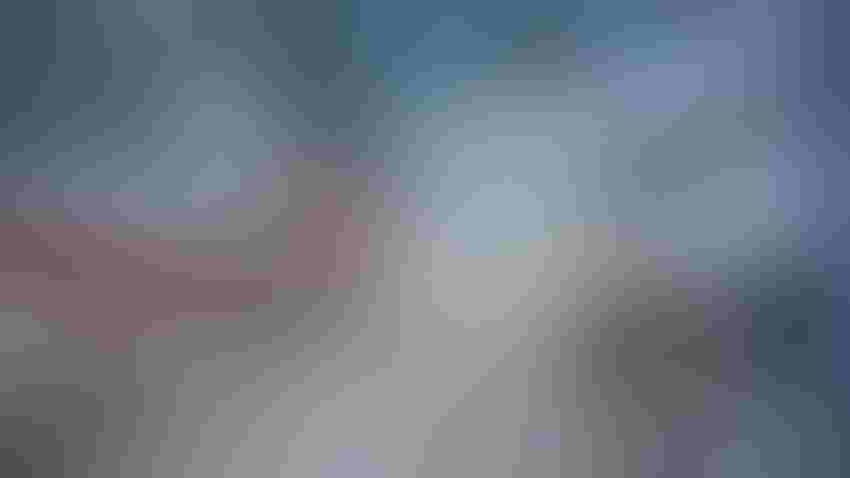 SHUT OFF THE FLOW: Moving grain from a bin should not be a life-threatening chore, and a farmer should never enter a bin when an unloading auger is running. Shut off the unloading auger before entering a bin, and if someone becomes trapped in flowing grain, shut off the auger and call for help.
Kevin Schulz
Time can be the difference between living and dying when someone becomes trapped in a grain bin.
"It's human nature to want to try to help" someone who has become trapped in a grain bin, says Jack Volz, risk manager with Parthenon Agency and president of Safety and Security Consultation Specialists LLC (SASCS) based at Minnesota Lake, Minn.
Rather than entering a bin in an attempt to save someone who is trapped, Volz says that helper may actually make matters worse by causing more grain to flow in around the trapped victim.
Instead, Volz says it is important to make sure that all equipment — especially the unloading auger — is shut off. A 911 call for emergency personnel, people trained in grain bin rescues, should also be placed to get help on the way.
Preaching safety around and in grain bins has become a passion for Volz after he, as part of the Minnesota Lake Fire Department, responded to a mutual aid call to the site of a bin entrapment in 1994.
"We lost a close family friend that day," Volz says.
According to Volz, there were six single entrapments in the state last year, with two fatalities. All of these occurred during a period of six to seven weeks. Traditionally, June and July are the hot months for grain entrapment occurrences.
Volz feels the actual number of entrapments may be higher than reported numbers. "I think we only hear about maybe 25% of the entrapments that happen in the state of Minnesota," he says. "And 75% of them, somebody else was able to get them out without calling 911."
He may have retired from the fire department at the end of 2022 after 30 years of service, but he continues to work with fire departments and farm cooperatives to train firefighters, grain handlers and farmers on safety measures.
Resist temptation to help
After first calling 911, Volz reiterates the importance of resisting the urge to enter a bin to help a trapped victim.
In addition to shutting off all equipment, Volz says it is important that all breakers are clearly labeled. "When firefighters arrive, how are they going to know what switches control the equipment?" he says. In some situations, turning the bin fans on may help the breathing environment for the trapped person as well as for the rescue workers.
Volz encourages farmers not to work alone when they know grain handling is on the docket. "If you farm alone, get a guy from the coffee shop, a retired farmer, call a neighbor," he says. "Break down the pride, ask for help."
Reiterating that time is crucial to keep a rescue from becoming a recovery, Volz says "I tell fire and rescue squads that when they go to a grain bin entrapment, that they should call Gibbon right away."
Call Gibbon
Volz refers to the Gibbon, Minn., fire department that added a Rural Rescue Response Trailer to their fleet in March 2023.
Nate Firle, a member of the Gibbon Fire and Rescue, says the R3, as the trailer is called, was born out of a successful grain entrapment rescue that occurred on an area farm in 2019.
"He [the farmer] was in quite a predicament, where he was trapped in the flighting of the auger and entrapped in grain up past his shoulders," Firle says. "We had to move a lot of grain, and we needed to do it relatively quick."
A fast-acting fire captain, Jason Rettig, called a farmer friend near the site who owned a grain vac, "and that grain vac was key in working right around the victim," Firle says. "That sped up the process, easily by 35 to 40 minutes."
The trapped farmer was "lucky" in that his pants had become entangled in the auger, "and got balled up enough in the auger that it tripped the breaker, shutting off the power," Firle says. "He didn't have a cut on his foot or anything."
Not all farmers are as lucky, as Firle says there were 12 entrapments in Minnesota in 2019, and this Gibbon farmer was the only one able to tell about it. Three of these entrapments involved silo gases and not grain bins.
Rehashing the incident got the Gibbon firefighters and rescue squad members (all volunteer department members are dually trained) thinking about what they could have done different, what did they need to be better?
"We thought a grain vac would be a big help, but how would we do that?" Firle says. First thought was to compile a list of farmers with grain vacs who could be called upon in an emergency. That went nowhere.
One-of-a-kind
Firle then set out to design just what the department members felt was needed, and the result is the R3, a 16-foot-long, custom-built trailer equipped with a 35-horsepower, self-powered grain vac capable of handling up to 1,000 bushels per hour.
Firle, Rettig and fellow firefighters Andrea Wortz and James Theis formed the committee to oversee the trailer's development, partnering with Christianson Systems of Blomkest, Minn., and Alum-Line of Cresco, Iowa.
Even though the R3 benefits the community and beyond, Firle says the department members did not want to burden taxpayers with the cost of the rig. Fundraising began in February 2022. "We sought donations from ag-related and local businesses," he says. In three months, $75,000 was raised, enough "to trigger ordering the trailer in July 2022," he adds.
As mentioned, this unit is custom-built, and Firle says as of yet it is one of a kind. That may soon change as word of Gibbon's R3 has spread; Firle says five departments in Minnesota and neighboring states are near placing orders.
In addition to the grain vac, the department members also felt it necessary that the trailer have space to transport tools and equipment for a rural rescue. "I would say most rural fire departments have grain rescue tubes, but when I visit their departments, the tubes are leaning up against the wall, because there's no room for them on the truck," Firle says.
The trailer is pulled behind a department grass rig, speeding up response time.
Again stressing the importance of time, Volz recommends fire departments call Gibbon soon after receiving the initial call. "By the time the local department and rescue squad gets to the scene and gets everything set up for the rescue, the Gibbon trailer could be well on their way, if not already on the scene."
More information on the R3 can be found on YouTube under the Gibbon Fire and Rescue channel, or by calling 320-979-4835.
Volz may be reached at [email protected] or visit the SASCS Facebook page or the SASCS website.
Subscribe to receive top agriculture news
Be informed daily with these free e-newsletters
You May Also Like
---