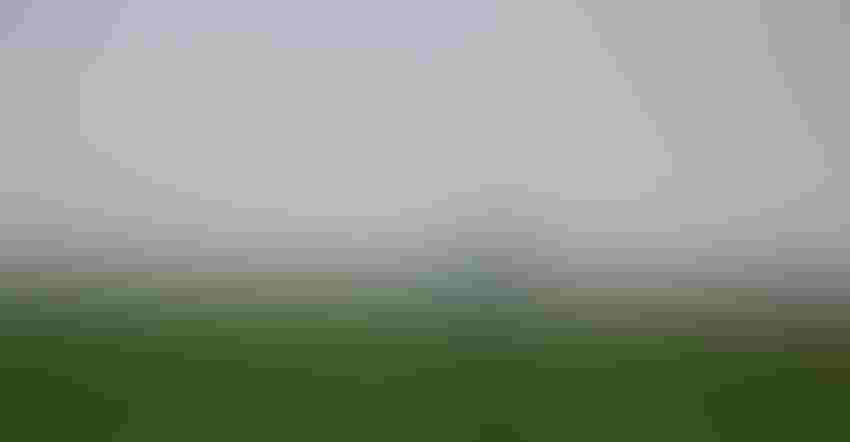 WORKING WITH DEFICIT: Those using deficit irrigation because of an allocation will need different strategies compared to those using it because of low-capacity wells.
Tyler Harris
While not always associated with certain parts of Nebraska where groundwater and rainfall are plentiful, irrigators in parts of western Nebraska — and more groundwater-deficient parts of the High Plains — are familiar with deficit irrigation.
The reasons for using deficit irrigation include lower-capacity wells and allocations and restrictions on the amount of water that can be pumped over a given period of time.
"There are a whole bunch of reasons people have to deploy deficit irrigation. The reason you deploy it provides the range of opportunities you now have," explains Daran Rudnick, Nebraska Extension irrigation management specialist. "The person using deficit irrigation because of policy or an allocation is different from someone who doesn't have the water or has a low-capacity well."
For example, for irrigators with an allocation but a highly productive well, it's typically recommended to fully irrigate the crop at its most sensitive periods — usually around flowering.
"For corn, it might be the tasseling and R1 growth stages," Rudnick says. "And so we would want to make sure that there is no stress taking place, because with the history of research, we know that that is one of the most sensitive time periods that could have a maximum yield reduction if we stress it. Then you would cut off and provide that deficit irrigation at less sensitive growth periods."
Managing low-capacity wells
For those dealing with lower-capacity wells — sometimes as low as 200 or 300 gallons per minute on parts of the High Plains — strategies are different, and more geared toward offsetting and minimizing yield reduction during those sensitive periods.
"That's where people start to talk about other land and residue management practices — how do we suppress evaporative losses?" Rudnick says. "We also start to think about buffering. And when I say buffering, we might need to irrigate, and try to maintain that irrigation early on so that when the evaporative demand starts to increase and we know we're not going to be able to supply and keep up with it, we've buffered that soil so that we can hopefully carry through that really sensitive period."
This "buffering" refers to charging the soil like a battery before peak evaporative demand, so there's more water in the soil to carry the crop through when there's less water available for irrigation. In Nebraska, this period of peak evaporative demand typically comes around late July and early August, corresponding with full canopy development. This might be anywhere from 0.2 to 0.3 inches per day — or an inch of water in three or four days.
"As that evapotranspiration curve increases, we know that these low-capacity wells are not going to be able to supply that water to meet that rate," Rudnick says. "So we want to buffer by allowing that battery to have as much juice going into that period, so that if we're no longer able to keep up with the irrigation system, we'll slowly drain that battery or slowly drain that soil, and hopefully we won't be in a massive stressed environment by the time we get through it."
Adjusting leaf area index
Another strategy is adjusting plant populations, and in some cases, planting different hybrids and varieties for a deficit irrigation environment. Rudnick notes when agronomic practices such as this are changed, it brings up other questions: What effect will it have on the overall water balance? Irrigation requirements? Ability to meet evaporative demand? Yield expectation?
The idea is to reduce the total amount of water transpired by the crop, while also reducing overall seed costs and not giving up too much yield to make it economically viable. However, there's a critical threshold in leaf area index where the crop has reached its full evapotranspiration rate.
For many hybrids, research in Nebraska and the UNL Center Pivot Irrigation Handbook suggests this threshold is typically reached with populations at about 16,000 to 18,000 plants per acre. In other words, crop water use won't be reduced significantly until populations drop to 18,000 plans per acre.
"If I want to reduce my population because I want to reduce the foliar irrigation requirement, therefore I can meet that irrigation requirement, the trick is, how much yield are we giving up? How much money are we saving because we don't have to buy as much seed?" Rudnick says.
In a deficit irrigation environment, it's important to look at the practice from a systems perspective.
"We need to be thinking about the economics and how everything ties together, and what is the best option for your situation," Rudnick says.
Subscribe to receive top agriculture news
Be informed daily with these free e-newsletters
You May Also Like
---