South Carolina AgriBiz Expo: New opportunities revealed to farmers
South Carolina AgriBiz Expo: New opportunities revealed to farmers
The South Carolina AgriBiz Expo previewed several new opportunities for the region's farmers.McCall Farms has purchased a major producer of yams, creating promise for more sweet potato plantings.Birdsong will operate a new peanut buying point in Darlington, S.C., for the first time.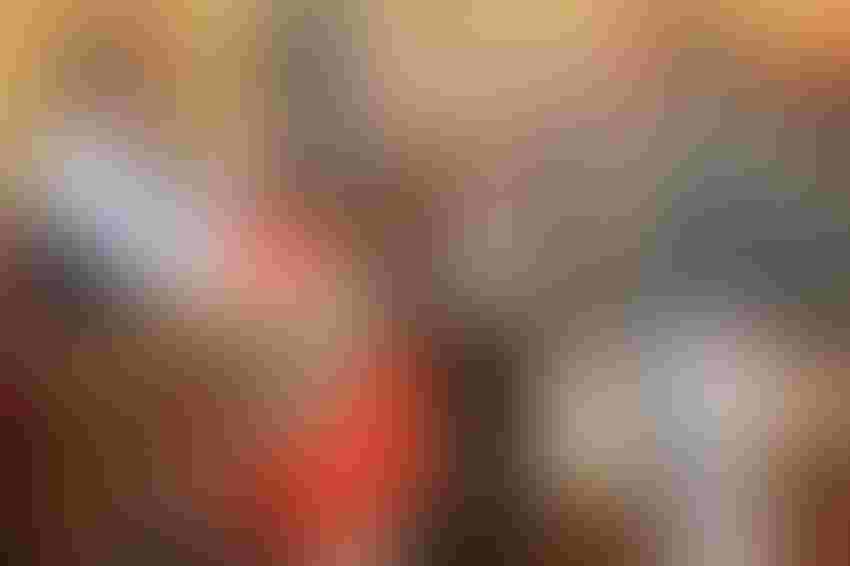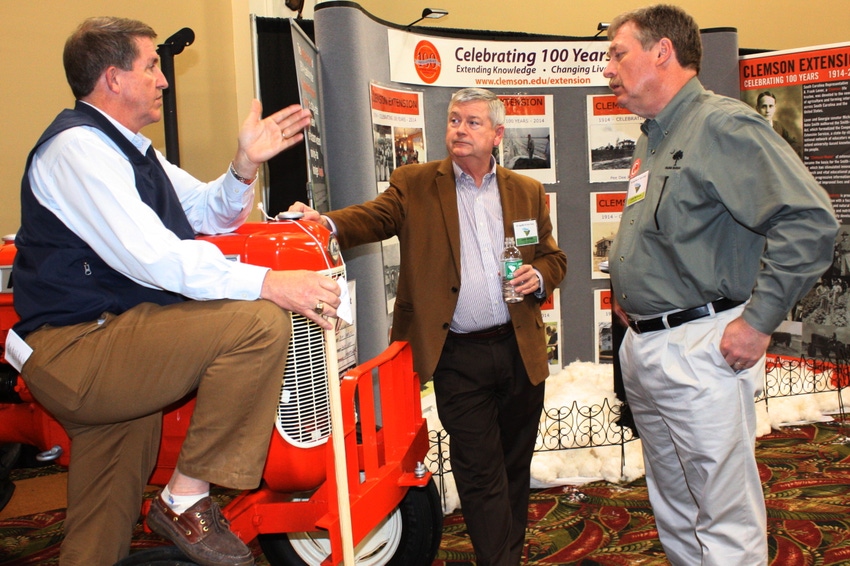 <p>SOUTH CAROLINA AG Commissioner Hugh Weathers (left); David Winkles, president of the S.C. Farm Bureau and Larry McKenzie, also of the S.C. Farm Bureau staff, discuss their perspectives on the current farm economy at the recent S.C. AgriBiz Expo.</p>
The excitement was undisguised at the South Carolina AgriBiz Expo in January over two recent developments that hold promise for increased crop production in northeast South Carolina, a region known as the Pee Dee.
First, McCall Farms of Effingham, S.C., (about 20 miles south of the Florence Civic Center, where the Expo was held) has purchased Bruce Foods, a Louisiana company which produces the popular canning line Bruce's Yams.
Although no announcement had been made concerning where McCall's/Bruce's Yams will obtain its basic products, there was quite a bit of hope that increased opportunities for sweet potato plantings by South Carolina growers will result.
Bruce's Yams have been described by the previous owner as "America's #1 selling yam." It also produces canned white potatoes and selected Southern vegetables like okra, squash, greens and carrots. McCall's, which is lead by President Henry Swink, is expected to continue producing all of those products.
"Bruce Foods is a family owned company that has shared our similar values, and their Southern-style vegetables are the perfect addition to the McCall Farms' product line," said the company in a statement.
And there was some good news for South Carolina peanut growers too. Shortly before the Expo, Birdsong Peanuts of Suffolk, Va., announced that it will operate a new buying station in Darlington, S.C., for the first time this year.
It was also reported the station will begin taking deliveries with the 2014 crop, said Marianne Copelan, marketing specialist for the S.C. Peanut Board, who shared the good news from the board's booth at the Expo.
General contract prices are starting at $500 a ton on Virginias and $425 a ton on runners, and both levels are appealing to farmers. There were 78,000 acres of peanuts in S.C., Copelan said, and there may well be more in 2014. Peanut acres have been increasing in South Carolina in recent years. About 70 percent of the state's peanuts are Virginias and 30 percent are runners.
The new buying point will benefit growers in the Pee Dee region (northeastern South Carolina), she said. "The industry is excited."
Nine peanut buying points operated in the state in 2013.
South Carolina's farm economy
South Carolina Ag Commissioner Hugh Weathers took a moment from the Expo to review for Southeast Farm Press the prospects for his state's agriculture in 2014.
"Markets have adjusted to supply and demand, as they always do," he said. "There has been significant adjustment in the price range of commodities. The recent shift to soybeans has been significant by itself. But it will be interesting to see if that continues this year."
That will depend to a great extent on developments south of the border.
"The South American crop will set the tone for grain prices this season," he said.
The love affair between foreign markets (mainly China) and American tobacco shows no sign of waning, he added. "So it continues to have some appeal to our farmers."
Many South Carolina farmers are glad to have 2013 behind them, said David Winkles, president of the South Carolina Farm Bureau, in an interview at the Farm Bureau exhibit. "They are hoping not to have those weather extremes in 2014."
There are some unknowns now thanks to the rejection by the Chinese of some corn shipments that contained a GMO corn that China hasn't approved yet.
"They turned down some shipments, and that had a negative effect on the market," said Winkles.
But this will blow over, and growers need to keep their eyes on foreign markets. "We really need to orient our thinking on marketing and what our customers want as much as we do to the basics of production," he said.
Coincidentally, while the Expo program was going on, John Block, former U.S. secretary of agriculture, published an analysis providing some insights into the China situation.
The reason the Chinese rejected shipments of U.S. corn is that they found that the shipments had traces of Viptera corn, said Block. "Viptera corn is genetically modified to withstand insect infestation," he said. "It is planted on about 10 percent of our corn acres."
But looking at this incident critically could suggest other reasons, Block believes.
"One might be that they think they paid too much for the corn," the former secretary of agriculture said. "They booked it last year when corn was at least $2 per bushel higher than it is now."
Or there might be a political reason, he suggested. "They might just want to punish us a little for siding with the Japanese in an island dispute between Japan and China."
Ag commissioner plays dummy
One of the highlights of the show was Weathers theatrical debut—sort of. EMS personnel staged several demonstrations of how to conduct a grain bin rescue, and Weathers volunteered to perform in one of them.
"I was the dummy who fell in," he said. "The team pointed out just what you would experience, and their methods for extraction. It was realistic and made the point."
It was scary. "When I was in the bin, I wasn't able to move, not until they put a cylinder around me and then put an auger to pump the grain out of the smaller cylinder. I personally know several families who suffered tragedies because of grain-bin accidents," he said. "It is a very important issue."
Attendance at the Expo was about 3, 000, said Show Manager Jody Martin, "All of our partners considered that a good crowd."
A third Expo will be held January 15 and 16, 2015, again in Florence, he said, and Commissioner Weathers is optimistic that it will grow.
"The South Carolina AgriBiz & Farm Expo had a great second year," he said. "The event put agribusiness in the spotlight, reminding everyone that our industry is vital to South Carolina."
The growth between the first Expo last year and this speaks to the potential of the event, he said. "If we listen to our sponsors and participants and take what they have to say (in consideration), we can make it even better. We want to give everyone a good return on their time and energy."
About the Author(s)
Subscribe to receive top agriculture news
Be informed daily with these free e-newsletters
You May Also Like
---