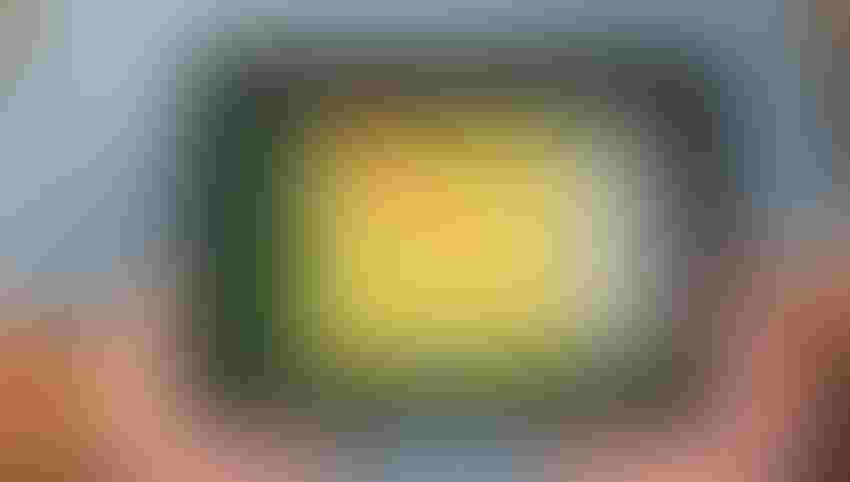 Twenty-five years ago, CB radios were all the rage. Then came cell phones. Now smartphones are taking the consumer world by storm. That's becoming true, as well, in agriculture where IT experts are dreaming up new uses for the handheld devices almost daily.
Who would have thought that farmers, who tend to be independent by nature, would allow themselves to become so connected that almost anyone can reach out and touch them or send data to their phones at the push of a button?
One of the key ingredients in the explosion in the smartphone explosion is one some would consider a privacy issue – the Global Positioning System or GPS tracking feature. While GPS makes it possible for others to know where you are in real time, it is also giving producers new tools for managing their farming operations.
Trimble, for example, has introduced a "Connected Farm" app for smartphones that allows farmers or their consultants to map field boundaries, take geo-referenced photos and enter scouting information for weeds or insect pests – all on their phone.
The free app, which can be used with Trimble's Farm Works Office software, is "usable by farmers, consultants, agronomists or anyone providing production information on the farm," says Ian Harley, business area manager for Trimble.
The information collected on the smartphone app can be downloaded wirelessly on to the Farm Works Office software and tied in to fertilizer, herbicide or insecticide application systems.
The Connected Farm app can be downloaded from the Apple App Store and Google Play Store. To use the Connected Farm App data within the Farm Works Office software, current Farm Works users will need the latest software version.
Farmers are also using smartphones to simplify their lives by performing tasks such as starting or stopping center pivot irrigation systems.
Tim Schmeeckle, a corn and soybean farmer from Gothenberg, Neb., can stop or start any of the 11 center pivots he operates on his 2,000-plus acre farm in the Platte River Valley with his smartphone.
"Before I might have to go out in the rain at 2 a.m. to turn off a center pivot or check to make sure it was operating," says Schmeeckle. "Now I can turn a pivot on or off with my smartphone. I even started one while we were 300 miles away on vacation this summer, and it was still running when I got home."
The Nebraska farmer monitors and controls each of his center pivots through a base station provided by Valmont, which manufactures Valley Irrigation systems. The system also allows him to variable rate irrigate his crops by changing the speed of the pivots as they move through his fields.
The base station is connected to Schmeeckle's office computer.
The computer processes information about Schmeeckle's soils, yield maps and moisture conditions and determines how much irrigation each block needs to produce optimum yields.
Where the smartphone comes in is he can use it to log in to his office computer from a remote location and then control some of the functions of the irrigation system software, including monitoring the pivot's performance and turning them on and off.
"The smartphone is limited in what it can do, but it really helps me manage the center pivot operation if I'm in my office, on the other side of the farm or off-site," he said in an interview.
That has been important in Nebraska, which like many parts of the Midwest, has been extremely dry this year. "Irrigation has been critical to making our yields this year," notes Schmeeckle.
Pesticide sprayer app coming
Besides allowing them to control equipment remotely, producers will soon have an app for their smartphones that can help them calibrate pesticide sprayers.
Mississippi State University's Extension Center for Technology Outreach and the Department of Plant and Soil Sciences has received a $10,000 grant from the Mississippi Soybean Promotion Board to develop an app to help make sure spray equipment is operating accurately.
"Proper calibration and use is important for any application of pesticide, herbicides, fungicides or fertilizer," says Dr. Dan Reynolds, a researcher with the Mississippi Agriculture and Forestry Experiment Station who will be co-principle investigator for the project. "Farm chemicals are often over- or under-applied/ This can cause crop damage or waste chemicals."
While many spray rigs are computerized and calibrate their equipment automatically, others must be manually calibrated. The app will help producers with these calculations, whether to check the onboard computer or to calculate needs for manual control of the spraying.
"It doesn't matter if it's a hand-held sprayer or a 120-foot boom on a commercial sprayer," says Reynolds. "Proper dispensing of chemicals requires proper calibration, which means you have the proper flow and the proper chemical mix."
When it's completed, the app will be available as a free download from the iTunes store.
Farmers have also been making use of apps to help them navigate the large number of exhibitors at the nation's farm show.
Penton Media, the parent company of Delta, Southeast, Southwest and Western Farm Press, has produced smartphone apps for several of the larger agricultural trade shows, including Sunbelt Expo, World Ag Expo, the Mid-South Farm and Gin Show, the National Farm Machinery Show and the National Cattlemen's Beef Association annual meeting and trade show.
(Some of those attending both the NCBA meeting and Commodity Classic earlier this year used the NCBA app to help their find their way through the maze of hallways and meeting rooms at the Opryland Hotel, the site of both those conventions in 2012.
"Besides helping locate exhibitors and educational sessions, the app allows us and our exhibitors to communicate with show-goers," says Tim Price, executive vice president of the Southern Cotton Ginners Association, the sponsoring organization for the Gin Show.
With the release of Apple's latest version of the Smartphone, there could be even more ag-related apps coming, experts believe. That means the phrase "there's an app for that" could take on even more meaning for farmers in the months ahead.
Subscribe to receive top agriculture news
Be informed daily with these free e-newsletters
You May Also Like
---