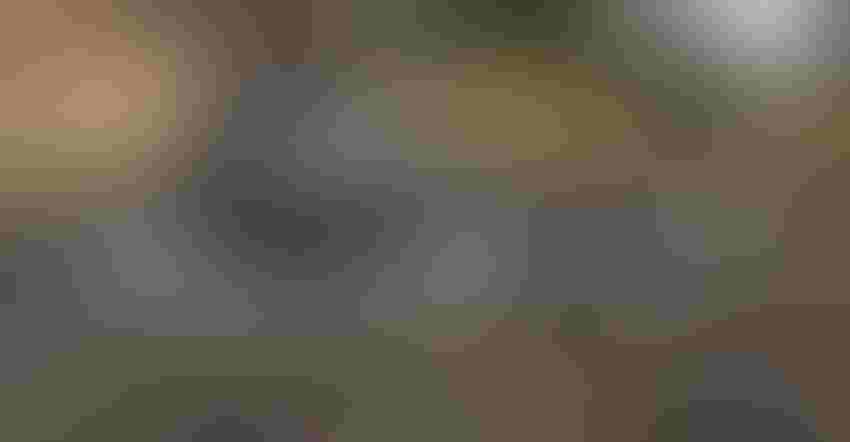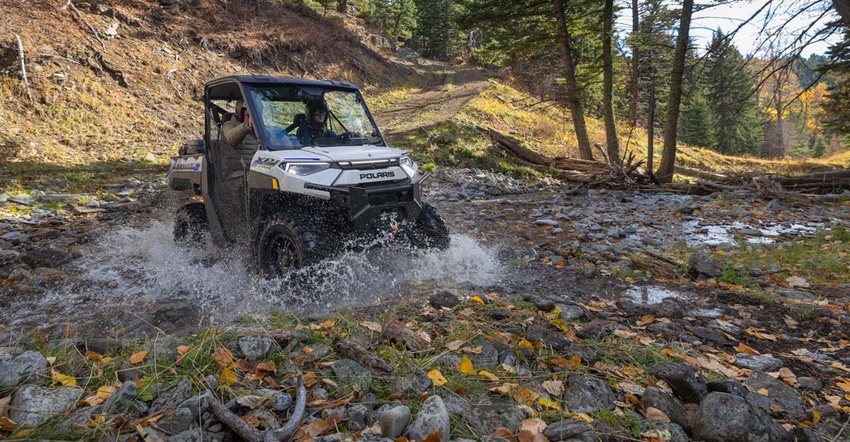 SILENT RIDE: The new Polaris Ranger XP Kinetic is a first-ever electric-powered machine from the company. They partnered with Zero Motorcycles for the power plant.
Photo courtesy of Polaris
Note, we have updated this story with new information from Polaris.
It appears everyone is getting into the electric vehicle, or EV, business. The latest is Polaris, a company known for its beefy Indian motorcycles, and brawny Ranger and Rzr utility vehicles. Now chalk up another innovation – an electric Ranger XP Kinetic. The machine was developed in partnership with Zero Motorcycles to bring electric power to the UTV market, and it sits on the familiar Ranger XP 1000 chassis.
The initial machines are three-passenger models and there are two versions-the Ranger XP Kinetic Premium and the Ranger XP Kinetic Ultimate.
In announcing the launch, Mike Speetzen, CEO, Polaris says that the company is building on a legacy of rider-driven innovation. "Building on this rich legacy, we continue our relentless pursuit to create unmatched riding experiences and are partnering with Zero Motorcycles to harness the incredible capabilities of electric for our customers."
Add Chris Judson, vice president, off-road vehicles, Polaris commenting in a post-announcement information call: "This is not something we talk about so openly before a release but this is a big day for us with the launch of the all new Ranger XP Kinetic. We have a long-term relationship with Zero Motorcycles going forward. This is not about an electric Ranger but about the best utility vehicle the industry has ever seen.
The electric power plant in these machines delivers 110 hp and 140 pounds-feet of torque. The key is that the power is nearly instant. That's the beauty of going electric, just touch the accelerator and nearly whisper quiet power pulls you forward fast.
The Premium trim is equipped with 14.9 kWh of lithium-ion battery capacity and offers an estimated range of up to 45 miles, while the Ultimate trim has bigger 29.8 kWh battery capacity with an estimated range of 80 miles. The company notes that those ranges are just estimates and cautions that depending on what you do your mileage may vary.
Adds Josh Hermes, director of off-road electric vehicles, Polaris: "The batteries are designed for the life of the vehicle, the ownership cycle, with batteries at 90% to 95% life which is about 10 years."
Electric UTV power at work
The new machines are rated to tow 2,500 pounds and haul 1,250 pounds. Of course, if you're towing at full capacity, that will be a bigger draw on that EV system, and could reduce your range.
The machines have 14 inches of ground clearance to match the most rugged terrain. The suspension also offers 10 inches of travel to take away some of the pain of riding at speed over that rugged terrain. The chassis rolls on 29-inch, 8-ply Pro Armor X-Terrain tires for more traction and durability to crawl over rocks and ruts.
One benefit of an electric powertrain, Polaris points out in its announcement is fewer moving parts. No oil changes, filter replacements, spark plugs or clutch maintenance needed. There's less maintenance and the machine has been tested in extreme conditions, though not yet driven by a crazed ag journalist on the trail.
Polaris estimates maintenance cost are expected to be 70% less than average maintenance costs for similar gas powered vehicles. They based that estimate on average scheduled work over a 5-year timeframe. The machine is backed by a 1-year factory warranty, 3-year electric powertrain coverage and 5-year battery coverage.
One feature users might like is the stealth, and comfort. There's nothing quite like trying to carry on a conversation in a conventional gas-engine Ranger moving a speed. Those vehicles are plenty powerful, but the engine does tend to reverb into the operator space. With an electric motor that shouldn't be a problem, making travel with friends quieter, and perhaps making that silent approach to the deer blind easier.
Added features and add-ons
There's a 12-volt cargo box outlet for powering accessories like sprayers or charging portable batteries. A new shifter design includes high, low, neutral and park and features a new integrated switch for forward and reverse. That "shuttle" switch makes changing direction easy, and would be handy when plowing with the unit.
The machine also features three driving modes allowing the user to customize the ride:
Eco+ optimizes torque and top speed to maximize range and light duty jobs

Standard optimizes throttle response for everyday driving and moderate-sized jobs

Sport optimizes throttle response for spirited driving and the toughest jobs
When in operation, the Ranger XP Kinetic is available with a 7-inch infotainment screen powered by the company's Ride Command technology. Riders can see estimated remaining range and the battery state of charge on the big screen. They can even drop a waypoint on their charging station and see how far away they are from their next charge at any given time. That could come in handy if you've trailered the machine for a trail ride and want to keep track of where that charging station is located.
The big screen is standard on the Ranger XP Kinetic Ultimate and there's a new suite of connected tech with the Ride Command+ that allows for improved owner control over both the vehicle and the ride experience. The system provides a host of remote monitoring information about the machine and there's a remote vehicle locator to make it easy to find your way back to the machine in the wilderness.
The new Ranger XP Kinetic is compatible with 95% of Ranger XP 1000 accessories including Pro Shield cab systems. Additional accessories available include easy-to-install Pro HD winches and Lock & Ride storage for tools and gear.
On the charge
The machines are designed for Level 1 or Level 2 EV charging with the cord provided. It works with 120v or 240v outlets. You'll get a faster charge on that Level 2 240v system. The factory-installed onboard charging rate is 3 kW for the Premium trim and 6 kW for the Ultimate trim. Both can reach full charge from 0% in as fast as 5 hours as equipped when using a 240v power supply.
With the available accessory onboard charging system, rates can be boosted to 6 KW for the Premium and 9 kW for the Ultimate, for up to 50% faster charging. A 240v power supply is recommended for the fastest charging and can deliver up to 4 times faster charging than a 120v outlet. While you can plug this into a standard outlet, you'll probably want a beefier charger and Polaris has partnered with Qmerit to provide options for home installation of a faster charger. This supplier has relationships with a wide range of EV makers.
While the new machines offer three-seat availability what's ahead? Judson explains that he doesn't want to get into future plans but there are more electric vehicles ahead for the product portfolio. "We will ultimately deliver on the range expectations of the customer for the target use case," he says. The crew-capacity version of a utility vehicle is a common addition to any UTV product line, we'll watch for what's next from Polaris.
And the price? The Ranger XP Kinetic Premium starts at $24,999; the Ranger XP Kinetic Ultimate starts at $29,999. Learn more at polaris.com.
About the Author(s)
Subscribe to receive top agriculture news
Be informed daily with these free e-newsletters
You May Also Like
---