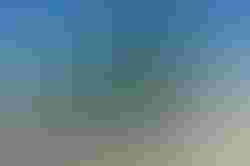 Great Plains displayed several new pieces of equipment at the fall farm shows.
Folding Sub-Soiler
The new folding in-line Sub-Soilers are designed to cut through a compacted soil and create a soil structure that provides better moisture retention and root growth. The Sub-Soilers are equipped with either a ¾-in. shank with a 10-in. no-till point for minimal surface disturbance or a 1¼-in. straight-leg shank that creates more surface disturbance. The SS1800 is 20 ft. wide and folds to 13 ft. 1 in. The SS2200 is 25 ft. wide and folds to 15 ft. 5 in. This model will handle 500-hp tractors. Price for the SS1800 is $30,000.
Nutri-Pro applicator
A new fertilizer bar called the Nutri-Pro is equipped with a leading coulter followed by an anhydrous knife, a single 20-in. Vantage I liquid coulter, or a double row-cleaner three-coulter system. A closing sealer is also available to seal an anhydrous trench. Nutri-Pro is available in 30- and 40-ft. widths, which close to 17 ft. 4 in. for transport. Prices start at $30,000.
Yield-Pro planters
The new YP-30 and YP-40 Yield-Pro planters offer growers great flexibility in planting options. The heavy-duty planters are available with a choice of three openers and eight different row spacings. The planter also may be equipped with a fertilizer cart. Prices for the versatile planters start at $110,000.
Row-Pro
Growers can add the new Row-Pro system to the Great Plains 25 series row units and IntelliAg control system. Row-Pro keeps the proper down pressure on a row unit and keeps sidewall compaction to a minimum. Pneumatic cylinders are used to maintain the pressure. Price: $750/row unit.
For more information, call Great Plains Manufacturing at 785/823-3276, or visit www.greatplainsmfg.com.
Subscribe to receive top agriculture news
Be informed daily with these free e-newsletters
You May Also Like
---