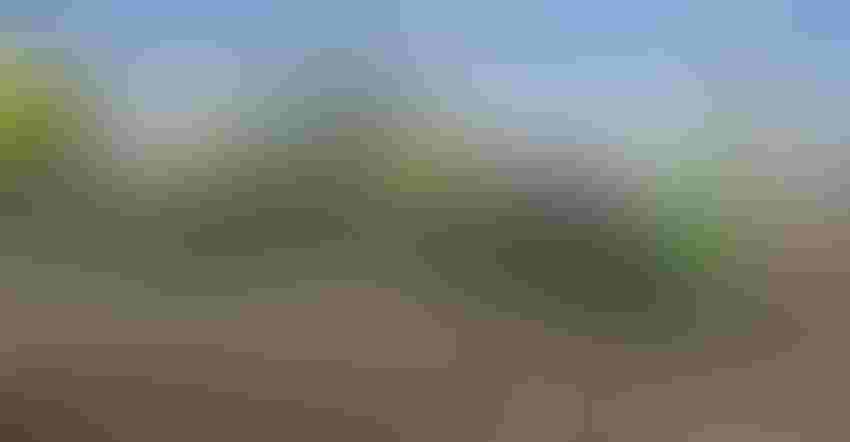 APPLICATION RETHINK: Used as a beta trial for 2020, the new SIMPAS application system provides farmers the opportunity to apply up to three products in-furrow during a single pass. And the system allows for variable-rate use.
Courtesy of Amvac
Crop protection product application is getting more precise as farmers take aim at ways to boost precision use of these tools. A new approach is the SIMPAS cartridge-based system that's been under development, and for 2020, was put to use on farms for some in-field testing. Building on technology from developer Amvac, the SIMPAS (Smart Integrated Multi-Product Prescription Application System) system offers a range of farmer and dealer benefits.
"What intrigued us as a retailer is the prescriptive placement of chemicals across the field," says Harlan Asmus, president and co-owner of Asmus Farm Supply, Rake, Iowa. "This is a more environmentally sound way to treat the challenge, versus a blanket treatment."
The SIMPAS system uses up to three granular and/or liquid cartridges per row to deliver crop protection products including nematicides, fungicides and insecticides in-furrow, and crop nutrient products as well — depending on what's needed. Harlan explains that the SIMPAS system expands the use of the technology beyond corn too, which is where Amvac's SmartBox system is traditionally used.
Adds Amy Asmus, co-owner of Asmus Farm Supply: "The SmartBox system allowed you to apply only one product at a time, and the SIMPAS system can apply a combination of up to three in-furrow. And it's about the same weight as the SmartBox, but you're getting three times the bang for your buck." Both Harlan and Amy are certified crop advisers.
The added return on investment is the one-pass, many-products opportunity with SIMPAS. Amy adds that seed treatments have come a long way in the market, but there's only so much product you can put on an individual seed. "This can take some products off the seed and put them in-furrow. That's kind of exciting," she says.
The combination of in-furrow tools applied precisely where needed supplementing a comprehensive seed treatment program can give farmers more options in the spring, too. For now, the products in the system come from Amvac, but Harlan adds it is possible other companies with formulations tailored to the system could eventually be included.
Win-win for customer, dealer
The SmartBox has been a valuable tool for a lot of farmers, but there's the challenge of partials sitting on the farm awaiting use for the following season. With the SIMPAS approach, farmer can turn back the cartridges with leftover product and only pay for what they use. The system uses radio frequency identification tools to track product use for dealer and customer.
"You could call it customer-friendly," Harlan says. "And that's from multiple aspects. For example, I don't like the idea of insecticides staying on the farm. It's safer from that perspective."
He adds that the SmartBox customer is used to carrying over some "financial investment" in leftover product, yet this new approach is more precise.
From an agronomic perspective, the added precision application for this tool has value. Nathan Eitzmann is an agronomist at Asmus Farm Supply and notes that with this system, farmers can target problems in the field they may not have in the past. "It might not have been cost-effective to apply across the whole field," he says. "With the system, you can set up zones and address those problems only where they exist. It's a cost-effective treatment and is more profitable for the grower."
One area Eitzmann is concentrating on with customers in his region of northern Iowa and southern Minnesota is nematodes in cornfields. "We've got Counter insecticide and nematicide, but in certain fields we may not need rootworm control because we're using traited corn," he says. "With this system, we don't have to go across the whole field but can target areas where needed. Then the cost becomes less for that field per acre."
The mechanics of SIMPAS
The system is installed on every row of the planter. Eitzmann explains that if a farmer had the SmartBox system, he removes that — and the footprint of the SIMPAS is the same and uses the same brackets. Wegner Farms near Wells, Minn., put the system on their John Deere planter.
Eitzmann explains that Wegner already had SmartBox brackets on the machine. "The SIMPAS sled fit on those brackets. All we had to do was add the wiring to run up from the planter," he notes. "It's relatively easy to add to a planter that had an existing SmartBox system."
The good news is that the electronics and controls on the system are ISOBUS-compatible, which means your existing John Deere 2630 or Generation 4 display, or Case IH AFS700 monitor, can be used to control the system.
Eitzmann explains that Britt Wegner elected to add a Trimble monitor to run the system since he uses the Precision Planting 2020 system to control the planter. "The Precision Planting Monitor is not currently compatible with SIMPAS," he says.
This was a beta test, with these units in the field for the first season. How did it go? "Honestly, [it went] better than I expected. And talking to the people from Amvac, they shared the same thoughts," Eitzmann says. "You just don't know on a beta year."
Planting season in Minnesota went smoothly for 2020, and even with some software issues, the system kept up for the Wegner operation. "We had a little trouble because of the COVID-19 flare-up right during the scheduled install," he says. "They were tightening the last nuts the day Wegner started planting."
Dealer shares thoughts
Harlan shares what he wants farmers to think about when looking at the new system. "If a farmer has a crop protection or crop nutrient issue they've been struggling with for years, we want to hear from them," he says. "SIMPAS could help address some of these concerns."
Amy adds that the SIMPAS system is not a tool for marketing Amvac products. "[AMVAC] is open to listening to stakeholders and other manufacturers, and working with them to get the right products through this system."
Harlan says that the days of easy control of weeds, insects and disease are over. "It's not going to get less complicated; complication is here to stay, but with complication comes opportunity to do things better," he says. "This is a sustainable idea of applying pesticides and plant nutrients where they're needed and not where they're not."
About the Author(s)
Subscribe to receive top agriculture news
Be informed daily with these free e-newsletters
You May Also Like
---