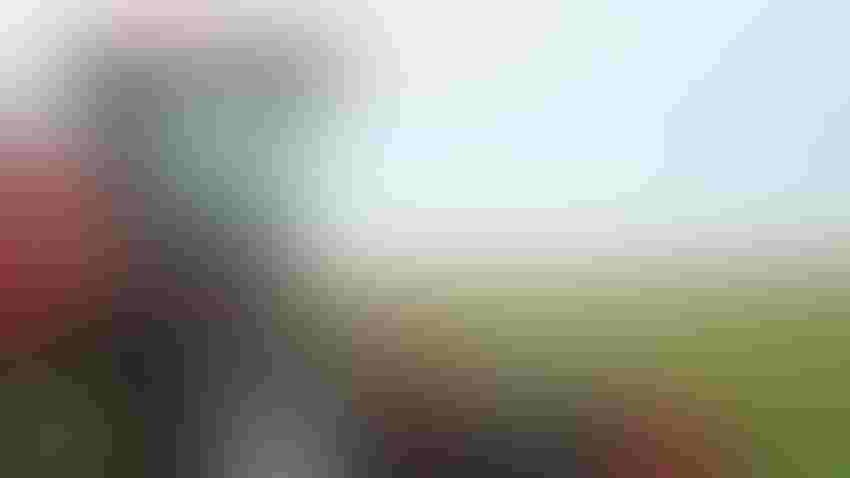 KEEP IT CUTTING: Windrowers require midseason maintenance and monitoring of stress points to keep them cutting through the entire haying season.
Curt Arens
You've already run through a cutting or two of alfalfa or hay this season, so to keep the haying operations running smoothly, there are some stress points on your swather or windrower that may need monitoring.
Farm Progress asked David Crosby, haying equipment technician with Titan Machinery Inc. in Grand Island, Neb., to talk about midseason maintenance on windrowers.
Stress points
"I would say this time of year, we see mostly bearings, bushings or areas of the windrowers that are needing to be greased more often than what they are being greased," Crosby says. "Grease is cheap compared to a breakdown."
As for where the stress points are, it depends on the machine, he says. "The cutting portion of the windrower is probably the first. Keeping good sharp sections or knives helps with the start of feeding the crop through the machine," Crosby says. "Maintaining proper gap and timing on the conditioner helps to get a good crimp on the crop. Also, check your gearboxes for leaks and too much play in the bearings."
He says that on the self-propelled machines, it's a good idea to keep the radiators and coolers blown out and clean.
"Self-propelled windrowers use hydraulic oil to basically run the entire machine, so if the coolers and radiator start getting plugged up, it causes the machine to run harder due to higher temperatures during operation," Crosby notes. "If you can't shine a light through the coolers and see it shine through the other side, you need to get the coolers and radiator cleaned out."
In mid- to late summer, Crosby says repair technicians see issues caused primarily by a lack of enough grease. Second would be older disk mower cutting bars.
"They can be difficult to tell if bearings are getting worn," he says. "Also, gearboxes. If you see a sign of oil around the seals, it usually means the bearings have worn and could be shimmed up to get back to proper preload or rolling torque before it goes completely out."
Tough conditions
Producers ask a lot of their windrowers in general, but some field conditions are harder on the machine than others.
"Rough, dry, hard and uneven ground I would say is hardest on the windrowers," Crosby notes. "Rougher, uneven ground can make the machine bounce more than usual. Dry ground tends to wear on the bottom of the cutter bars more."
Learn more about midseason windrower maintenance by emailing Crosby at [email protected], or by contacting your own local implement dealer and repair technician.
Subscribe to receive top agriculture news
Be informed daily with these free e-newsletters
You May Also Like
---