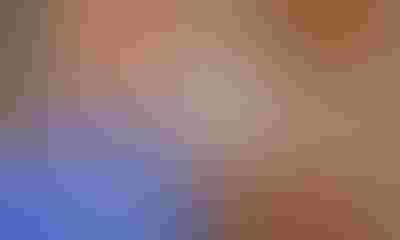 The new year brought a new leader for Indiana Farm Bureau, Inc., the state's largest general farm organization. Long-time president Don Villwock, Edwardsport, retired, and his long-serving vice president, Randy Kron, Evansville, took over in January.
You learned what he thought about his first 100 days as president yesterday. Today, meet the man himself by asking him about the toys in his bookcase in his office.
"There has been a bit of a change in color," Kron quips. Villwock was died in the wool Case IH, and his office was filled with red toys. The new color scheme is primarily blue and yellow, the colors of New Holland.

WHAT'S IN A COLOR? They may be toy tractors and combines, but the toys in Randy Kron's bookcase say a lot about him, the man who now leads Indiana Farm Bureau.
"Don and I aren't as far apart on tractor colors as you might think," he adds. "Both brands are made by the same company."
Related: One self-made farmer leader takes over from another
The orange and black of the Allis-Chalmers 7060 catches one's eye. It's the odd-color-out, yet prominently displayed.
"That represents the used tractor we started farming with," he relates. "We didn't have much money, and I bought it because I could get the horsepower I needed for less money."
Indeed, the man who now heads up the state's largest farming organization didn't come home from college to a family farm. Farming was in his family's background, but his father, William, spent his career working for the Soil Conservation Service, forerunner of NRCS.
Kron started farming 66 acres as a junior in high school. He had to buy what equipment he needed. When he returned from Purdue University in 1983, he was farming 400 acres.
You read right - 1983 - the front edge of one of Indiana agriculture's biggest recessions, which would get worse before it got better. "And it was a drought year here to boot," Kron chimes in.
He and his partner, Joyce, were married the next year.
Timing works
"Looking back, it was actually a good time to start farming in some ways," Kron says. "Joyce and I pinched pennies, and earned everything the hard way. We know something about hard times, because that's how we started out. My parents, William and Emily, helped as much as they could, but we still had to make it on our own."
Then there are newer toys in the bookcase, the blue New Holland toy tractors and yellow New Holland combine that represent the equipment Kron uses today. They also tell a story.
Related: New Indiana Farm Bureau leader looks back on first 100 days
"We've found out that if you're loyal to someone, they're loyal to you," Kron says. "We've got an excellent New Holland dealership in our area, and they've went above and beyond to help out."
Kron recalled the story when the transmission went out of a combine, and the owner himself drove all night to get a transmission to make sure they could run the next day. "You remember things like that," Kron says.
Indeed! It appears Indiana Farm Bureau has another steady, well-tested, loyal hand at the helm.
Subscribe to receive top agriculture news
Be informed daily with these free e-newsletters
You May Also Like
---