Mechanization crucial for lettuce industry
Mechanization crucial for lettuce industry
"This is an exciting time in the vegetable crop industry. A lot of research is under way to improve the economic viability of specialty crops by reducing farm labor requirements. Mechanization can help provide an economically-viable vegetable industry in the U.S., rather than losing production to other countries."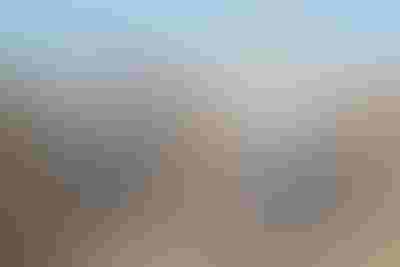 What are the top mechanization needs for lettuce growers in the West? At the top of their list, a survey shows, are thinning and weeding machines to reduce labor requirements and production costs.
When specialty crop machine specialist Mark Siemens joined the University of Arizona (UA) staff at the Yuma Agricultural Center (YAC) in Yuma, Ariz., two years ago, he was charged with developing mechanization to make the specialty crop industry more economically competitive.
Siemens hit the ground running, meeting with vegetable growers and industry representatives to gather input about their mechanization needs. A follow-up survey asked them to rank their mechanization priorities.
Topping the requests were mechanized lettuce-thinning and weeding solutions for iceberg and romaine lettuces.
Growers in the Yuma area produce about 90 percent of the U.S. supply of salad vegetables during the winter months, and California/Arizona farmers grow about 99 percent of the U.S. lettuce crop — a $3 billion industry.
About 80 percent of the U.S. crop is grown in California's Salinas Valley near the Central Coast during the spring, summer, and fall months. Vegetable companies shift production to Yuma County and neighboring Imperial County, Calif. for winter production.
A handful of commercial companies have released thinning or weeding machines. CEMCO Inc. has a lettuce thinner which also works in chile peppers and carrots. Garford Farm Machinery's Robocrop machine uses a rotating disk to remove weeds between lettuce plants in the seed row. A vegetable thinner is under development by another company.
But Siemens, the ag engineer, has a few ideas up his own sleeve. He designed and developed a mechanized iceberg lettuce thinner prototype with the assistance of consulting engineer Ryan Herbon. They rolled out the machine in mid-March and thinned 42-inch-wide iceberg lettuce beds at the YAC.
Their invention is a machine vision-based thinning device that includes a digital video camera and computer, plus several "secret" gadgets. The entire setup is mounted on a steel frame and towed by a three-point hitch behind a tractor.
"This is an exciting time in the vegetable crop industry," says Siemens, UA associate professor and ag mechanization specialist. "A lot of research is under way to improve the economic viability of specialty crops by reducing farm labor requirements. Mechanization can help provide an economically-viable vegetable industry in the U.S., rather than losing production to other countries."
He earned his doctorate in agricultural and biosystems engineering at the UA in 1996, and prior to that served as an agricultural engineer at the USDA Agricultural Research Service Columbia Plateau Conservation Research Center at Pendleton, Ore., and as assistant professor and Extension engineer at the University of Georgia.
In the Yuma area, iceberg lettuce seed is sown about every two inches to insure a uniform and adequate stand establishment. Lettuce plants are typically thinned at the two- to three-leaf stage or older by crews of workers with hoes. They are thinned to one plant every 8-12 inches, depending on market needs.
Mechanization reduces labor costs
Siemens says manual thinning costs about $100 or more per acre, with one worker thinning about one acre of lettuce per day. He believes mechanization can significantly reduce labor requirements and production costs for the thinning process. This would allow labor to be better utilized for other farm tasks.
"I estimate a four-bed thinning machine moving at 1 mph would thin about 1.4 acres per hour," he says. "Fixed and variable operating costs would be about $33 per acre, for a savings of about $67 per acre." That includes the machinery cost.
Mechanically thinning the 400,000 acres of iceberg and romaine lettuce in California and Arizona could save growers an estimated $26 million, Siemens says.
His prototype machine was developed with a $115,000 specialty crop block grant from the Arizona Department of Agriculture. It has three promising plant termination methods, including a mechanical knife, flame device, and a third method he doesn't divulge because of potential patent opportunities.
The prototype employs all three devices, but a system developed for the commercial market would include the best single termination method, he says.
The guts of the machine-vision system are housed in a 15-inch metal box mounted on a toolbar. It includes a digital color video camera and electronics designed for a single lettuce bed to identify plant location. Two frame-mounted lights illuminate the plants for the camera.
"A computer algorithm determines which plants to keep and eliminate," Siemens says. "The computer also controls the plant termination device, so unwanted plants are selectively thinned."
A "walking beam" (tandem axle with a wheel on each end) maintains the system's accurate height and depth control relative to the soil surface. The plant termination devices are located on the beam assembly.
Herbon, who is with Mule Deer Automation, Silver City, N.M., developed the machine vision and electronic control components. He has extensive experience in chile pepper mechanization, including current work on a mechanized destemmer. He co-invented a chile-thinning system later patented by New Mexico State University and manufactured by CEMCO.
Siemens and Herbon will test and calibrate the lettuce-thinner prototype through mid-May, with a goal of working out the bugs within a year.
"Our goal is to operate a four-bed machine, moving at a minimum 1 mph speed to accurately thin plants to the desired spacing," Siemens says. "We want to develop a simple, robust machine that is easy for growers to utilize and maintain."
Herbon believes commercial thinning equipment, regardless of the manufacturer, could be widely used in the lettuce industry within the next five to 10 years.
Siemens also has ideas for tweaking the machine for use as a mechanized weeder in lettuce. About 85 percent of fields are currently hand weeded. He believes,too, that the technology holds promise for thinning broccoli, and that it could also potentially be adapted for melon and chile production.
Pasquinelli Produce Co. at Yuma and Kurt Nolte, UA Cooperative Extension director, Yuma County, provided input for the thinner prototype.
Subscribe to receive top agriculture news
Be informed daily with these free e-newsletters
You May Also Like
---