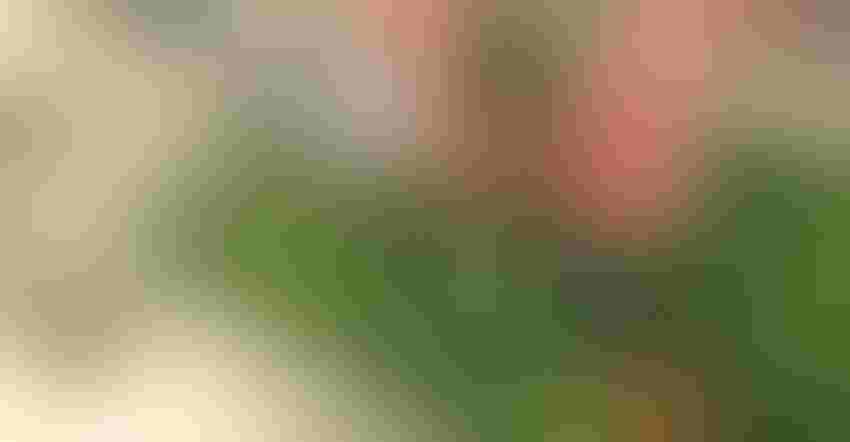 SIMPLE DESIGN: Kris Loomis, a California educator, created a simple, noninvasive gauge for measuring drip irrigation pressures using a number of different types of emitters — even flush tape emitters.
Willie Vogt
If you're involved in drip irrigation, you want to make sure every part of the system is working right, which means knowing drip pressures. The trouble is that a lot of the tools you can use to measure pressure are "invasive" and require you to poke into the tube, creating the potential for leaks later on.
Kris Loomis, who works with drip systems and training at Santa Rosa Junior College and Mendocino Community College in California, had the same problems.
"Taking drip pressure readings from the field can be a challenge," she says. "After undertaking hundreds of tests and working through a number of ideas, I came up with an easier way."
Loomis teaches landscape irrigation, but the rising use of drip in a range of agricultural operations offers opportunity for her innovation as well. "You want to see if the system is running at the optimal pressure to find that sweet spot," she says.
She discussed the need to measure pressures at the beginning, middle and end of a system to determine how a system is operating. This is also important if the system is being used for fertigation, since uneven pressures can change application rates.
And given the challenge of checking pressures, Loomis says that many people may not be doing it. "I worked in agricultural irrigation for many years, and if there was a problem with my system, my first question was, 'Is it a pressure problem?'" she says. "While the farmer might say it's not a pressure problem, often it is."
Challenge of testing
A common approach is to insert a pitot tube attached to a gauge into the line to measure pressure. That pitot tube is punching a new hole in the line, which has to be patched — and that can be troublesome, Loomis says. "You're stabbing a hole in the system."
She acknowledges that a pitot tube can be very precise, and it doesn't have to be sealed completely to get a reading. "The disadvantage is the loss of flow, and you have to insert a goof plug, and it makes a mess, and people just don't do it," Loomis says.
The key was to find a system that was easy to use, and was noninvasive and accurate, for a wide range of drip emitters. "I was looking for something I could use that would fit over an emitter, but also work if it was flush with a different kind of emitter," she says. "It also had to be durable and provide an accurate reading."
The result is a liquid-filled gauge with an adapter, and a fitting that contains the rubber air-compressor nozzle attached. That nozzle is flexible rubber that easily stretches to fit over an emitter, but it can also be held flush to other types and still get a reading.
She demonstrated the tool at the Irrigation Show in Las Vegas in early December, showing that this handy device works on a range of emitters.
This makes checking pressures easier, which Loomis says will also increase the chance that pressure measurements will happen. In addition, the tool isn't expensive; and since it takes readings right from the emitters, it's noninvasive, which means no holes to plug or repair after a measurement is taken.
If you're managing a drip system and need to know pressures throughout the system, consider building yourself this tool. To make your own. obtain a liquid-filled gauge, a ⅛-inch MPT Rubber tip for a compressor and ¼-by-⅛-inch bell reducer to bring it all together.
Subscribe to receive top agriculture news
Be informed daily with these free e-newsletters
You May Also Like
---