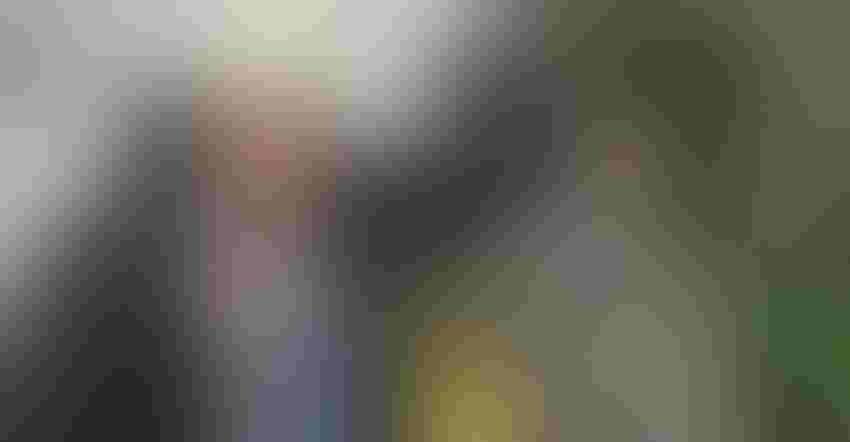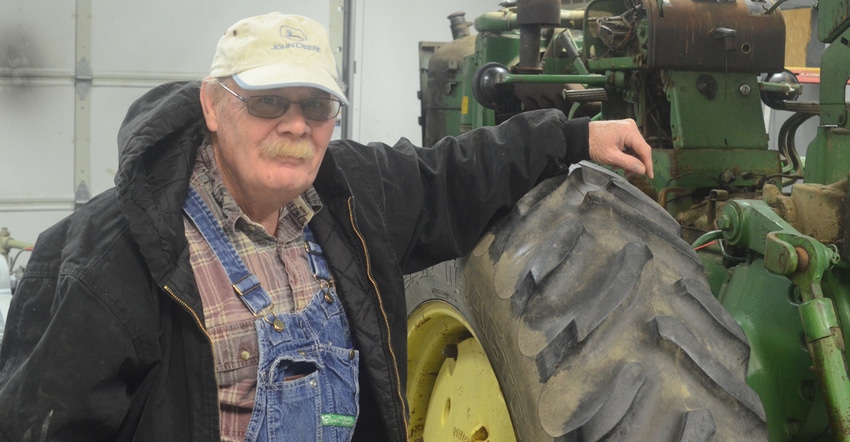 FIX IT: Steve Just stands next to a John Deere 2510 Hi-Crop. Just has a knack for keeping things running, and that includes the 49-year-old Reinke Electrogator center pivot on his farm.
Tyler Harris
Steve Just was only 12 years old when his family installed their first center pivot on their farm near Holdrege, Neb., in 1970. The pivot was one of the first Reinke Electrogators installed in the area.
"Three neighbors bought three Reinkes at the same time," Just says. "Richard Reinke and his two sons came out and helped put it together. They delivered it, put it up and hooked it up, and had Kearney Foundry drill the well hole. It had a 100-horsepower electric motor on it. It was 85 pounds [per square inch] and three [nozzles] per tower."
That first pivot was built with 6-and five-eighths-inch painted steel pipe, and like all pivots at the time, it had 10 towers.
Of course, this was a welcome change for Just's family, who, like many in the area, had relied on gravity irrigation until then — which meant leveling fields and digging ditches, and putting down siphon tubes or gated pipe every year.
"A lot of the other farms around here had been land-leveled for gravity irrigation, and that quarter had never had a scraper on it other than maybe fixing a hole or cleaning out a drain," Just says. "We used to do that with gravity-irrigated ground. Some of this ground has never healed."
So, that pivot, which Just calls No. 1, has irrigated rich, black soil for 49 years — right up until Just had it replaced in May 2019.
"Any other field, we would have bought a new one without giving it a second thought," he says. "The other pivots had been all replaced, and we've just kind of been trying to keep this thing, trying to make it to at least 50 years. Well, we didn't quite make it."
Keeping it running
One big reason No. 1 lasted so long is it's running city water, with higher quality and less minerals and contaminants running through it compared to well water.
Still, keeping No. 1 going took routine maintenance, and that's where annual winter pivot checks by Holdrege Irrigation come in.
"As soon as customers are done picking corn, we offer to send someone out and drain all the gearboxes of water," says Scott "Smoothie" Fecht, sales manager at Holdrege Irrigation, a Reinke dealer in Holdrege that installed Just's new pivot this spring. "They drain the center drives, check all the electrical connections in the towers, plus the center point, and the collector ring. They look at tires and check out U-joints, drive shafts and then start up the pivot and listen to each motor."
"Steve typically asks us to check his pivots and send him an estimate for repairs and maintenance," Fecht adds. "Then he'll decide what he wants to do, and we'll send a crew out to fix it."

ONE OF THE FIRST: Steve Just used this 1970 Reinke Electrogator to irrigate a quarter on his farm near Holdrege, Neb., for 49 years. The pivot, called No. 1 by Just, was the first pivot on Just's family farm — and one of the first Electrogators in the area.
Over the years, Just has replaced the pump engine — going from a John Deere 4430 diesel to a 6068T diesel — replaced gearboxes, changed sprinklers, installed telemetry units and replaced the tower box.
He notes on the original Electrogators, tower boxes were galvanized and located directly below a drain plug on the pipe, and it needed to be replaced with a modern double-walled plastic tower box from Reinke, and installed in the proper place on top of the pipe at the end tower.
"That's the kind of thing Steve likes, keeping things running," Fecht says. "This isn't a one-time thing. This has been part of what he's done all his life."
Keeping things running is more than just a pastime for Just. He's amassed a collection of John Deere Hi-Crop tractors — including rarities such as a 2510 and 2520 Hi-Crop, both from the 1960s, among other antique green tractors. And he's rebuilt the engines on many of them.
In with the new
Ultimately, however, it became too costly to keep pivot No. 1 going. In spring 2019, Just and Fecht discovered the main pipe on No. 1 was forming pinholes from rust.
"We could have rebuilt it," Just says. "But financially, it would not have been a smart thing to do." So, in May, Just replaced the original 10-tower Electrogator with a nine-tower Electrogator II.
Fecht notes most irrigators in the area maintain pivots for about 18 to 20 years before replacing them — although pivots usually last 30 to 35 years before being sold for scrap.
"Typically, people don't run them for that long, although in certain areas, some growers will run them until there's nothing left," Fecht says. "I've got another 1970 in Kansas that's still going, but it doesn't have a fraction of the hours that No. 1 has."
It's not uncommon to put 1,000 hours a year on a center pivot. Just estimates No. 1 had about 55,000 to 60,000 hours total. The second pump engine, bought new in 1997, has 34,000 hours on it.
"At some point, Steve said, it's got high-quality water, and we're going to keep going," Fecht says. "He had other pivots in other places that didn't have as high-quality water, and he upgraded those as he saw fit. No. 1 kept going, and there aren't very many pivots around that have made it that long."
About the Author(s) Tyler Harris is the editor for Wallaces Farmer. He started at Farm Progress as a field editor, covering Missouri, Kansas and Iowa. Before joining Farm Progress, Tyler got his feet wet covering agriculture and rural issues while attending the University of Iowa, taking any chance he could to get outside the city limits and get on to the farm. This included working for Kalona News, south of Iowa City in the town of Kalona, followed by an internship at Wallaces Farmer in Des Moines after graduation.
Coming from a farm family in southwest Iowa, Tyler is largely interested in how issues impact people at the producer level. True to the reason he started reporting, he loves getting out of town and meeting with producers on the farm, which also gives him a firsthand look at how agriculture and urban interact.
Subscribe to receive top agriculture news
Be informed daily with these free e-newsletters
You May Also Like
---