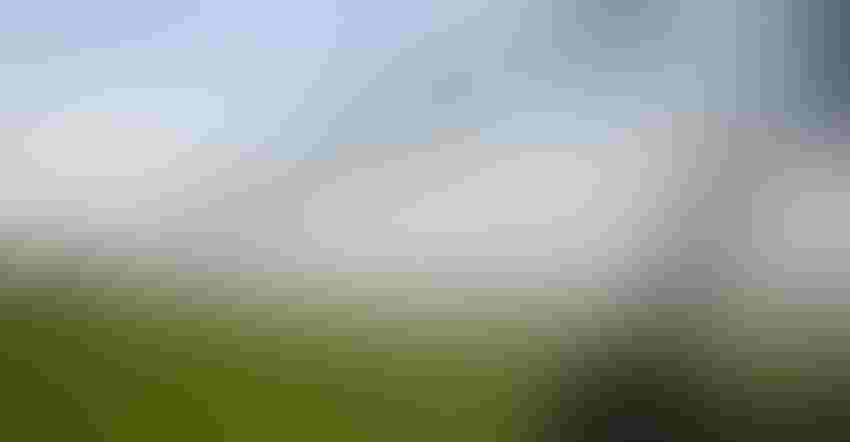 SEVEN-DAY OUTLOOK: FieldNet with WaterTrend provides growers with basic information to help make management decisions. This includes a seven-day outlook of the crop's forecasted water needs.
Tyler Harris
Over the past five years, the adoption of Lindsay's FieldNet has grown rapidly — especially in the past 12 months, says Brian Magnusson, Lindsay Corp. vice president of the Americas.
It's partly been driven by the impact of COVID-19, as more irrigators seek to remotely monitor and control center pivots. However, it's also driven by the new features offered as part of FieldNet.
In August, Lindsay announced the launch of FieldNet with WaterTrend.
"As with any of the features that we release, this was really driven by feedback we got from farmers that said, 'It's hard for me to know how much I should be irrigating,'" Magnusson says. "FieldNet Advisor is a great tool, but FieldNet with WaterTrend is a light version. It gives growers the most basic level of information that helps them make good irrigation management decisions."
He explains that FieldNet with WaterTrend provides a seven-day outlook of the crop's forecasted water needs, as well as a seven-day rainfall forecast. FieldNet with WaterTrend is available in every FieldNet subscription at no additional cost.
"What's unique about FieldNet with WaterTrend is it isn't based on a reference weather station that might be located 50 miles away, and the crop water usage estimates aren't based on a reference crop as is typically used to calculate evapotranspiration and crop water use data," Magnusson says.
"With FieldNet with WaterTrend, the farmer enters what crop they have in the field, planting date and hybrid type. With that information, WaterTrend uses the models from FieldNet Advisor to model crop growth and calculate the crop-specific water requirements over the next seven days."
Other FieldNet updates
Lindsay also announced satellite imagery available in FieldNet Advisor, giving growers the option to further refine irrigation recommendations by incorporating satellite imagery.
"That's a really powerful tool because it helps ground-truth irrigation recommendations," Magnusson says. "Without putting a soil moisture probe in the field, you can use satellite imagery to ground-truth the crop growth stage and further improve irrigation recommendations without having to go through the hassles and headaches to install in-field sensors."
In 2019, Lindsay launched FieldNet Pivot Watch to provide a lower-cost way for growers to remotely monitor pivots and receive alerts when issues arise. This summer, Lindsay announced Pivot Watch is now available on Amazon.
"A lot of times, a grower will find that their pivot was stuck and it ran all night in one place, and they wish they had the ability to remotely monitor," Magnusson says. "They can go on Amazon, select Pivot Watch and have it delivered to their place in two days. It's a simple, do-it-yourself installation. The idea was to have that capability available to everybody. Once they have that capability, if they want to be able to remotely start or stop the system, there are upgrade options."
Also new from Lindsay
In February, Lindsay released a completely redesigned version of its Zimmatic poly pipe for center pivots, which has been available for more than 20 years. Poly expands and contracts with temperature changes, and over time, this causes leaks and other issues. With that in mind, Magnusson notes Lindsay redesigned the poly pipe to eliminate this issue with two key enhancements.
"The first is we use a proprietary method to shrink the poly before it's stuffed into the pipe, and another proprietary method to expand it back to its original diameter once its inserted inside the pipe," he says. "That means we have a very tight friction fit between the poly and the steel pipe around it. That eliminates the expansion and contraction of the poly that happens inside the pipe as you go through temperature fluctuations.
"The second enhancement is in the joint. Most systems rely on a poly-to-poly joint. The poly flange forms around the steel flange, and when you bolt two pipes together, you're sandwiching two pieces of poly together. As you get expansion and contraction, that poly will lose its form and you can get leaks at the joints. We've developed a proprietary flange that has a poly-to-poly watertight seal, but outside of it is a steel-to-steel contact where the bolts actually join together. That steel-to-steel contact holds the joints in place, so they aren't moving with temperature fluctuations."
This summer, Lindsay announced the acquisition of Net Irrigate, an Internet of Things company focused on providing low-cost monitoring products for irrigators.
"Net Irrigate saw a market need for a lower-cost, monitor-only solution and focused on that from the start. Over time a lot of customers that started with basic features decided to add more feature and control capabilities," Magnusson says. "Net Irrigate customers now have the ability to upgrade to the full suite of FieldNet products. No matter if they're looking for a basic solution all the way through the most advanced monitor and control solutions, they have that available through FieldNet. They also have Zimmatic dealers nearby that can serve their needs."
Subscribe to receive top agriculture news
Be informed daily with these free e-newsletters
You May Also Like
---