Latest innovations at World Ag Expo, Feb. 11-13, Tulare
Latest innovations at World Ag Expo, Feb. 11-13, Tulare
Grab your smartphone, boots, keys, and hat. It's World Ag Expo time, Feb. 11-13, in Tulare, Calif., at the International Agri-Center.Show times: Tuesday (Feb. 11) and Wednesday (Feb. 12) - 9 a.m. – 5 p.m.; and Thursday (Feb. 13) – 9 a.m. - 4p.m.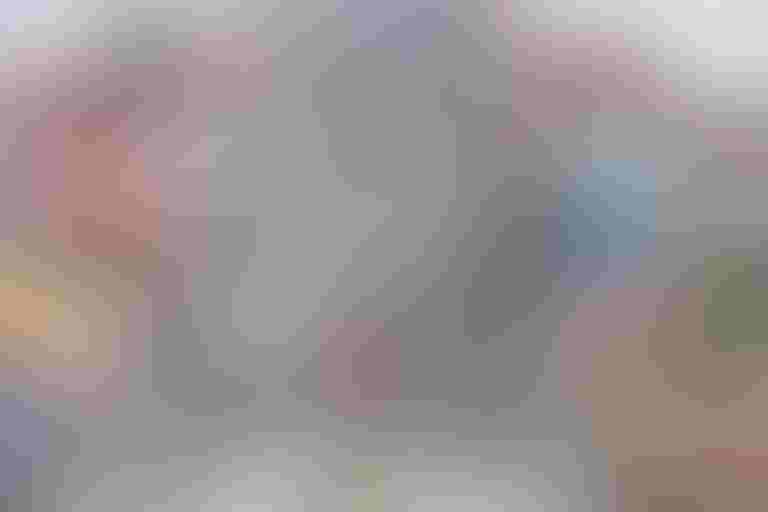 Get ready to grab your smartphone, boots, keys, and hat. It's World Ag Expo time.
The three-day 2014 World Ag Expo, Feb. 11-13, will be held in Tulare, Calif., at the International Agri-Center where an estimated 100,000 visitors from 70 countries will find the latest innovations in global agriculture.
Show times
Tuesday (Feb. 11) and Wednesday (Feb. 12) - 9 a.m. – 5 p.m.

Thursday (Feb. 13) – 9 a.m. - 4p.m.
General admission at the gate is $15. Save $5 per ticket when purchased online before the show at WorldAgExpo.org with the discount code WAEMAG.
Online ticket purchases automatically enter you into a contest to win a Yamaha ATV and other Expo registration prizes. Online ticket purchases can be printed at the home or office, or mailed.
The Expo is sold out with more than 1,400 exhibitors on the 2.6 million square feet of exhibit space. About 1,200 orange-jacketed volunteers will be on hand to help exhibitors and attendees.
Get the  latest agricultural news each day to your Inbox. Click here for the free Western Farm Press Daily e-mail newsletter.
World Ag Expo is about forging new connections with people who can open doors to new opportunities, says Expo volunteer chairman Stephen Cunha, a pistachio grower who has volunteered at the Expo for 36 years.
New for 2014 is the Exhibitor Showcase in the World Ag Expo Arena which features the latest and greatest agricultural products in one place. Take a seat in the Arena for one of the shows scheduled throughout each day. The World Ag Expo Arena is located in the southwest corner of the show grounds, just west of Pavilion D.
To help maximize the Expo experience, visitors can download the free 2014 World Ag Expo smartphone app developed by the International Agri-Center and Penton-Western Farm Press.
The app will help visitors maximize their Expo experience, locate specific vendors, receive daily Expo alerts and breaking news, navigate the Expo grounds, view seminar schedules, download exhibitor handouts and videos, connect with social media, and check out local dining options.  
Download the app from your smartphone store.
A packed lineup of seminars held at the Seminar Center, located in the far southeast corner of the grounds, will include the latest information about beef and dairy production; hay and forage; international trade; irrigation; and general agricultural topics.
Truck giveaway
One World Ag Expo visitor will win a new Toyota Tundra pickup truck announced Thursday afternoon. Valley FFA members will sell $5 raffle tickets at the show for the truck donated by the San Joaquin Valley Toyota dealers. Proceeds from the tickets will benefit FFA members.
Special events:
Wednesday, Feb. 12 – Prayer Breakfast at 7 a.m. in the Heritage Complex Banquet Hall. Info at (559) 684-6100 and (559) 688-7569.

Thursday – Agricultural Leadership Alumni Breakfast at 6:30 a.m. in the Heritage Complex banquet hall. Info at (559) 735-9700 or e-mail [email protected].
The valuable Park and Ride service is offered again this year with five offsite parking locations in the Tulare-Visalia areas. Park at the Preferred Outlet Mall or the Tulare airport to ride a bus to the show grounds for free from 7 a.m.-6 p.m. Drop off and pick up at the show is at Gate 2.
Park and Ride is also available for free from the Tulare County fairgrounds, Mid-Valley Cotton Gin, and the First Assembly of God Church in Visalia for drop off and pick up at Gate 12.
From Fresno and Clovis, Park and Ride is available for a fee by reservation: (559) 641-6789.
For more Park and Ride information, visit www.WorldAgExpo.org.
Agriculture tours will be held daily during World Ag Expo. The tours will include: two Fresno wine tours (separate tours); Elkhorn and Milky Way dairies; Sun Pacific Packinghouse and UC Davis Citrus Extension; Curtimade Dairy-UC Davis Veterinary Medicine Teaching and Research Center; plus Monrovia Nursery and Lagomarsino Farms.
The new tour for 2014 is an Exeter citrus groves and orchards experience.
Tour dates, times, and costs are available under the 'What Not to Miss' tab on the World Ag Expo website.
At the show, stop by and visit Western Farm Press in Building C, Space 3915.
More news and comments from Western Farm Press:
Cotton pest control ratings just a click away
James Bond once worked for the EPA
Subscribe to receive top agriculture news
Be informed daily with these free e-newsletters
You May Also Like
---