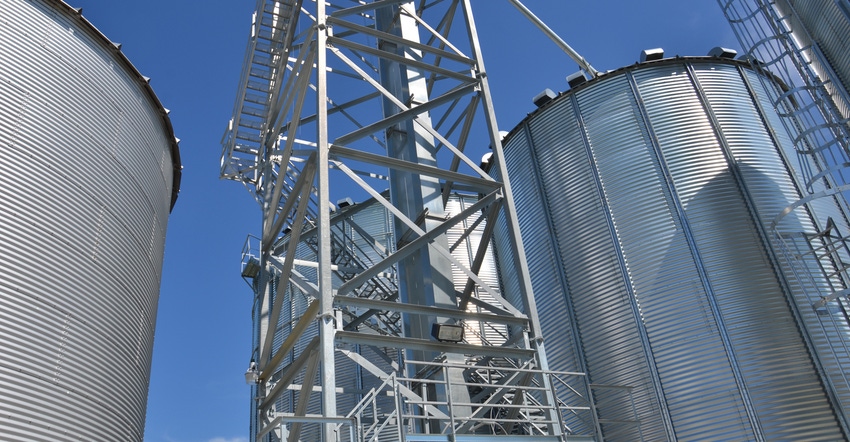 PLAY IT SAFE: Start with dry grain, use monitoring equipment when possible and physically inspect grain regularly, and you should have few issues with out-of-condition grain, experts advise.
There is equipment available to help you monitor grain. But the best advice is to start with grain dried to the proper moisture level and aerated properly, says Gary Woodruff, a grain conditioning expert and district manager for GSI.
In this interview with Farm Progress, Woodruff discusses grain monitoring equipment:
What equipment is available to monitor grain? Bin monitoring and aeration control equipment, like GSI's Bullseye System with temperature cables and optional carbon dioxide-sensing capabilities, will help greatly with constant monitoring of the state of stored grain. Temperature increases or the elevation of carbon dioxide are an early indication of a condition issue.
New technology under development helps better monitor moisture content of stored grain. GrainViz from GSI creates a 3D map of moisture content of each bushel of grain within the grain mass so operators can address potential issues before they become a problem.
If you have monitoring equipment, do you still need to do visual inspection? It would be a big mistake to assume with a monitoring system that you never need to do a physical check on grain in each bin. Maintain a physical check every two weeks, and perhaps more often when it begins warming up in the spring.
How do various kinds of monitoring equipment help find problems you might miss? Virtually all condition issues inside a bin of grain will be accompanied by smell, a rise in the temperature and an increased presence of carbon dioxide. Though it's not practical to put a temperature sensor on a cable where you can check every bushel of grain, as the problem grows, it will eventually show up on strategically located sensors. This also allows for overall grain temperature monitoring, which is critical to safe storage.
One advantage of carbon dioxide monitoring is that as natural air movements within the bin carry carbon dioxide throughout, it will allow for detection of an issue earlier.
What safety precautions are necessary during regular monitoring? One key thing often neglected is that if the grain is dried to the proper moisture for the storage period expected before it is put in a bin, and then cooled to below 50 degrees F, it is extremely rare for any condition issues to occur. You only see entrapment, suffocation or respiratory health problems when out-of-condition grain is present in a bin.
As a rule, one should never enter a bin, as it is a confined space which can be a safety risk for entrapment when out-of-condition grain is present. It's not talked about as often, but it's also a safety and health risk due to mold and respiratory health concerns to enter the bin, even when it's empty. Check with an Extension specialist about proper protective respiratory gear when working around grain, especially inside a bin.
What if you must enter the bin? Should it become necessary to enter the bin to physically remove bad grain, it's important to follow rules outlined by ag university websites on locking out all augers, and having additional people to spot and be available to watch for problems. Ropes, harnesses and other safety equipment will be necessary. All procedures outlined by the universities on their sites should be carefully followed.
Subscribe to receive top agriculture news
Be informed daily with these free e-newsletters
You May Also Like
---