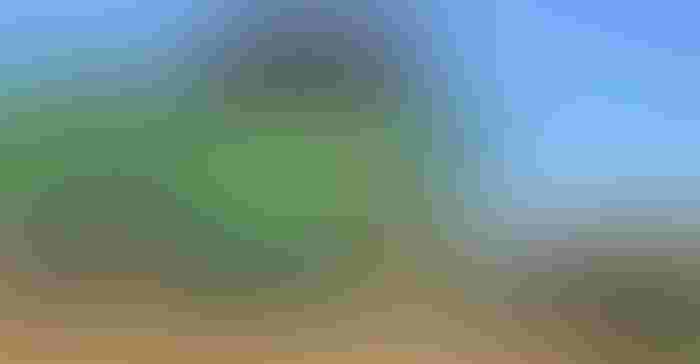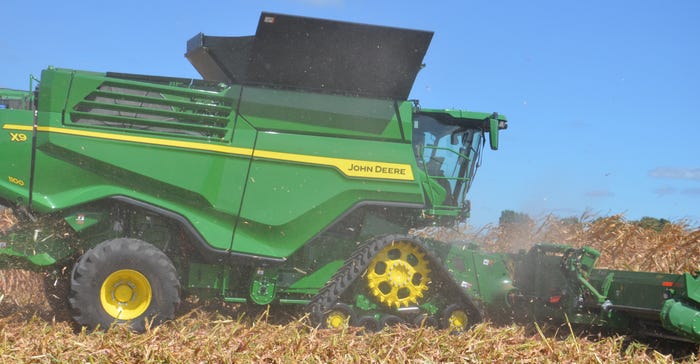 John Deere combine specialists hoped for 220-bushel-per-acre, dry standing corn at the X9 combine rollout to media so they could show its huge harvesting capacity. Matt Badding, harvesting product manager for John Deere, says the X9 1100 model can harvest 7,200 bushels per hour. The X9 1000 and X9 1100 models represent Deere's next level of harvesting performance and add to its existing lineup of S Series combines, Badding says.
But if you really want to see what a combine can do, bring it to a field where crop moisture is as high as 50% in some places and stalks are partially lodged and twisted in every direction, following a rare windstorm with near hurricane-force winds. That's what Deere combine specialists found when they ran the X9 combine for the media at the Farm Progress Show site near Boone, Iowa. Filming was underway for the Farm Progress Virtual Experience in drier corn elsewhere on the site. Check out the event at FPVExp.com.
What did the media see when the combine ran in challenging conditions? They saw a combine that adjusted and did an excellent job in a tough situation. Equipped with John Deere's new C16F corn head, the X9 moved through down, high-moisture corn efficiently, leaving virtually no kernels and only an occasional ear behind. Yes, the operator ran at a slower ground speed. But if it can harvest efficiently there, it should be able to harvest efficiently anywhere.
Key features of X Series
The X Series features a wide feeder house at the throat of the machine, a dual separator and the industry's largest cleaning shoe, Badding says. In fact, he notes that the X Series dual separator possesses the largest threshing and separation areas John Deere has ever offered in a combine.
The result is less grain loss and increased harvesting capacity, Badding notes. The new series relies on a 75-square-foot Dyna-Flo XL Cleaning Shoe, giving it 36% more cleaning area compared to the cleaning shoe in Deere's S790 combine.
Spokespeople insist fuel efficiency will be a hallmark of the X9 Series machines, which can run up to 14 hours without refueling. Badding notes that compared to Deere's S790, already an efficient combine, the X9 1100 uses up to 20% less fuel per bushel harvested.
Precision technologies are state-of-the-art on the new series. X9 combines come with a StarFire 6000 receiver, which requires no calibration of the Terrain Compensation Module. Badding says the new receiver boots up more quickly than previous models.
Three technology package choices are available for customers to pick from for the X9 models: Select, Premium or Ultimate. The restyled cab also comes with a choice of three packages of features: Select, Premium or Ultimate.
The Ultimate cab package includes a heated, ventilated, massaging seat that swivels 16 degrees right or left. Farmers who have checked out the massaging seat say it could become a farmer favorite.
For more details, check out the accompanying slideshow, and visit johnedeere.com.
Check out these other virtual walkarounds:
Subscribe to receive top agriculture news
Be informed daily with these free e-newsletters
You May Also Like
---