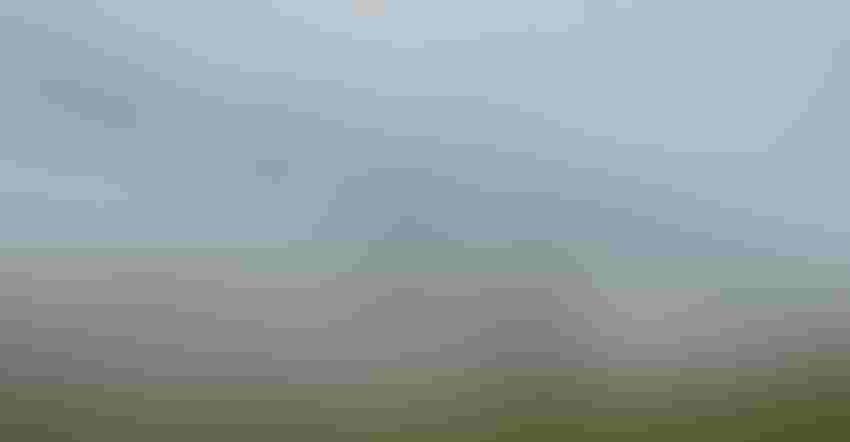 TIMING MATTERS: Daran Rudnick, Nebraska Extension irrigation management specialist, advises growers to consider times of peak water use in deficit irrigated scenarios.
Tyler Harris
Ask a group of irrigators what deficit irrigation means in their respective locations, and you'll likely get multiple answers.
It's a term that means something different to everyone, and it varies based on the location and climate, as well as the reasons for using deficit irrigation in the first place. For example, these reasons might include allocations on pumping or low-capacity wells.
As part of the Farm Progress Virtual Experience, three experts offered insights on different strategies for deficit irrigation.
Farris Hightower, regional sales manager at Lindsay Corp., explains with deficit irrigation, the goal is to maximize returns while reducing the amount of water used. This means only applying water when the crop needs it most, and delaying the first irrigation of the season as long as possible.
"Delay irrigation as long as you can while [the crop] roots down, and then apply water at the point that it will do the most good," Hightower says. "Always try to put as much water on as you can with every irrigation event — try to prevent runoff but utilize storage in the soil. Any time you apply irrigation, you're going to have a certain amount of loss, so we want to reduce the number of times we allow that loss to happen."
However, the last irrigation event of the season also is important.
"One of the things we see a lot is people overwater at the end of the season," Hightower says. "By using crop models and other technology to time that last irrigation, you can certainly save an inch and sometimes 2 inches at the end of the season."
One big step toward achieving this goal is reducing evaporative losses by improving irrigation efficiency — that is, the ability of the water to effectively reach the ground after leaving the nozzle. This means using low-space drop nozzles and the right sprinkler packages to keep water off leaf surfaces and get as much of it in the ground as possible.
With that in mind, having full control of the system through telemetry allows the irrigator to monitor, start and stop the system remotely when needed. Lindsay's FieldNet Advisor is one tool Hightower notes can help model crop progress.
"By having full control to monitor and record all your as-applied irrigation data, you can drop that into our irrigation scheduling programs, use crop models and, based on actual field conditions, decide when and how much irrigation water to apply," he says.
Crop residue's role
It's also important to use soil moisture to fill in the gaps between rainfall and irrigation. Joel Schneekloth, Colorado State University Extension water resources specialist, notes residue plays a huge role in soil moisture retention.
Schneekloth says on average, leaving corn residue completely intact amounts to 1.5 inches more soil moisture capture over the winter. He shared some results from research in 2017, 2018 and 2019 at the Central Great Plains Research Station in Akron, Colo.
"2017 and 2018 were average years for snowfall," he says. "We're seeing anywhere between the low- to upper-50 percent snow capture where we leave residue standing. Where we've either tilled in or harvested the residue, in those two years we're seeing in the mid-30s. 2019 had a lot of small snow events. With residue standing in the field, we were gaining in the low 50s [percent snow capture]. Where we took off the residue, we were in the midteens for percent recovery on storage."
How does residue benefit the following crop during the irrigation season? Schneekloth notes a study at the research station on residue management in a limited irrigation environment.
"We're applying about 30% less than what we typically apply in a normal season," he says. "We normally are applying about 13 inches, and we're limiting this study to 10 inches maximum."
Normally, he adds, a full profile (at 6 feet) at the research station would start the season with about 12 inches in the soil. While no-till with residue started the season off with about 1.5 inches more than treatments with harvested residue, that disparity grew over time. By the third year of the study, the difference was 2.5 inches.
Meanwhile, no-till reduces losses through evapotranspiration during vegetative growth — on average, by about 0.75 inches through VT, although Schneekloth notes it can be as high as 1.5 to 2 inches.
"What we're seeing is either we can reduce our irrigation during that vegetative growth stage with no-till, or we have an inch-and-a-half more moisture going into the reproductive stages," he says.
Timing is everything
Daran Rudnick, Nebraska Extension irrigation management specialist, advises growers to consider times of peak water use in deficit irrigated scenarios.
Rudnick notes studies and crop production functions for irrigated soybeans and corn at the West Central Research and Extension Center near North Platte, Neb. For example, one study — with treatments ranging from rainfed to excessive at 140% of fully irrigated — included two randomized treatments where irrigation was shut off at both R3 and R5. Both of these treatments saw a yield decline from shutting water off during the critical reproductive period.
Crops are most sensitive around flowering and reproductive stages — e.g. tasseling or silking.
"Whether we're under a low capacity or an allocated setting, we want to do our best to make sure we're going to have water at that time period," Rudnick says. "When we're in a low-capacity well situation, it might be as simple as making sure we're buffering the soil. If we know we're not going to be able to meet ET [evapotranspiration] at that period, we want to make sure we have enough water in that profile, so once we do hit that period, we can carry ourselves through with minimal stress."
On the other hand, crops tend to be less sensitive around ripening, as they approach maximum production. Crop production functions often show a point of diminishing returns, where applying excessive moisture too late doesn't return enough yield to justify the additional inputs.
"As we get closer to the end of the season, we need to be thinking about when to turn off, because that tends to be the less sensitive period for stress," Rudnick says. "It's also at that point where we're hitting the economic optimum."
"We know grain yield is going to increase with irrigation up to an excessive period, but what we also know is that that is location specific, and it almost certainly varies year to year," he adds. "We simply can't rely on last year's irrigation versus grain yield response, and we need to be thoughtful of what are the climatic and environmental conditions for the given year."
Note: You can check out this breakout session, and another 19 that premiered during the Farm Progress Virtual Experience, just visit the Breakouts Page on the website.
Subscribe to receive top agriculture news
Be informed daily with these free e-newsletters
You May Also Like
---