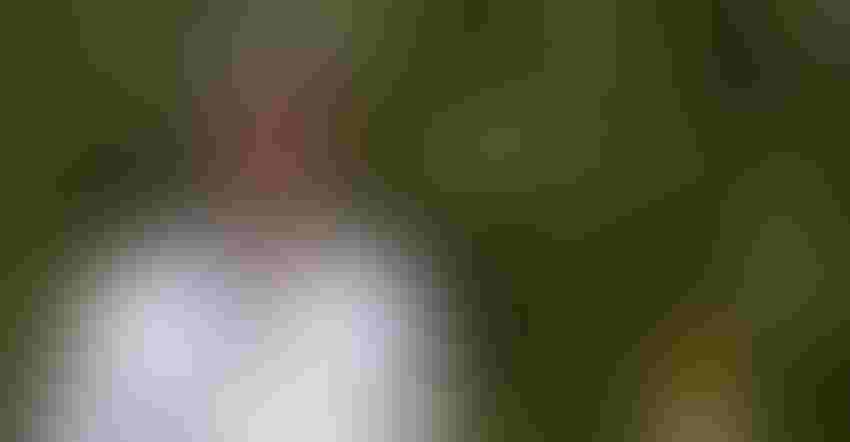 CHECK EACH ROW: Darren Goebel with Agco talks about the importance of downforce control on row units at a demonstration farm near Union City, Ind.
You get one chance to get planter settings right. Agco agronomists and equipment specialists have spent the past three years at various sites across the Corn Belt putting out demonstration plots to show farmers what happens if they don't get settings right the first time.
One of those farms is just outside Union City, Ohio, sister town to Union City, Ind., in Randolph County. In fact, the state line runs through the town. Darren Goebel, agronomist and director of global agronomy and farm solutions for Agco, visited the site in 2018 to help explain why various plots turned out as they did after planting.
One plot focused on the amount of downforce applied to planter rows, Goebel explains. Until the past few years, farmers paid attention to many settings, including singulation to get good plant spacing and seed depth, but downforce wasn't exactly a coffee shop word. After Precision Planting introduced AirForce and later DeltaForce, farmers began to see the advantages of having correct and consistent down pressure on each row across the planter.
Downforce trial
The plot near Union City included three settings — light downforce, heavy downforce and consistent, automatic downforce administered row by row by the DeltaForce option. The results were visible in the field and on the yield monitor at harvest, Goebel says.
He had the advantage of having data from 19 Agco Crop Tour sites over the past three seasons when he addressed the downforce issue.
"We found a 2-bushel yield advantage for automatic control vs. heavy downforce, at 213 vs. 211 bushels per acre when all sites for all years were averaged together," Goebel says. "The advantage vs. light downforce was much larger, at 213 vs. 197 bushels per acre, where down pressure was set light on purpose."
If repeatable, that would be a 16-bushel error for setting pressure too light, or a $56-per-acre mistake, at $3.50-per-bushel corn for just one wrong setting.
Goebel says agronomists made additional observations during the three-year study. First, as seeding depth increases, additional downforce is required in most cases.
Second, different types of tillage systems require different amounts of downforce on row units. Translated, you likely wouldn't set downforce the same in conventional tillage and no-till.
Third, central-fill planters require more downforce on the wings to maintain gauge-wheel-to-ground contact.
Finally, studies of individual downforce maps at planting indicate that in many cases, different rows across a 24-row planter need a different amount of downforce. That's where automatic downforce control becomes important, he concludes.
Subscribe to receive top agriculture news
Be informed daily with these free e-newsletters
You May Also Like
---