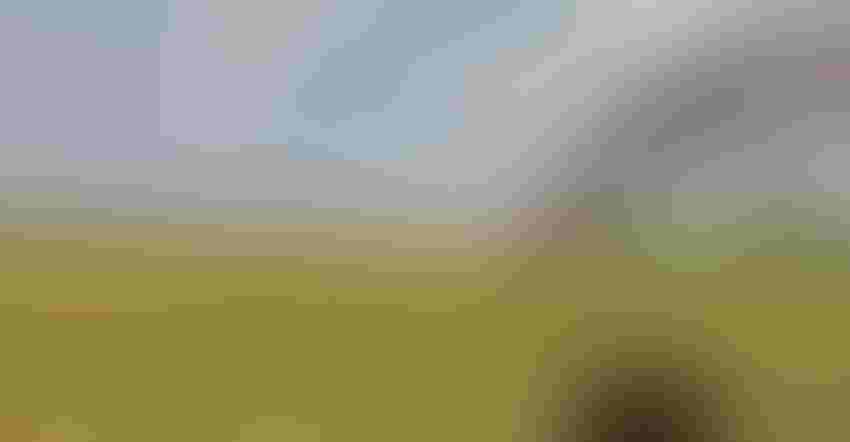 FULL TOOLBOX: Managing water, practicing soil health and trying new technologies are ways that farmers can manage crops and fields during continuing drought conditions.
JJ Gouin/Getty Images
Dry conditions ranging from mild to severe drought plagued the Midwest, Central Plains and West this growing season, with some sections still suffering from 2021 drought conditions. During these times, it may be a natural reaction to install new irrigation systems to save a crop, but experts say this isn't always the best solution.
Water management using irrigation is an important factor during drought, but what if there was a more holistic method to combating drought conditions? There are many pieces in a drought management puzzle including building soil health, monitoring irrigation systems, and investing in water management technology and tools.
Try new tech
Investing in new technology can provide benefits above and beyond drought management, as there are many tools farmers can use to help monitor and apply water precisely. With much of the central and western U.S. experiencing at least moderate drought, this may be the season to deploy monitoring tools.
One such monitoring tool is soil probes. These measure water availability in the crop's root zone before and after water application, keeping water usage at optimum levels.
Wilbur-Ellis irrigation management software Probe Schedule receives and aggregates data from in-field devices such as soil probes to calculate accurate crop water usage and soil moisture. This vital information can help farmers deliver the precise amount of water needed across fields to avoid under- or overwatering, which can be crucial to save crops during times of drought.
Proper use of controllers and sensors are two more options in the tool kit for proper water management. Climate-based controllers use local weather data to adjust irrigation. Similarly, soil moisture sensor controllers utilize soil moisture levels in the root zone to determine water needs and avoid overirrigating.
Proper permitting, water usage
Water management goes beyond the actual liquid. By integrating irrigation systems with other techniques, farmers can be better prepared to help crops and fields withstand dry conditions. During drought conditions, it is common to apply up to 14 inches of water per irrigated acre.
Depending on your state, water rights programs may play a factor in your irrigation plans. As irrigation is just one of the many uses for water, ensure your farm is within usage and management regulations, especially during drought conditions.
In North and South Dakota, water permits are required depending on the amount of land irrigated and the expected water flow rates. Current water demand may inhibit the amount of water permits offered, so plan ahead and submit permits early for water usage and irrigation systems.
Proper management to ensure correct flow and application from your existing irrigation systems is especially important during times of drought. Whether a center pivot or subsurface drip, each irrigation system can be optimized for water application during dry conditions.
Start with the soil
Building a health soil profile is a long-term management practice, not something that can be used as a short-term fix during drought conditions. One way to start building soil health is to learn and implement the five principles of soil health:
1. Cover soil. Take a walk through your field and look down. How much of your soil is covered and protected? Maximizing soil health starts at the surface, with implementing soil cover to control erosion, retain moisture and reduce weed pressure.
Keeping a high residue cover from previous crops and properly utilizing cover crops lends the first line of defense for your soils.
2. Limit disturbance. Minimizing disturbance to the soil builds soil aggregates, improves soil biology and increases organic matter. Healthy soil contains pathways and organic matter that work together to preserve subsoil moisture reserves, even in dry conditions.
Tillage severs natural pathways and pores in the soil, which slows the rate at which moisture seeps into the soil. Without the natural pathways and organic matter naturally present in the soil, water storage is decreased.
Biologic and chemical disturbances can also impact soil function, so make a plan to leave your soil be to withstand drought conditions.
3. Diversify plantings. Mimicking the varied plant populations means planting diverse cover crops, including warm- and cool-season grasses and broadleaf plants. These may include oats, corn, peas, sunflowers or rye.
For crop production, trying to imitate the native plant community will provide nutrients for the soil fungi, bacteria and worms. To help soils build a healthy profile, farmers need to feed the soil a healthy, diverse diet.
Plan ahead with cover crop mixes to account for other goals beyond feeding diverse soil life. These goals may include suppressing weeds, fixing nitrogen levels or growing forage for livestock.
4. Keep roots alive. Adding a perennial option to cover crop mixes provides carbon to the soil, which provides a food source for microorganisms.
In colder climates, how can you extend the amount of time a living root is interacting with the soil? Most cash crops have a living root for less than 30% of the year, where native grasses have a living root for 60% of the year.
Farmers can start small to maximize living root systems, such as interseeding their cover crop mix into corn crops. This allows the cover crop mix to establish and grow through the fall and even into the following growing season.
5. Integrate livestock. Animals, crops and soil play a synergistic role together on and off farms. While in recent years, more livestock have been placed in confinement housing or housed on fewer farms, there are major soil benefits to returning livestock to the land.
Livestock grazing can bring a balanced carbon and nitrogen ratio to soil, provide better regrowth of perennial plants, and help manage weed pressure through grazing. Returning livestock to the land can be done through winter and fall grazing, winter bale grazing on hay fields, or summer grazing a full season crop.
Subscribe to receive top agriculture news
Be informed daily with these free e-newsletters
You May Also Like
---