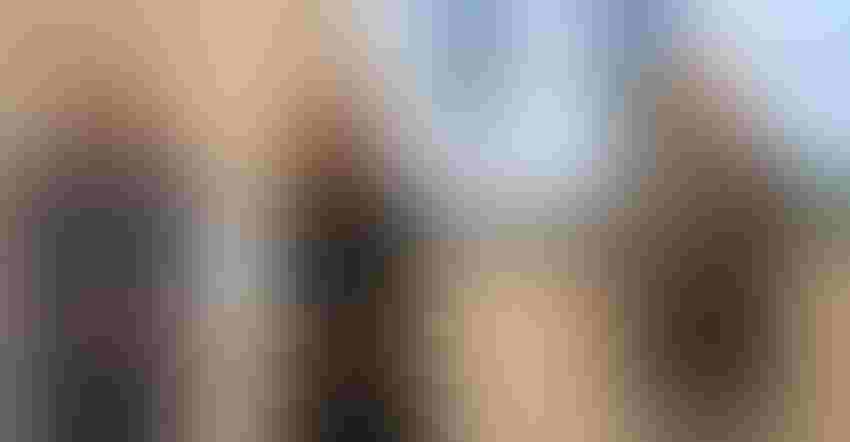 PRODUCT INTRODUCTION: United Soybean Board Director Mike Korth (right) discusses introduction of the new Biosynthetic Motor Oil with Courtney Kingery, CEO of the Indiana Soybean Alliance, and Jakob Bredsguard, Biosynthetic Technologies.
Here is how new-uses development is supposed to work. The United Soybean Board invests your checkoff dollars in a research project that results in a new eco-friendly, bio-based motor oil with a biodegradable component: high-oleic soybean oil. The product hits the market. You buy it and reap the benefits of a high-performance product while increasing demand for soybeans.
This is not fantasy — it's reality. Biosynthetic Technologies, Indianapolis, announced release of its Biosynthetic Motor Oil for sale at a joint press conference with USB.
It didn't happen overnight, and it took many other players providing funding, but the product is here. "I've been working on this idea for 10 years," says Jakob Bredsguard, co-founder of the company. "I wanted to do something that would help the environment and protect water quality. If this product takes off, it can contribute to doing that. The soy-based portion is biodegradable. It's difficult to make a product which is both bio-based and biodegradable — they're not the same thing — but our motor oil checks both boxes."
A chemical engineer by training, Bredsguard's name is on plaques displaying dozens of patents for chemical breakthroughs outside his company's labs. Biosynthetic Technologies is a division of the Heritage Group, a family-owned, Indiana-based company that purchased the startup, providing resources to help Biosynthetic Technologies get its first product to market.
Farmer reaction
Mike Korth, a Randolph, Neb., farmer and USB director, has been interested in new uses for soybeans for a long time. "We need to find new markets to build domestic demand for soybeans," Korth says. "There was a time when we didn't have an abundance of soybeans, but now we do. And we could raise more if we had the market for them."
Korth is ready to buy the new motor oil for use in his own vehicles and urges other farmers to do the same. "Our checkoff dollars helped fund its development," he says. "You could say our dollars helped produce it. Now we need to buy it and use it ourselves.
"The neat thing is that once this product takes off, it will increase demand for soyoil. There is more demand for soymeal than soyoil. Any product which increases demand for soyoil is a good thing."

CLEANER ENGINE: These heads are from taxi cabs with 150,000 miles on them. The one in the foreground used Biosynthetic Motor Oil, while the one in the rear used conventional motor oil.
Manufacturing this product requires high-oleic soybean oil, Bredsguard says. It's more stable and consistent for this use compared to regular soybean oil.
"We know how to raise high-oleic soybeans," says John Emmert, Kendallville, Ind. He's a director of the Indiana Soybean Alliance, which also supports the project. "We get a premium for those beans. Since high-oleic oil is used to make this motor oil, it could increase demand for high-oleic beans. It will help that much more."
Ready to roll
Some 7,000 gallons of Biosynthetic Motor Oil for gas engines is already in storage in 1-quart jugs, awaiting sale, Bredsguard says. "We can ramp up quickly," he notes. "Right now, we need to see how it sells and gauge demand."
Two formulations are available, 5W-20 and 5W-30. These oils have been certified by the American Petroleum Institute and carry the API seal. Place orders at motoroil.biosynthetic.com or through Amazon.
Farmers who place orders on the Biosynthetic website by Jan. 31 receive a 20% discount. Use the code "BioTrialFarm." For more information about the company, visit biosynthetic.com.
About the Author(s)
Subscribe to receive top agriculture news
Be informed daily with these free e-newsletters
You May Also Like
---