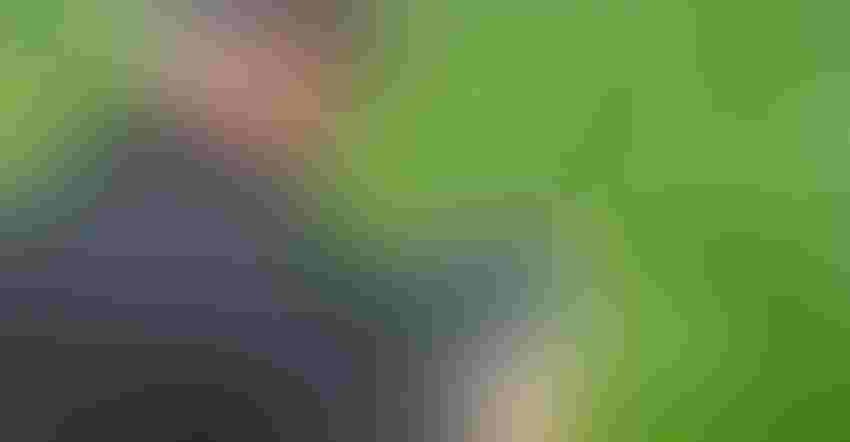 PREPARE TO FLY: Bryan Overstreet, an Extension ag educator and CCA, flies a UAV over farm fields to assist farmers, but he has found unique ways to help others in the community, too, using this technology.
Tom J. Bechman
What do Jasper County, Ind., farmers, the local high school football coach, caretakers at the courthouse and the local REMC have in common? Each of these people or groups had been helped over the past few months by Bryan Overstreet and his unmanned aerial vehicle.
Overstreet, Jasper County Extension educator, is one of 18 Extension ag educators across Indiana who became members of what Purdue University Extension calls the Quad Squad. Extension outfitted each member with a UAV and charged him or her to figure out various ways they could help people in their communities using this technology.
A year later, Overstreet and the other educators are still helping people in their respective communities learn what they can do with this new technology that they couldn't do before.
"We're also moving into the next phase, which is helping people who want to get and fly their own drones prepare to get a license," Overstreet says. "We've been through a 'train the trainer' program, and while we're still flying fields and using drones in other ways, we're also focusing on helping people learn what's required to become a UAV pilot."
Overstreet uses a DJI Phantom 4 Pro UAV, the same kind several farmers and private agronomists have purchased for their own use. It's the same UAV used by Nathan Bush, featured with Dave Nanda in a previous Indiana Prairie Farmer story, to fly fields and get a bird's-eye view of customers' crops. Bush is an agronomist for Greene Crop Consulting, Franklin, Ind. Nanda is director of genetics for Seed Genetics-Direct.
Various uses
It's easy to understand how flying over fields could help farmers get a better view of what's happening inside a field. But how did Overstreet and his UAV help the football coach?
"Each member of the Quad Squad did a 'case study,' and mine was using the UAV to take pictures of the football field," Overstreet explains. "I wasn't filming games — you can't fly over people. I took pictures of the field after games to establish where wear patterns were. After one game on a rainy night, wear patterns were obvious."
The coach and crew at the high school used the information to determine where to overseed the field this spring, Overstreet says. He will continue flying the football field this fall.
"The guys at the courthouse had a leaky ceiling, and they couldn't track it down," he continues. "I flew the drone up along the roof edge and found where a gutter was plugged, causing the problem.
"The REMC [rural electric membership corporation] asked me to use the UAV to take photos at one of their substations. What they wanted to photograph was high in the air, and this was the safest way to do it."
Recognized for efforts
In addition to being an Extension ag educator, Overstreet is a certified crop adviser. "I took the test as soon as I could back in the '90s, and have been a CCA ever since," he says.
In his 14 years working for Extension, he's qualified for some special assignments that he might not have been tapped for if he wasn't a CCA.
The Indiana CCA Association recognized Overstreet for his service to the organization and his community by naming him as the Indiana CCA of the Year at its annual conference last December.
Overstreet is a frequent contributor on the rotating Indiana CCA panel, which authors the Soybean Corner, Corn Corner, Soybean Pest Beat and Corn Pest Beat columns in Indiana Prairie Farmer.
Subscribe to receive top agriculture news
Be informed daily with these free e-newsletters
You May Also Like
---