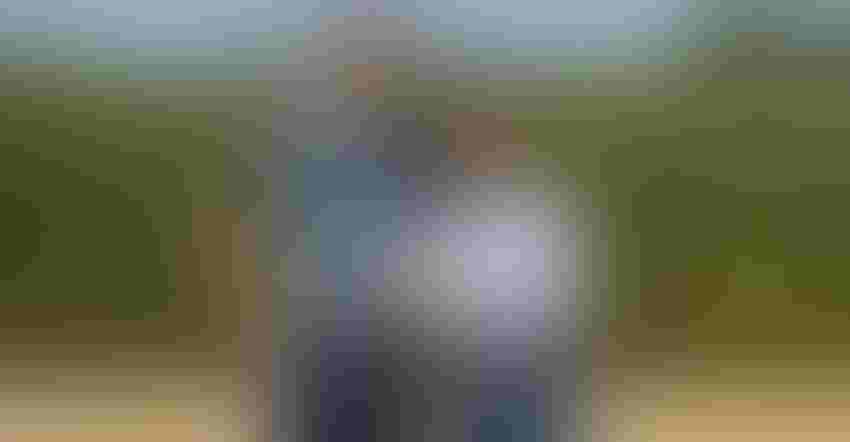 TOOL OR TOY? Dave Nanda (right), a former plant breeder who is now a consultant for the Corn Watch '18 project, gets his first look at a UAV in action thanks to Nathan Bush, a crop consultant who recently flew the Corn Watch field.
Dave Nanda came to the U.S. from India and completed a doctorate degree in corn breeding at the University of Wisconsin in the early 1960s. The Indianapolis-based consultant who monitors the Corn Watch '18 field spent his career doing what he loves: breeding corn. Today, he advises farmers about corn.
Nathan Bush graduated from Franklin High School less than a decade ago and earned a degree from the University of Kentucky. He works with farmers as an agronomist with Greene Crop Consulting LLC, Franklin, Ind., owned by Danny Greene. Bush taught himself how to fly his own unmanned aerial vehicle. He then obtained his license from the Federal Aviation Administration and now flies the company's UAV when requested by farmers.
On a sunny afternoon in late August, the veteran plant breeder met the young agronomist for the first time, and they learned from each other. Bush agreed to fly the 25-acre field to check plant health. Nanda had just spent an hour walking the field, checking on its general condition. He had never seen a UAV up close.
"I programmed it to fly the field before I came out," Bush told Nanda. "Oh, wait — the rows run north and south? Let me change the flight pattern so it will fly with the rows. I assumed they went east-west."
With the click of a button, the flight pattern was adjusted.
"Are you going to control it as you fly?" Nanda asked.
"No," Bush replied. "I could, but I've programmed in this flight. It will only take about 10 to 12 minutes flying at 350 feet to fly this field."
Easy flight
After Nanda inspected the drone, a DJI Phantom 4 Pro, Bush placed it on a level spot and pushed a button on his computer screen to launch it. The UAV went up, did its thing and returned, landing in the exact spot where it had taken off.
"It takes hundreds of pictures during the flight, but today it can actually stitch them into an image as it goes," Bush explained, showing Nanda the image on his screen. "I will send it to the cloud and have a subscription service make a sharper image later, but this gives us an idea of what we're looking at health-wise. We have an app that colors the picture based on plant health. It's not the same as an NDVI [Normalized Difference Vegetation Index] image, but it gives you an idea."
Once Bush pulled up the plant health image, he noted that considering the time of the year, the field was fairly uniform, with only a few spots showing differences. Normally, he would use GPS and walk to those spots to diagnose the cause.
"So you don't need someone like me anymore?" Nanda deadpanned. "It looks like this thing tells you all you need to know."
Bush didn't bite. "No, we still need your knowledge and expertise," he said, drawing a smile from Nanda. "This doesn't replace boots on the ground. It just tells us where to look, making scouting faster."
Subscribe to receive top agriculture news
Be informed daily with these free e-newsletters
You May Also Like
---