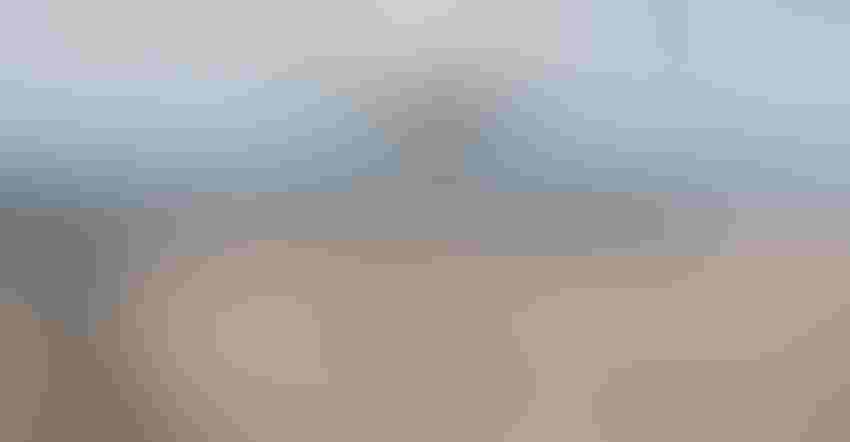 HI-TECH POLLINATION: Dropcopter's drones spread pollen 10 feet over a tree canopy. The company relies on suppliers that collect and preserve pollen for sale. The device for dispensing the pollen is proprietary, which Dropcopter patented last year.
Photo courtesy of Dropcopter
On a spring day in California you might hear a distinct hum over the almond groves. It could be honeybees, but it could also be equipment from Dropcopter, a company headquartered in Syracuse, N.Y., that has developed technology to pollinate trees via unmanned aircraft systems, or drones.
Dropcopter claims to be the first company to use drones for pollinating. The company's novel and practical idea earned it a $500,000 prize at the Grow-NY competition in November in Rochester.
"We were both ecstatic and excited," says co-founder Adam Fine about himself and co-founder Matt Koball.
Fine and Koball became acquainted online in 2014 in California. Fine had conceptualized the idea of food and beverage delivery via drones for golf courses. The idea seemed solid in concept, but golf is a game that's typically played in silence.
"No one wanted a noisy drone flying over," Fine says.
Still, he wanted to find a way to explore his drone concept. That's where Koball came in. He envisioned using drones in agriculture as facilitators for pollination.
"It was clear that it was applicable to pollination," Fine says.
Solution for almonds
California grows more than a million acres of almonds each year, and producers struggle to get enough bees to pollinate the trees. Fine says it costs $400,000 to pollinate 1,000 acres of almonds with bees, which are usually brought in on flatbed trucks.  
Once the bees arrive, the temperature for pollinating must be right. They may not be as "busy" if the temperature drops below 55 degrees F; peak pollination occurs at 60 degrees. Windy weather can also hamper their efforts.
Dropcopter has pollination clients all over California. The company's preprogrammed, specially designed drones spread pollen 10 feet over a tree canopy. Each tree receives pollen, unlike when relying solely on bees.
AWARD-WINNING CONCEPT: Kathy Hochul, lieutenant governor of New York, awarded Adam Fine and Mike Winch of Dropcopter a Grow-NY award at the inaugural competition this past fall in Rochester. The company received $500,000 to help grow the business in the state.
Dropcopter relies on suppliers that collect and preserve pollen for sale. The device for dispensing the pollen is proprietary equipment that Dropcopter patented last year.
"It can control the rate that pollen is dispensed as well as the swath of dispensing," Fine says.
Dropcopter employees program and fly the drones on each farm. The drones can fly in windy and cold conditions, as well as at night. By flying at night, the drones can help growers take advantage of the brief window of opportunity for ideal pollination. A drone can cover 40 acres in an hour.
Using drones can also help producers who need to replenish pollen supplies after heavy rains.
Fine doesn't view drones as competitors for honeybees; more like pinch hitters.
"A lot of the time people ask if we're putting bees out of business," he says. "It's a supplemental service. We see the best result when we combined our service with bees. We've seen interest from beekeepers who want to work with us for when the weather's cold. We have a large commercial beekeeper we're doing trials with."
Not yet for orchards
Beak & Skiff Orchards in LaFayette worked with Dropcopter two years ago as part of a trial in 20 to 30 rows of McIntosh and Cortland apples. A portion of the rows were treated with drone pollination while the rest were left alone as the control group.
Peter Fleckenstein, general manager of fresh fruit and juice operations for Beak & Skiff, says the trees in both groups were the same size and varieties.
He says the drones didn't intrude on the orchard's operation. However, it was a perfect spring with warm, sunny weather and little wind. Fleckenstein says he would have preferred seeing drones work under less-than-perfect conditions to see a clear difference from using honeybees.
"From my perspective, it was difficult to see a difference between Dropcopter trees and the non-Dropcopter trees," he says. "We didn't collaborate this past spring. I think we would've been able to see a difference."
Beak & Skiff typically rents hives from two beekeepers who have been successful in maintaining the health of their hives. Still, Fleckenstein says it makes sense to augment bees for pollination should they begin to decline to the point that it affects fruit growing.
"We want to follow up with apple research," says Alex Young, operational research manager for Dropcopter.
Using drones to help alongside bees results in more color consistency in apples, he says, which can help growers who raise apples for the fresh fruit market.
NOT YET CONVINCED: Peter Fleckenstein, general manager and partner of Beak & Skiff Orchards, says that while drone pollination is a novel idea, he'd like to see more research that shows advantages over traditional honeybee pollination.
According to Dropcopter, independent research shows that using their drone technology can increase fruit and nut set by 25% to 50%.
"The concept of Dropcopter is great," Fleckenstein says. "I'd recommend it, but I'd need to see one more year of research."
He's also concerned that the company wouldn't be capable of responding quickly enough to the narrow window available to growers for pollination. Increasing capacity is another area that Fine is looking into.
Other applications
Dropcopter is also working with Cornell University on projects exploring pollination of other crops. Thanks to the win at Grow-NY, Dropcopter plans to work on research and development of the software to automate the drones. Fine added that Dropcopter is looking into pollinating vine crops such as pumpkin, squash and zucchini, and row crops.
The company also plans to expand. Although the company is headquartered in Syracuse, it also maintains a presence in San Francisco. Trips last summer to Israel to explore date tree pollination and to Brazil for conifer trees may result in the company eventually expanding globally.
"We're interested in expanding into other crops and somewhat in preventative application of pollen to prevent spread of disease through contaminated pollen," Fine says.
Sergeant writes from central New York.
Subscribe to receive top agriculture news
Be informed daily with these free e-newsletters
You May Also Like
---