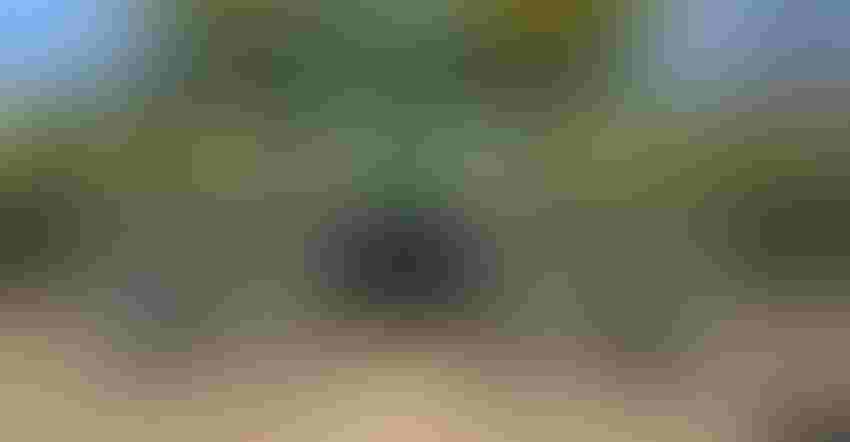 FARMERS SEE COMPACTION: This farmer installed tracks on his 24-row planter because he knows he is losing yield on pinch rows. Will the typical farmer in 2040 have one 48-row planter, or half a dozen eight-row planters that drive themselves and report to the farmer wirelessly?
Several farmers were chatting after the Indiana Farm Management Tour stop at Jim Douglas' farm near Flat Rock. They were standing in a new toolshed featuring 24-foot-wide drive-through doors on each end and a large space to pull off to the side and work on larger equipment.
"We couldn't keep up with how big equipment might get in the future, so we opted for less expensive 24-foot doors and an area where you could pull over and unfold a large tool," Douglas explained.
Someone questioned how Douglas knew farm implements would get larger in the future. Others looked at that individual like he was crazy. The answer seemed obvious: For the past 100 years, and especially the past 50, that's been the trend. Tractors have become huge, combines are monsters, and tillage equipment is ultrawide. It's been all about covering more acres so one farm operation can handle more work in a timely fashion.
The farmer "thinking small" is listening to a different drummer. His idea? Maybe in 10, 20 or 30 years, equipment will be smaller, not larger. It won't have drivers. Instead, equipment will be autonomous. There will be more machines operating at once, but fewer of them. The farmer, in this situation a manager in every sense of the word, would monitor operations from a central location.
Call him crazy, but …
Some shook their heads, but no one laughed. I certainly didn't. Scott Shearer painted a similar picture at the Indiana certified crop advisers annual meeting in December 2017 when he envisioned the future of farming. Shearing is an Ohio State University Extension ag engineer by trade. Willie Vogt captured Shearer's ideas in his Farmer Iron column in the September Indiana Prairie Farmer. Read the blog version here.
What Shearer envisions is a small army of robots operating in a field. One person could farm as much or more land than is possible now. He or she would do this sitting in an office, not in the tractor seat. The work would be done by smaller machines connected to each other wirelessly and reporting to the person in a central location.
What's driving this vision? Believe it or not, one driving force is soil compaction. More farmers are realizing soil compaction costs yield, and losing yield costs money. Studies at Ohio State by Randall Reeder and at Purdue University by Gary Steinhardt going back to the '80s show that soil compaction, while unpredictable, is likely costing many farmers far more than they know. Pulling grain carts loaded with grain across fields is one culprit.
Jacob Webster of Precision Planting tells visitors to the Precision Planting Institute farm at Pontiac, Ill., that soil compaction is real. He compacted one half of a planter pass on purpose this summer and then dug a deep trench to study the results. What he found surprised him. He found soil compaction where he expected it — but he also found it on the control rows where he hadn't tried to create compaction.
Shearer notes several obstacles must be overcome before "an army of small, autonomous robots" can become reality. One major challenge is internet capacity in farm country.
But before you put 60-foot-wide doors on your toolshed, you might stop and think. Jim Douglas may be onto something, even if he opted for smaller shop doors for a different reason. His guest who envisioned smaller implements, not larger, just might have a point as well.
Comments? Email [email protected].
Subscribe to receive top agriculture news
Be informed daily with these free e-newsletters
You May Also Like
---